So we correctly make fun of people like Neil Turok and Deirdre McCloskey who expect to discover the next generation of Einsteins amongst 70-75 IQ Africans. Even if we could run the full FLynn program on Africa and raise it up to its genotypic IQ potential of 85-90, it's not like countries with those sorts of figures today are brimming with geniuses (though they are not necessarily unpleasant places to live in, as Fred Reed constantly reminds us).
But there's some who think this implies that Africa will inevitably collapse due to overpopulation and their absolute inability to run any kind of industrial civilization without help from Europeans or the Chinese, because apparently Sub-Saharan Africa can barely support one billion people let alone the four billion that the UN projects for the end of the century. Here's one example of such an argument:
This reply could also cover Piltdown man too: You are making an assumption that these people can work in an organized fashion, use and take care of mechanical equipment, and have an infrastructure that will let all of the population have access to this productive farmland. I know you've heard of Zimbabwe, formerly Rhodesia – the breadbasket of Africa.
Obviously I am not going to go down the "racism" card like some bottom-tier SJW, but I would like to play the "reality" card.
(1) First off, why the implicit assumption that trade and technological links with the outside world must vanish? I suppose that if a gamma ray burst were to fry the northern hemisphere tomorrow and wipe the high IQ peoples from the planet, then SSA will also experience an economic and demographic collapse. Advanced manufacturing will vanish, there will be zero further technological/scientific progress and an outright regression in the stock of knowledge by a century or so.
But short of these sci-fi scenarios, how can this happen? Individual African countries might decide to drive foreign investors and any lingering white/Indian minorities out, but there are more than fifty separate polities in Africa. The likelihood that the continent as a whole adopts such self-destructive policies are diminishingly small. The Chinese in particular are interested in acquiring tracts of African lands to increase their food security. Their motives are of course self-interested, but it results in technology transfer and helps Africans too.
(2) Sub Saharan Africa is almost eight times as big as India in land area, and India now supports 1.3 billion people. It has twice as much arable land, but this can be expanded. I don't think there's any equivalent of the Ganges valley in SSA (or really anywhere on Earth) in terms of agricultural productivity, but still, there's no shortage of productive land.
Africa pessimists like citing Zimbabwe, where crop yields are lower than they were half a century ago. But it's not representative of the continent. Crop yields in the continent as a whole have increased by almost 50% since 1990. In Ethiopia, a country once synonymous with photos of starving children, they have more than doubled.
SSA is now on average where India was in the 1980s, and the world in general was in the 1960s. And it's not like agriculture is a particularly g loaded occupation.
Certainly I don't see Africans introducing automated hydroponics farms that super-densely populated advanced countries like Japan and the Netherlands are experimenting with, but they don't have to do that even to feed a quadrupled population; just getting to Brazil's level (which is slightly above the world average) by 2100 would do.
They have plenty of time and plenty of low-hanging fruit to be picked up. For instance, irrigation, which can basically double yields, is almost entirely absent from SSA.
(3) Paradoxically, (moderate) global warming can actually help Africa.
Historically, it was during colder periods that Africa's dry zones became even drier, leading to famines. The reverse might be true: Conditions may well become wetter in the West African Sahel, "in what would be a rare example of a positive tipping point" in response to global warming (Copenhagen Diagnosis 2009).
There is paleoclimatic evidence for this. In the warming at the end of the last Ice Age, the modern day Sahara turned into a lush savannah, with crocodiles, hippos and elephants roaming the plains. Progressive cooling turned the area into the dessicated desert it is today, pushing populations south and towards the Nile valley.
Severe warming (5C+) is one thing that would be very bad for SSA and will push all the above considerations into the margins. (Though, that said, the sort of commenters who envisage Africans as Piltdown men also tend to think climate change is a liberal elite conspiracy).
(4) All societies have undergone the demographic transition, so why exactly should Africa be the exception anyway?
(I mean, assuming that the Neo-Nazis are wrong about Africans being like rabbits with no ability to control their fertility, and that real world examples of Blacks undergoing the demographic transition when they reach a sufficient level of development like in Jamaica or Trinidad and Tobago are not figments of statistics bureaus' imaginations).
There's no evidence that SSA is going to be an exception. It is certainly lagging, as it is most other indicators, but it's still happening.
The TFR for the continent as a whole has declined from close to 7 children per woman inaround 1980 to about 5 children today. The Africa pessimist crowd loves to single out Niger, probably the single most illiterate and backwards country in the world. But if you want to nitpick, why not instead pick Rwanda, run by Paul Kagame (an authoritarian technocrat who has been called Africa's Lee Kuan Yew), which has gone from having 8 children per woman in 1980 to just 4 today?
Demographers tend to project fertility trends as gentle declines, but they can also take the form of sudden collapses. Famously, Iran's TFR plummeted from more than 6 children per woman to below replacement level rate within less than a decade. The decline in China during the 1970s was almost as steep (and took place before the One Child Policy was implemented).
To illustrate this further, below is a screenshot from Paul Kennedy's 1993 book Preparing for the 21st Century, citing contemporary UN Population Prospects forecasts for the year 2025.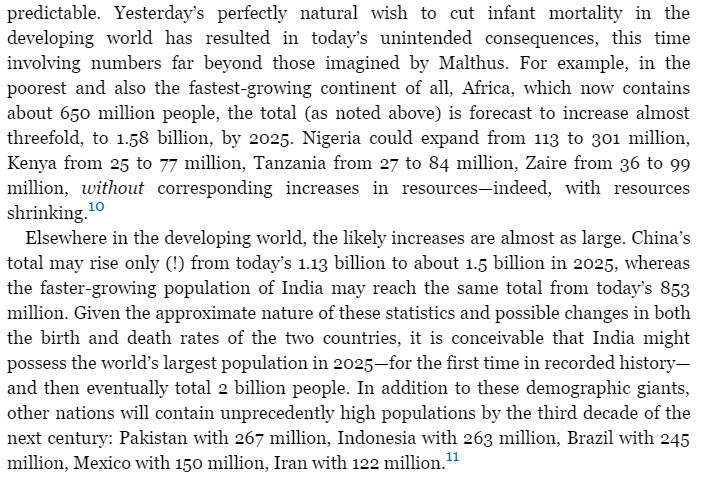 These were actually more pessimistic than the 2017 update of the World Population Prospects that Sailer is citing in his recent series of pessimistic posts on African demographics.
Outside Africa: Pakistan now projected at 227 million, not 267 million; Brazil at 219 million, not 245 million; Indonesia at 285 million, not 263 million, but as the only upwards exception massively canceled out by Iran, which is projected to have 87 million by 2025, not 122 million.
Even within Africa, which has by and large yet to undergo the demographic transition, those forecasts are now clearly pessimistic in hindsight: Nigeria now projected to be at 234 million, not 301 million; Kenya at 60 million, not 77 million; Tanzania at 73 million, not 84 million; and Zaire (now DRC) the only upwards outlier, at 104 million instead of 99 million.
Anyhow, it's not like SSA is in standstill. Literacy is improving, school enrollment is rising, infant mortality is falling, peasants are leaving for the cities, wmen are going into education and having careers. All the factors that have historically collapsed fertility rates around the world are now acting on SSA.
It would not be surprising if Africa's demographic transition happens faster than expected, as in the Low variant of the current UN forecast, and ends up merely tripling instead of quadrupling as in the Medium scenario.
(5) As I pointed out in A Short History of the Third Millennium, modern societies strongly select for lower IQ and higher fertility. The FLynn effect has gone into reverse, and if technological progress was to stagnate – as it might well do so due to the depletion of "smart fractions" – it is also likely that the cultural innovations that have hitherto suppressed fertility will also fall by the wayside. Even leaving aside low-IQ Third World immigration, Europe and White America will likely be duller and more fecund (leaving aside technological singularities, CRISPR-transhumanism, etc).
Africa still has some potential to increase its IQ via better nutrition, etc., though whether it will ever manage to create institutions capable of maximizing them out as in the developed world today is questionable. However, at least it does not yet appear to be subject to the dysgenic pressures that are ravaging the developed world. And if its future demographic expansion was to constantly bump up against the Malthusian limits, these dysgenic trends may even be averted altogether.
After three or four centuries of scraping against the Malthusian grindstone, it's not inconceivable that African IQ will fully converge with that of Europeans and East Asians.
And then Turok's successors will finally find their African Einsteins who will take us into space aboard the pyramids.