The cultural and scientific achievements of Ancient Greece are so manifold that it is barely worth recounting them. Socrates, Plato and Aristotle laid the foundations of Western philosophy. Pythogoras, Euclid, and Archimedes launched mathematics as a disciple grounded on logic and proof, a break from the approximative techniques that had held sway in other civilizations (and would largely continue to do so). To this day many medical schools have their students swear an oath under the name of Hippocrates. Homer, Aeschylus, Euripides – the originators of, and still giants in, the Western literary canon. Herodotus and Thucydides, the founders of a historiography that was something more than just a court chronicle.
Ancient Greek IQ = 125 (Galton)
Bearing in mind the very small population from which these intellectual giants were drawn – at its height, Ancient Athens had no more than 50,000 male citizens – it is little wonder that many thinkers and historians have posited a very high average IQ to the ancient Greeks, including most recently evolutionary psychologist Gregory Cochran. But the argument was perhaps best stated by the Victorian polymath and inventor of psychometrics Francis Galton, in the (not very politically correctly titled) "Comparative Worth of Different Races" chapter of his book Hereditary Genius:
The ablest race of whom history bears record is unquestionably the ancient Greek, partly because their master-pieces in the principal departments of intellectual activity are still unsurpassed, and in many respects unequalled, and partly because the population that gave birth to the creators of those master-pieces was very small. Of the various Greek sub-races, that of Attica was the ablest, and she was no doubt largely indebted to the following cause, for her superiority. Athens opened her arms to immigrants, but not indiscriminately, for her social life was such that none but very able men could take any pleasure in it; on the other hand, she offered attractions such as men of the highest ability and culture could find in no other city. Thus, by a system of partly unconscious selection, she built up a magnificent breed of human animals, which, in the space of one century—viz. between 530 and 430 B.C.—produced the following illustrious persons, fourteen in number:—

Statesmen and Commanders.—Themistocles (mother an alien), Miltiades, Aristeides, Cimon (son of Miltiades), Pericles (son of Xanthippus, the victor at Mycalc).
Literary and Scientific Men.—Thucydides, Socrates, Xenophon, Plato.
Poets.— Aeschylus, Sophocles, Euripides, Aristophanes.
Sculptor.—Phidias.

We are able to make a closely-approximate estimate of the population that produced these men, because the number of the inhabitants of Attica has been a matter of frequent inquiry, and critics appear at length to be quite agreed in the general results. It seems that the little district of Attica contained, during its most flourishing period (Smith's Class. Geog. Dict.), less than 90,000 native free-born persons, 40,000 resident aliens, and a labouring and artisan population of 400,000 slaves. The first item is the only one that concerns us here, namely, the 90,000 free-born persons. Again, the common estimate that population renews itself three times in a century is very close to the truth, and may be accepted in the present case. Consequently, we have to deal with a total population of 270,000 free-born persons, or 135,000 males, born in the century I have named. Of these, about one-half, or 67.500, would survive the age of 26, and one-third, or 45,000, would survive that of 50. As 14 Athenians became illustrious, the selection is only as I to 4,822 in respect to the former limitation, and as I to 3, 214 in respect to the latter. Referring to the table in page 34, it will be seen that this degree of selection corresponds very fairly to the classes F (1 in 4, 300) and above, of the Athenian race. Again, as G is one-sixteenth or one-seventeenth as numerous as F, it would be reasonable to expect to find one of class G among the fourteen; we might, however, by accident, meet with two, three, or even four of that class— say Pericles, Socrates, Plato, and Phidias.

Now let us attempt to compare the Athenian standard of ability with that of our own race and time. We have no men to put by the side of Socrates and Phidias, because the millions of all Europe, breeding as they have done for the subsequent 2,000 years, have never produced their equals. They are, therefore, two or three grades above our G—they might rank as I or J. But, supposing we do not count them at all, saying that some freak of nature acting at that time, may have produced them, what must we say about the rest? Pericles and Plato would rank, I suppose, the one among the greatest of philosophical statesmen, and the other as at least the equal of Lord Bacon. They would, therefore, stand somewhere among our unclassed X, one or two grades above G—let us call them between H and I. All the remainder—the F of the Athenian race— would rank above our G, and equal to or close upon our H. It follows from all this, that the average ability of the Athenian race is, on the lowest possible estimate, very nearly two grades higher than our own—that is, about as much as our race is above that of the African negro. This estimate, which may seem prodigious to some, is confirmed by the quick intelligence and high culture of the Athenian commonalty, before whom literary works were recited, and works of art exhibited, of a far more severe character than could possibly be appreciated by the average of our race, the calibre of whose intellect is easily gauged by a glance at the contents of a railway book-stall.
Francis Galton was writing before the invention of the standard deviation, but in his methodology a "grade" was equivalent to 10.44 IQ points (under an S.D. of 15), so in practice the Athenians had an IQ of perhaps 120 relative to a Victorian British mean of 100. (And presumably, therefore, about 110 relative to the modern Greenwich mean, which is considerably higher than a century ago due to the Flynn Effect).
There are however a few problems with this.
Ancient Greek IQ = 90 (Apollo's Ascent)
First off, there is no particularly obvious explanation for why this part of the Mediterranean world evolved such a high average IQ – a standard deviation higher than everyone else – in the first place. One would then likewise have to explain why they then lost it so thoroughly that modern Greeks now consistently place lower in European IQ assessments than all but a few Balkan backwaters.
However, it turns out that using the Apollo's Ascent method of computing aggregate mindpower – with adjustment for the intellectual discovery threshold – as a function of population size, literacy rate, and average IQ can explain the record of Greek achievement just as succinctly without requiring positing superhumanly high average IQ levels which are so dubious from an evolutionary perspective.
Let us treat each of these factors in turn:
Ancient Greek Demography
It is often forgotten that when we are speaking of ancient Greek accomplishment it is more than just a story of Athens, a city that drew the cognitive elites of the entire oikoumene to itself (much as major metropolises like New York, London, Paris, etc. do so today).
To be sure, Athens might have had 50,000 male citizens, and a total population of 250,000-300,000 [CORRECTION: Actually refers to the entire Athenian city-state. Population of just the city was probably about twice less]. But the population of Greece proper was probably at least five times larger, because the total urbanization rate never went much above 20% in any preindustrial country that we know of. Moreover, Greeks were scattered all across the Mediterranean world, in Ionia and Sicily and the shorelines of Egypt, the Italian "boot," France, Spain, and the Pontic steppe.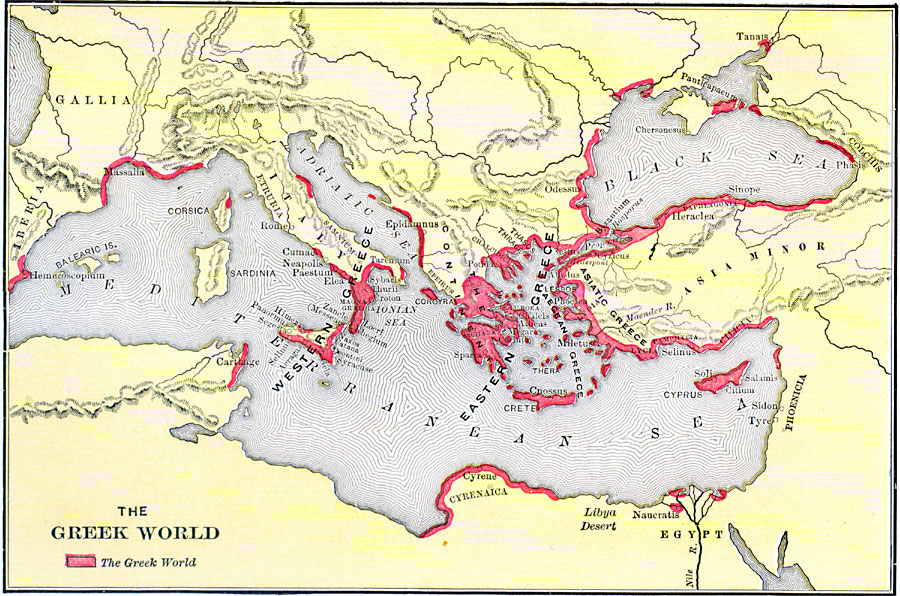 Greece: More than just Greece. Source.
According to recent calculations, the total population of Greeks in the 4th century BC was at least 7.5 million, and probably more like 8-10 million (Mogens Herman Hansen in An Update on the Shotgun Method). For perspective, at the time, this represented just under 5% of the world's population (i.e. remarkably similar to the US today). These figures might still be modest, but they are essentially comparable in magnitude to those of even the biggest preindustrial civilizations (source: Several, but mainly Angus Maddison):
Egypt: A consistent 5 million in both Roman and Islamic times
Persia: Likewise, around 5 million
Roman Empire: 50-60 million (of which 20 million were in the Greek East)
Qin China: 22 million in ~210BC (only 2x more than Greek world!)
Han China around 1AD: 60 million
Byzantine Empire: 10-12 million when it was at its geographical peak
Abbasid Caliphate: 30 million
Medieval China: 100 million
Medieval France: 20 million (most populated W. European country; peak)
Renaissance Italy: 10.5 million in 1500
To be sure, many ancient Greeks were slaves and women who were more or less excluded from participating in intellectual endevours. But in that respect they were no different from any other preindustrial civilization that we know of.
Ancient Greek Literacy
In William V. Harris' Ancient Literacy, he estimates that the literacy rate of late Classical Greece was 5-10%, rising to 10% in the Hellenistic period, and 10-15% in Roman Italy (but considerably lower in the peripheries like Gaul). This might  seem very low and it is. But in that period, it was low everywhere; in reality, the literacy rates attained in the classical Mediterranean world were far higher than had been previously seen anywhere else. Because Classical Greece was pretty much the first society in the world (only much smaller Phoenicia could have been even a remote contender) to attain what he calls "craftsman literacy" i.e. around 10%. All previous societies had been limited to the 1-2% rates that he calls "priestly literacy."
Although he doesn't spell it out explicitly, the key factor that must have enabled this in my view was the development of the alphabet, which occured first amongst the Phoenicians (who were also respectably creative for their numbers).
It is speculated that the alphabet might have arisen as a result of the intense trading culture of the Phoenicians, which made simplification of the writing system highly adaptive. Due to Greek and Roman influence, Mesopotamian cuneiform and Egyptian hieroglyphs were displaced. In contrast, perhaps by the time trade had reached similarly intensive levels in China – perhaps after the construction of the Grand Canal in the 7th century AD – the characters system was already too embedded in the bureaucracy and was kept on due to a QWERTY effect. However, there might also be an HBD angle. Peter Frost has suggested the spread of the ASPM gene from Middle Eastern origins – large lacking in East Asians, and associated with continuous text processing – could have tipped the scales in favor of the adoption of alphabetic systems in the Near East and the Mediterranean in a way that could not have happened in East Asia. (Note that Korea's Sejong the Great introduced an alphabetic system in the 15th century, for the express reason of increasing literacy amongst the commonfolk, but it took until the 20th century for it to truly catch on).
Whatever the case, it is a simple fact that learning literacy is incredibly easier with alphabet based systems than character based systems. Learn the 50 or fewer symbols of your typical alphabet and their vocalizations and you are pretty much set; everything else is style and detail. In contrast, you need to know 1,000-1,500 characters just to be considered literate in Chinese (and you would still struggle a great deal even with newspaper texts). An average Chinese college graduate is expected to recognize around 5,000 characters and even they frequently have trouble with some remarkably "straightforward" characters. Here is an anecdote that represents this really well from David Moser's classic essay Why Chinese is So Damn Hard:
I happened to have a cold that day, and was trying to write a brief note to a friend canceling an appointment that day. I found that I couldn't remember how to write the character 嚔, as in da penti 打喷嚔 "to sneeze". I asked my three friends how to write the character, and to my surprise, all three of them simply shrugged in sheepish embarrassment. Not one of them could correctly produce the character. Now, Peking University is usually considered the "Harvard of China". Can you imagine three Ph.D. students in English at Harvard forgetting how to write the English word "sneeze"?? Yet this state of affairs is by no means uncommon in China.
By medieval times, China had by far the world's most sophisticated infrastructure for increasing human capital, such as movable type (invented 400 years in advance of Gutenberg), cheap mass produced paper (in contrast, the Mediterranean world had to rely on expensive Egyptian papyru, which put a further limit on mass literacy), the system of meritocratic exams for entry into the Confucian bureaucracy, and a vast network of writing tutors, including free ones (the founder of the Ming dynasty Zhu Yuanzhang was an impoverished orphan who was taught literacy in a Buddhist monastery). Even so, held back by its writing systems, medieval China's literacy rate was no higher than 10% at best (that was the rate at the close of the Qing dynasty and that came after the beginning of education reforms).
There are some scholars like Evelyn Rawski who argue China's historical literacy rates were far higher. I addressed them in my Introduction to Apollo's Ascent article (Ctrl-F for "fish literacy").
Of course at the time of the Ancient Greeks none of this existed yet in China, so the literacy rate then was probably around 1-2% as was typical of societies with "priestly literacy." Ergo for the great civilizations of the Middle East before the classical era.
This is common sense, but the point needs to be made regardless: Without literacy, no matter how intelligent you are, you can almost never meaningfully contribute to scientific or cultural progress.
With a literacy rate 5 or even 10 times as high as that of other contemporary civilizations (barring the Romans), their modest demographic preponderance over Greece is put into necessary perspective. To be sure, a literacy rate of 10% might not functionally translate into 5 times as much aggregate mindpower (all else equal) as a 2% literacy rate, because presumably, it is the brightest people who tend to become literate in the first place. On the other hand, however, this was a world of hereditary caste and class, of Plato's Golds, Silvers, and Bronzes. The advanced cognitive sorting that developed in the US in the second part of the 20th century, as described in detail in Charles Murray's Bell Curve, was totally unimaginable then.  Furthermore, there might be a network effect from having a relatively dense concentration of literate people. I would imagine these two factors substantially or wholly cancel out the effect of diminishing returns to higher literacy in terms of human accomplishment. (If you have any ideas as to how this could be quantified, please feel free to mention it in the comments).
Ancient Greek IQ
As I wrote in Introduction to Apollo's Ascent, there are a number of factors which have been shown to strongly influence IQ, making it just about feasible to guesstimate them historically.
Some of the most important ones as they pertain to Ancient Greece vs. everyone else are:
Nutrition
Inbreeding/consanguineous marriage
Parasitic Load
It just so happens that so far as all of these are concerned the Greeks hit the jackpot.
Nutrition: The Ancient Greeks were remarkable effective at escaping the Malthusian trap for a preindustrial society. (I am not sure why that was the case. Slavery? Feel free to leave suggestions in the comments).
According to a 2005 paper by Geoffrey Kron, citing Lawrence Angel, the average heights for Classical Greece males are 170.5cm, rising to 171.5cm for Hellenistic Greek males, which is similar to the levels attained by Britain and Germany in the early 20th century, and furthermore, compares very well with the average heights of Greek conscripts in the mid-20th century. The n=927 Roman average from 500BC to 500AD was 168.3cm, and the figures for the Byzantine Empire (at least in Crete) appear to have been similar. Here are some figures for other times and places for comparison from Gregory Clark's A Farewell to Alms:
In other words, the Ancient Greeks were about as tall as the Georgian British, some of the tallest Europeans at that time, who were on the cusp of permanently escaping the Malthusian trap and were likewise undergoing a remarkable cultural and scientific explosion.
This must have been enabled by a remarkable level of personal prosperity, as expressed in how much grain the average laborer could buy with a day's wage. Again via Gregory Clark:
The Odyssey is full of people sacrificing ridiculous numbers of bulls. While presumably not to be taken literally, it does probably illustrate that there were no major shortages of animal proteins. (The same certainly could not be said for China, India, or Japan, where diets have always been almost fully dominated by carbohydrates). To be sure the Odyssey takes place in the 8th century BC, but cattle shares in the Mediterranean remained high through the period of Classical Greece and only plunged as Greece transitioned into the Hellenistic period, according to an exhaustive paper by Nikola Koepke:
Additionally, as a seafaring culture, fish and sea products must have played a substantial part in the Greek diet. This would have helped them avoid the iodine deficiency that tends to depress IQ and lead to cretinism in more inland and mountainous areas. Even the very poor who could not afford fish would have used garum, the fish sauce popularized by the Romans but invented by Greeks, to flavor their staples.
Inbreeding: Inbreeding/cousin marriage, especially of the FBD type, directly lowers IQ and to a very large extent. But as prominent blogger hdbchick noticed, the Greeks had begun to outbreed extensively in the Archaic Age:
well, from mitterauer again we have [pg. 69]:

"Greek was the first European language to eliminate the terminological distinction between the father's and mother's side, a transition that began as early as between the fifth and third century BC.35"

so that's just at the transition point between archaic greece and classical greece. but starting at least in the early part of the archaic period and lasting throughout to the classical period the archaic greeks were outbreeding! at least the upper class ones were — difficult/impossible to know about the lower classes. from Women in Ancient Greece [pg. 67]:

"Marriages were arranged by the prospective groom and the prospective bride's guardian, and the wife usually (although not always) went to live with her husband's family. In the early Archaic Age [800 BC – 480 BC], to judge from the evidence of Homer's poems (e.g. 'Odyssey' 4.5), male members of the upper classes generally married women who were not related to them, and who came from different areas. This upper-class habit of exogamy — marrying outside the community — was related to the political importance which marriage possessed in these circles. Marriage exchanges were one of the means by which noble families created political alliances with groups living in other areas, and in this way they made a considerable contribution to the aristocracy's stranglehold on power. This practice survived to the end of the Archaic Age. However, with the emergence of the *polis*, exogamy began to give way in some places to endogamy — to marriage within the community. For the upper classes, this meant marriage within a tight circle of aristocratic families living in the same *polis*."

so there was outbreeding in archaic greece for a few hundred years (at least amongst the upper classes), and, then, eventually — after about 400 years or so — there was a linguistic shift to more general kinship terms which reflected that outbreeding.
Moreover, of Emmanuel Todd's four main European family systems – nuclear, egalitarian, authoritarian/stem, and communitarian (see Craig Willy's post for a detailed explanation) – the Ancient Greeks practiced the authoritarian type, in which the eldest son stays with the parents while his siblings leave and inherits most or all of his family's property.
The authoritarian family system, also seen in regions such as Germany, Sweden, Scotland, the Jews, Korea, and Japan (after ~1500), and substantially in 18th century Britain, seems to be highly eugenic in terms of selection for IQ and longterm planning. This stands to reason. Families with a lot of land/property can breed a lot of children and disperse them into the general population, and when they die, the eldest son who inherits everything can himself repeat the process. Those families who mismanage their affairs and lose land no longer have the resources to produce so many children (surviving ones, at any rate) and thus their contribution to the overall genepool peters out.
This is the opposite of the dynamics involved in communitarian family systems, in which property is divided equally amongst the sons. But all of the major Middle Eastern civilizations, as well as the Etruscan Roman heartlands, were characterized by communitarian family systems (albeit with varying rates of cousin marriage: Low in the Roman world, much higher in the Middle East and especially Egypt, where even brother/sister marriages appear to have been been quite widespread under both the Pharaohs and the Greco-Romans).
In communitarian family systems the eugenic factor is much weaker. Family ties play a big role with associated nepotism and (especially in the most endogamous societies) clannishness. Reproductive success is tied not so much on one's own capability to use intelligence and planning to create surpluses as on support from the extended family and clan. hbdchick calls this "clannish dysgenics," though considering that communitarian family systems are the "default" for most of human histor, I would argue it might be more apt to talk of "nuclear/stem family eugenics." Be as it may, aggregate selection for increased IQ is much weaker.
The ancient Greeks also practiced direct eugenics, exposing physically deformed babies. The Spartans in particular are (in)famous for it. However, this seems to have been more or less universally prevalent in preindustrial history, so I doubt this could have been much of a factor.
Parasitic Load: The Mediterranean climatic and agricultural system made for a (relatively) very salubrious environment, in stark contrast to subtropical environments with their humidity and endemic diseases (e.g. India, South China) and to inland agricultural systems heavily dependent on irrigation, in which large bodies of still water are breeding grounds for all sorts of nasty parasites (most major civilizations outside Europe).
In particular, as noted in Mark Elvin's The Pattern of the Chinese Past, aggregate parasitic load steadily INCREASED in China over the past two millennia, as its demographic center of gravity shifted inexorably south, which was characterized by irrigated rice growing and high humidity.
As if that wasn't enough, the Ancient Greeks and other Mediterraneans also had one of the most potent counters to parastitic load in the form of their advanced viniculture. Due to their relative wealth (see above), they could afford a lot of wine, and back then it was usually stronger too.
Aggregate Mindpower in Ancient Greece
And now we can put together the final tally for Ancient Greece:
Could draw on a population of ~10 million Greeks (Romans: 50 million; Han Chinese: 60 million; Renaissance Italy: 10 million)
Had a literacy rate of 10%. Romans – Also 10%; Chinese – ~2%; Renaissance Italy – about 20% (see Van Zanden et al., 2009).
Some back of the envelope calculations for IQ:
Greeks are Caucasoids so let's take the modern Greenwich mean of 100 as first default approximation, and slightly higher for Mongoloids (Romans: 100; Chinese: 105; Italy: 100)
Nutrition (subtract from optimal): Greeks – minus 5; Romans – minus 8; Chinese – minus 10 (would increase later); Italy – minus 5 (was very well fed in the depopulated years after the Black Death).
Inbreeding/Family Systems: Greeks – minus o (positive advantage of stem family type cancels out relatively modest incidence of cousin marriage); Romans – minus 2 (exagamous communitarian); Chinese – minus 5 (exagamous communitarian but more cousin marriage than amongst Romans); Italy – minus 0 (egalitarian family system with little cousin marriage thanks to Catholic Church regulations)
Parasitic Load: Greeks – minus 5 (let's say that's best possible in preindustrial age); Romans – minus 7 (did have more irrigation); Chinese – minus 10; Italy – minus 7
Guesstimated IQ: Greeks – 90; Romans – 83; Han Chinese – 80; Renaissance Italy – 88. Incidentally, this would give the Greeks enough of an edge to give substance to ancient stereotypes about their intelligence and craftiness but without having to evoke superhuman IQ levels.
Let us recall some definitions:
Assume that the intellectual output of an average IQ (=100, S.D.=15) young adult Briton in the year 2000 – as good an encapsulation of the "Greenwich mean" of intelligence as any – is equivalent to one nous (1 ν).

This can be used to calculate the aggregate mindpower (M) in a country.
and…
Technological growth ≈ c * M(>threshold IQ for new discovery) * literacy rate
Here are some rough calculations:
Reminders:
c is information tech multipliers, i.e. things that make scientific/cultural progress easier. A modern example would be the Internet. I gave Renaissance Italy a bonus because of its invention of eyeglasses, which essentially doubled the creative lifespans of skilled artisans (and at the peak of their powers), and the spread of the printing press from the mid-15th century.
M is total aggregate mindpower. It does not have much meaning for Malthusian societies, but in the modern world it would generally correlate with total GDP.
The other Ms refer to the aggregate mindpower that is above the Greenwich mean to one, two, and three standard deviations respectively. Recall that not even a trillion homo erectus will come up with the calculus; you need to be above a certain threshold to make any progress. Recall also that the discovery threshold is generally 2 S.D. above the mastery threshold.
Recall also the assumption that (beyond the threshold) more intelligent people are exponentially more effective at solving problems that duller people; but of course the absolute numbers of those highly intelligent people taper off dramatically due to bell curve dynamics.
To understand the Pythagoras Theorem you need an IQ of around 100, implying that to discover it, the threshold is around 130. The Odyssey might be a great classic, but it has a simple, linear storyline with no particularly deep moral themes or conundrums (reminder: The putative heroes end up hanging all the female household servants who had allegedly slept with the suitors and no time is lost on further introspection). I suspect the threshold for writing it is also around 130.
Source: Classwell.com
This implies that around that period – the 8th-6th centuries BC in the Mediterranean – you needed a 130 IQ to move the intellectual boundaries outwards. As we can see, Ancient Greece was overshadowed by both the Roman Empire and Renaissance Italy at ΔT(+2.0), except that… conveniently, neither of the latter two existed. Its competitors at the time, civilizations like the Assyrians, Babylonians, and Egyptians, lagged substantially in IQ and literacy, and did not compensate demographically; Phoenicia might have matched Greek literacy, but was probably behind in IQ, and had far fewer people. Remarkably, it was vastly ahead of China even 500 years later.
Literacy increased during this period, and the population rose steadily to its plateau of ~10 million as Greeks colonized the Mediterranean rim, and so during this time, intellectually they were the only game in town.
During the two centuries of Classical Greece's flowering from the 5th-4th centuries BC, the Ancient Greeks almost singlehandedly pushed the discovery threshold up by almost a standard deviation. In the process, tons of discoveries and advancements were made. To really appreciate Euclid, you probably need an IQ closer to 115. Archimedes was perhaps the most quantitatively brilliant Greek of them all, coming tantalizingly close to uncovering the calculus. Understanding classical Greek philosophy (and for that matter, the later works of the Neoplatonists and Gnostics) likewise becomes far more demanding but is not beyond the capabilities of a committed 110 or 115 IQ person. Even so, they have nothing on the likes of 20th century philosophers like Ludwig Wittgenstein or Martin Heidegger. Even very intelligent people have to commit years of dedicated effort in order to master their ideas. The complexity of the Antikythera mechanism (Hellenistic times) has been compared to late medieval European mechanical clocks. To really master them, I suspect the minimal IQ is likewise around 110-115, hence innovating it might require a threshold IQ of around 140-145.
By Hellenistic times, progress became much harder, not because Greeks had become (much) dumber or had become culturally Orientalized, but because the low hanging fruit had already been picked. Naturally, the same went for the Romans.
ΔT(+2.0) i.e. at the 130 discovery threshold for Ancient Greece as of ~500 BC was 43,000 (plus/minus a very large percentage error). ΔT(+3.0) i.e. at the 145 discovery threshold for the Romans as of ~0AD was 2,500 – and there were far more discoveries to be made. Naturally, progress slowed down drastically.
ΔT(+3.0) i.e. at the 145 discovery threshold of Renaissance Italy just by itself more than twice as dynamic as the entire Roman Empire. And the figures for Europe as a whole would have been vastly bigger still. Hence the (real) perception that by the Renaissance, the boundaries were once again being pushed outwards at a face rate, which would become a positive explosion from the 17th century on, when the first incipient mass literacy programs were launched and demographic mass also started soaring.