This is the second in a series of posts about the demographics of the coming Age of Malthusian Industrialism.
In the decades and centuries to come, technological progress will slow to a crawl, as dysgenic reproduction patterns deplete the world's remaining smart fractions (assuming that there are no abrupt discontinuities in humanity's capacity for collective problem solving, such as genetic IQ augmentation or machine superintelligence). In the meantime, due to fertility preferences being heritable and ultra-competitive in a post-Malthusian world, populations will explode, as the world enters an epochal baby boom not long after 2100. This renewed demographic expansion will last until the world hits the carrying capacity of the late industrial economy, which will usher in the Age of Malthusian Industrialism.
Part 1 – Part 2 – Part 3 – Part 4
---
The above map of French and German total fertility rates displays what is historically a novel state of affairs. France was probably the first country in the world to experience a fertility transition, with birth rates beginning to plummet amongst the French aristocracy in the early 18th century, presaging the libertine spirit of the Age of the Enlightenment and the fantasies of the Marquis de Sade. Meanwhile, the Prussians were introducing a tax on childlessness, and the martial Junkers were in no rush to stop procreating. Consequently, France went from being Europe's most populated country – a status it has enjoyed since Late Antiquity – during the era of the Sun King, to just 60% of Germany's level by 1914.
Then the worm turned. German fertility plummeted after World War I, and even the Nazis with their "Kinder, Küche, Kirche" rhetoric were unable to force a recovery to peak Weimar levels. Meanwhile, the French – long derided for "race decay" by the Anglo-Saxons and the Germans – started to make more babies. Ironically, this began during the Vichy period, at the trough of France's fortunes, and spread to the rest of the country after 1945; the French have been much more fertile than the Germans ever since. Whereas one 1920s League of Nations demographic projection saw the French population falling from 40 million to 29 million by 1970, it instead soared and now stands at 65 million.
But why this turnaround?
I would argue that this historical French dissolution paved the way for present day French virility, and conversely, past German "culture-forced" virility paved the way to present day dissolution. Or to put it in numbers, whereas Germany underwent its fertility 3 generations ago, the France had their about 5 generations ago. Their society has been selecting against those who reproduced less for a while longer, and it is starting to tell.
The Future Belongs to the Fecund
As I pointed out in the previous post in this series, there were huge economic incentives to have large families before the Malthusian transition. Since the economically rational thing to do was to have lots and lots of children, there much have been little, if any, selection for fertility per se. If anything, sooner the converse. Families that had more children than they could support suffered higher death rates for their lack of discipline. Meanwhile, the genetic competitiveness that committed and affluent "breeders" gained was limited by the fact that overall cultural norms were highly pro-natal, which limited their ability to eke out a relative advantage. Moreover, since higher IQ tends to be correlated with both greater economic success and lower desired fertility, these rich genotypic breeders must have been quite rare anyway. Hence, in the pre-industrial Malthusian world, there would have been an equilibrium in which breeders only ever constituted a small share of the population.
When these Malthusian constraints fell away at around the time of the Industrial Revolution, along with the loosening of traditionalist pro-natality mores (have as many children as you can support and no more), the evolutionary underpinnings of the old equilibrium likewise crumbled away. However, since in most populations breeders are not yet a high percentage of the population, at first – i.e. the first century or so – this only had very modest effects, because there were very few breeders at t=0.
Hence, cultural and social influences played much greater roles in determining fertility in First World nations during the 20th century, and at least in Africa, will probably continue to do so for the next century.
But this will not be true after another one or two centuries.
Fertility preferences, like all aspects of personality, are heritable – and thus ultracompetitive in a world where the old Malthusian constraints have been relaxed.
Kolk et al., 2014 developed a rigorous model to demonstrate this:
Correlations in family size across generations could have a major influence on human population size in the future. Empirical studies have shown that the associations between the fertility of parents and the fertility of children are substantial and growing over time. Despite their potential long-term consequences, intergenerational fertility correlations have largely been ignored by researchers… We show that intergenerational fertility correlations will result in an increase in fertility over time.
They model the historical and future prevalence of four distinct reproductive groups: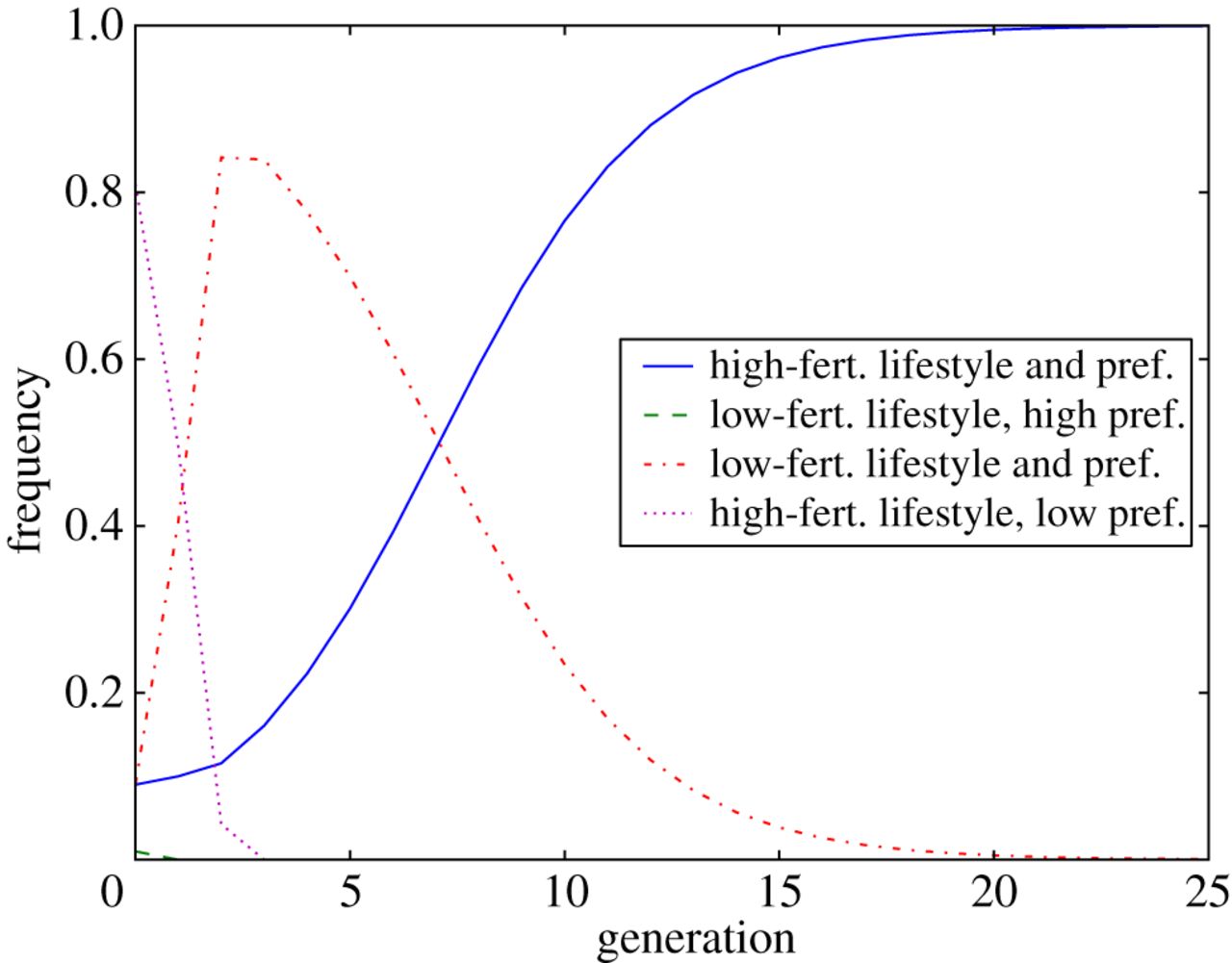 Relative frequencies of PHH (blue, solid), PLH (green, dashed), PHL (purple, dotted) and PLL (red, dot-dashed) over time, after the manifestation of a new low-fertility lifestyle (model 1). We use the following initial values at t = 0: PHH(0) = 0.09, PLH(0) = 0.01, PHL(0) = 0.81 and PLL(0) = 0.09.
It takes around three generations for the old order (high fertility lifestyles, low fertility preferences – that is, our pre-industrial Malthusian world) to give way to the current order (low fertility lifestyles, low fertility preferences).
However, after five or so generations, the breeders (high fertility lifestyle, high fertility preferences) start expanding as a share of the population, slowly at first, but gaining in rapidity once the laws of exponential growth make themselves felt. On the above chart, the French, the Dutch, and the Anglo-Saxons might be around Generation #5. It is also at this stage that there emerge what we might call "breeder cults", such as quiverfulls, or that Dutch community with an average TFR of close to 10 [AK: What are they called? I dimly recall reading about them].
Moreover, in a few ethno-religious societies, such as the Amish and the Hasidim, the process is much further advanced, since many of the people less committed to their values – which include high fertility – have been getting "boiled off" into their neighboring societies with every passing generation (Cochran & Harpending 2015).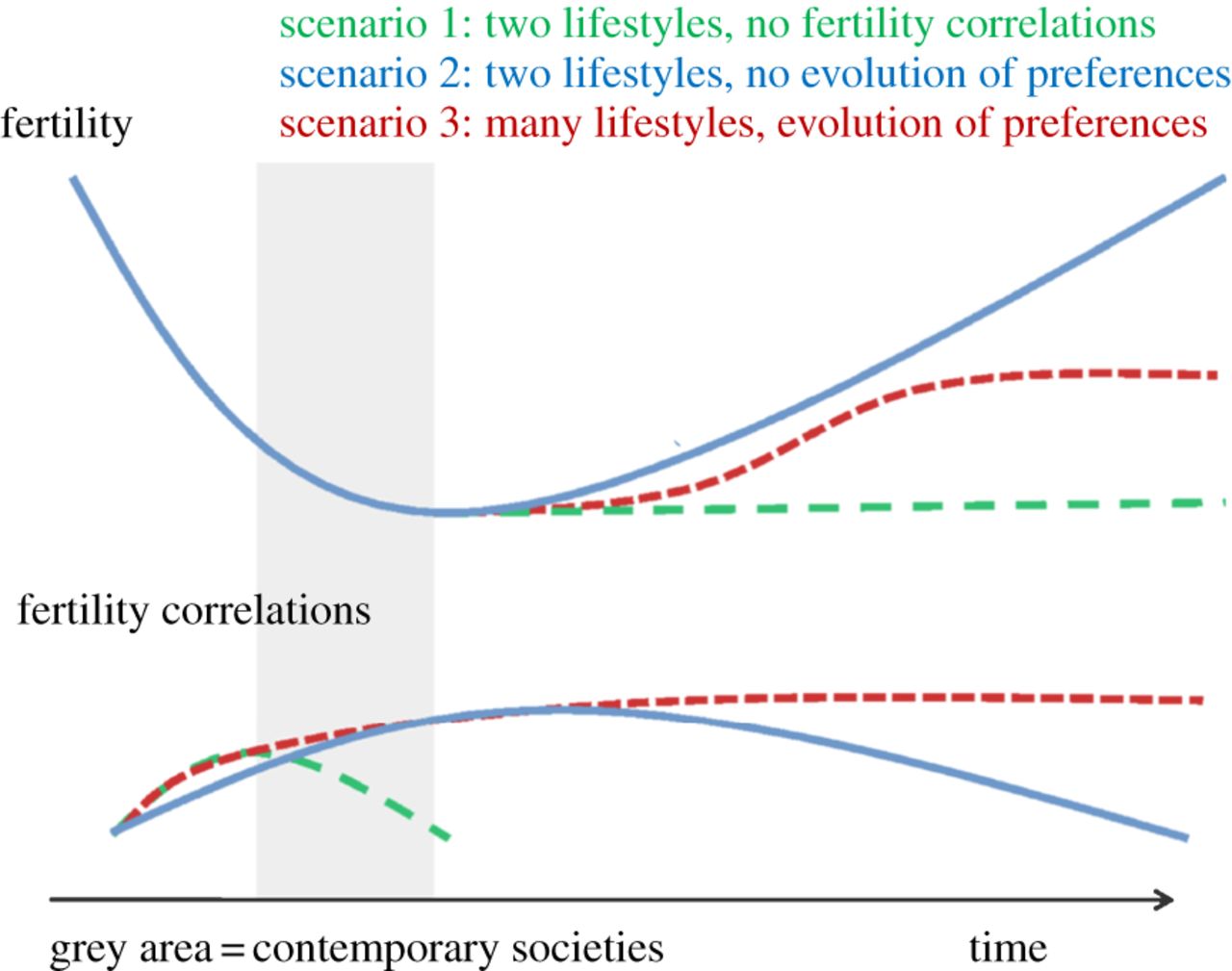 Sketch of three different scenarios, each with different assumptions on fertility correlations across generations, showing implications for fertility (population size) and fertility correlations.
The authors present three possible scenarios for the future:
Scenario #1, in which fertility preferences are not heritable, is not backed up by the empirical evidence. Fertility correlations between generations are not only real, but they are actually increasing. 
Scenario #2 has static cultural values, with a gradual return to the fertility patterns of the pre-industrial Malthusian age by the time breeder genes become dominant. Incidentally, I would even further speculate that the ultimate TFR may be even higher, due to technological advances and greater per capita resources (at least before the world overshoots the carrying capacity of the modern industrial economy).
Scenario #3 also has breeders eventually reaching demographic saturation, but the difference from #2 consists in the "continuous introduction of novel cultural traits [that allow] for the possibility of sustained low fertility," on the assumption that "the cultural changes associated with the fertility transition are not singular historical events, but rather the beginning of a rapid and ongoing increase in cultural diversity."
So, basically, more and more of this. Every single generation.
I am pretty skeptical about #3.
First, it is far from obvious that future ideological or technological trends will necessarily be loaded against natality; to the contrary, as Randall Parker has argued, things such as life extension, gene selection for better babies, and further automation of domestic chores could expand people's capacity and willingness to have more children.
Second, as I argued in my article on The Age of Malthusian Industrialism, if there is no major breakthrough that increases intellectual capacity during the 21st century – for instance, IQ augmentation via genetic editing, or machine superintelligence – then they may become impossible in principle due to dysgenics, as the world descends into a long dark age of idiocracy. In an extended period of technological stagnation, it seems reasonable to assume that cultural innovation will also stagnate. At any rate, there isn't any good reason to believe that most of the cultural shifts that do happen will be in the direction of further fertility restriction.
In a related discussion on the original Age of Malthusian Industrialism post, commenter AP suggested that breeder behavior would be constrained by lack of ample housing:
These high-fertility groups in the West tend to live in relatively sparsely populated areas (Utah, rural areas, Siberia), where having lots of kids doesn't change one's lifestyle and environment too much. There is still plenty of room for more people in those places. The idea of eventual massive overpopulation rests on the assumption that high-breeding Westerners such as Mormons, traditional Christians, etc. would tolerate cramped surroundings resembling rural India or Bangladesh in their packed humanity. I strongly suspect this would not be the case.
The flippant retort would be to just say that those breeders who can't breed in Bangladeshi-like conditions would also be selected against (actually, is this even wrong?). But we don't have to.
As commenter Cicerone points out: "Haredi Jews have 7 children per woman even though they live in densely populated Israel and the dense BosWash corridor."
And here is the city of Modi'in Illit in Israel, a concrete ghetto. As Russian blogger Ivan Vladimirov put it, "Vykhino with less snow" [Vykhino is a dreary Moscow suburb]. But then he reveals some demographic facts about Desert!Vykhino: It was founded in 1996, and only gained city status in 2008; in 2009, it had 46,000 people, of whom 80% were under the age of 30; in 2006, the median age was just over 10 years. No surprise, then, that by 2016, the city had 66,000 people. So what's their trick? Desert!Vykhino also happened to be the largest settlement of Haredi Jews in the Occupied Territories.
So far as fertility is concerned, housing quality is very much a tertiary issue.
Population in the 21st Century
About a year ago, I made the counterintuitive prediction that fertility rates in the dark continent may well dip below those of Europe and White America by the year 2100.
Since I posted that, behavioral economists Jason Collins and Lionel Page have written a paper in which they replaced the standard UN demographic models with one that accounts for heritable fertility preferences.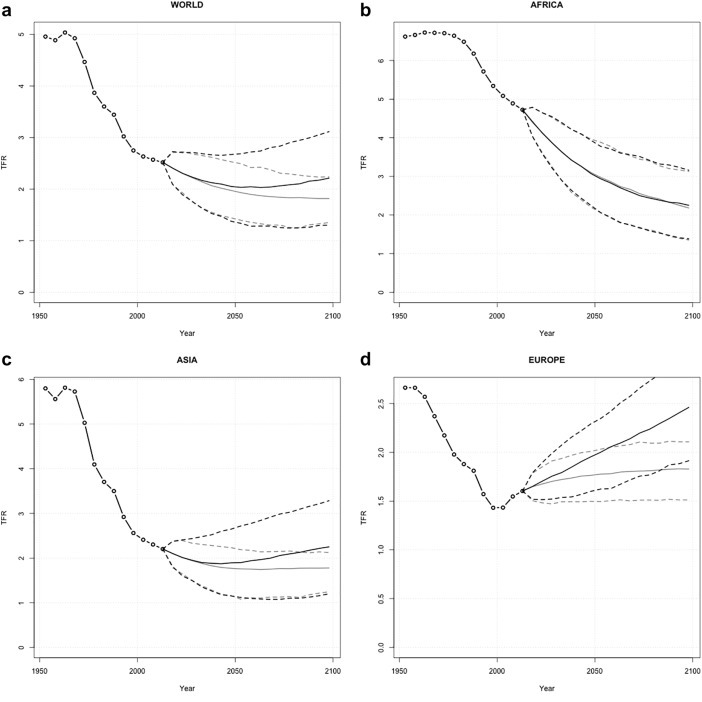 In their model, European TFR overtake's Africa's in the late 20th century, with Europe finishing up at around 2.5 children per woman and Africa at 2.2 children per woman by 2100.
Though in the meantime, the projection that there will be more than 4 billion Africans – the "world's most important graph", as popularized by Steve Sailer – will also come true.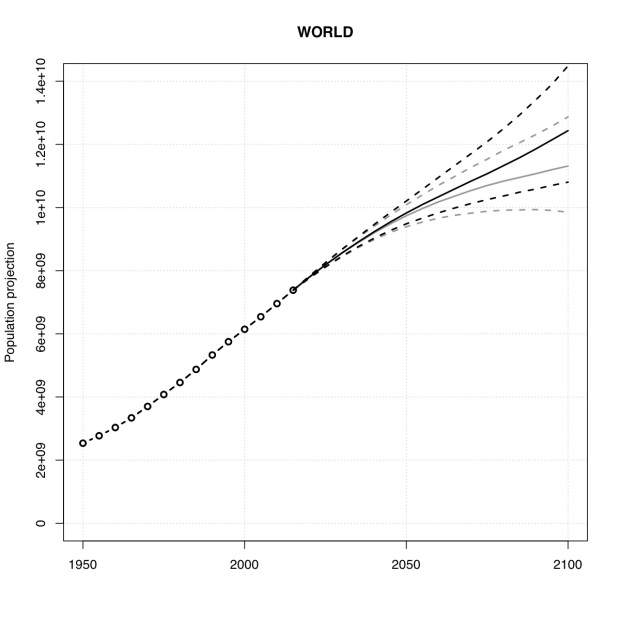 The world population – driven mainly by trends in Asia and Africa, which were late to experience and have yet to complete their demographic transitions, respectively – will largely track standard forecasts before beginning to increasingly diverge by the end of the century.
This happens to be exactly in sync with what I argued in my original post on the Age of Malthusian Industrialism.
Population in the 22nd Century
Their model does not be beyond 2100, but it is not difficult to sketch out what will be happening as we enter the 22nd century.
Africa will have completed its demographic transition, and will take a breather at 4 billion, only eking out modest increases in the next 100 years.
Asia will be approximately where France is today, gradually resuming steady population growth. China may again become the world's most populous nation in the 22nd century, after falling behind India in the 2020s.
Europe and White America will be converging with the state of Israel today, with TFRs approaching 3 children per woman and looking to triple-quadruple their populations in the coming century, reaching the demographic scale of Asia today by 2200.
The US may end that century as majority White again, having lost that status around the 2040s.
The precise details of what will happen in Europe will depend on unknowables, such as the extent to which it becomes Africanized during the 21st century, and the interplay of shifting ethnic proportions with Islamic conversion. However, one minimal thing we can say is that after reaching a minimum sometime in the second half of the 21st century, the share of the indigenous European population will begin to increase again in the 22nd century. They will be concentrated in the small towns and rural areas, and will begin to demographically push back into the Afro-Islamic big cities.
At the extreme end, Israel will by now basically be a nation-sized breeder cult. With a population of at least 30 million by 2100, it will start soaring into the hundreds of millions in the century after that. At this point, it will likely have to territorially expand or to start emitting emigrants.
Of course by that time the classical nation-state may have gone the way of the dodo, so it's unclear to what extent geopolitics as we know it today will still be a valid prism through which to analyze things.
Part III will briefly cover the Geopolitics of the Age of Malthusian Industrialism (though I will be saving most of this for the book).
Part IV will be the biggest individual section, and will attempt to calculate the carrying capacity (max sustainable population) of the Age of Malthusian Industrialism.