From the indispensable BioHackInfo:
China's new Criminal Code, which came into effect four weeks ago on March 1st, has a new section dedicated to 'illegal medical practices', which makes it a punishable crime to create gene-edited babies, human clones and animal-human chimeras.

The new section is an amendment to Article 336 of China's Criminal Law, and officially outlaws "the implantation of genetically-edited or cloned human embryos into human or animal bodies, or the implantation of genetically edited or cloned animal embryos into human bodies," — with penalties ranging from fines to seven years imprisonment.

Back in 2018 on November the 25th, Chinese biophysicist Dr He Jiankui announced that he had used gene-editing tool CRISPR to create the world's first gene-edited babies. Dr He had modified the babies' CCR5 gene — which the HIV virus uses as a pathway enter the cell. Through this CCR5 modification, the babies were made immune to HIV infection, and quite possibly had their cognitive capabilities enhanced.

Dr He was widely rebuked for this experiment, and after a storm of media-generated outrage and mounting pressure from influential Western bioethicists, Dr He was detained, and on December 30th 2019, a Chinese court sentenced him to three years in prison.
And so China takes itself out of the race towards the Biosingularity.
This is arguably a more monumental development than the ordinary humdrum of news about Corona or Ukraine or Taiwan or whatever the latest /r/worldnews headline is, though one that will only be recognized as such decades hence.
Nor is it an entirely unexpected one:
Anyway, what I'm saying is, one shouldn't necessarily expect the biosingularity to originate in East Asia. While before I thought China had much better prospects than the US, now I rate them about equally.
As I wrote back then, contra stereotypes about "rationalist" East Asians, in reality:
Opinion polls show Chinese support for genetic edits to remove disease or increase IQ is very similar to American/Western ones;
Chinese laws were already more restrictive on the matter (human germline modifications are outright banned);
The prominence of SJWs aside, there is less acceptance of evolutionary approaches to human behavior amongst Chinese social scientists relative to North American ones.
It's also not extremely surprising from a deep historical perspective. This was, after all, the civilization that gave up on oceanic expeditions because nomads were harassing their peasants (or some similar banality), and banned unsanctioned maritime trade (haijin) because they were afraid of Japanese pirates. It's at root a very risk-averse culture, but only those who take risks get to drink champagne, as the Russians say.
Hilariously, it seems that this was in part thanks to the influence of Western bioethicists, a parasitic caste that should unironically be sent off to Gulags. It is amusing how, thanks to the respect and prestige they enjoy in the world, Westerners often end up "winning" even when they're working to torpedo themselves (China sabotaging itself thus being good for the Western Powers). Then again, the early Chinese were apparently hanging on the words of Caucasoid shamans thousands of years ago, so has anything really changed?
That said, this doesn't materially change the fact that the twin forces of SJW egalitarian zealotry and religious fundamentalism may yet make the Biosingularity unrealizable in the West too.
So which civilization is now humanity's best bet to avoid the Age of Malthusian Industrialism – assuming, at least, that mainstream AGI timelines don't pan out?
The answer may surprise you!
Partial list of worldwide opinion polls on genetic editing:
U.S., 1996: 35% support editing for physical traits
U.K., 1994: 8% support, 88% oppose editing for intelligence*
New Zealand, 1993: 24% support, 67% oppose editing for intelligence (n = 329)
Australia, 1993: 27% support, 62% oppose editing for intelligence (n = 201)
Japan, 1993: 26% support, 54% oppose editing for intelligence (n = 352)
India, 1993: 70% support, 23% oppose editing for intelligence** (n = 568)
Thailand, 1993: 74% support, 22% oppose editing for intelligence** (n = 680)
Russia, 1993: 35% support, 49% oppose editing for intelligence** (n = 446)
Israel, 1993: 22% support, 70% oppose editing for intelligence** (n = 50)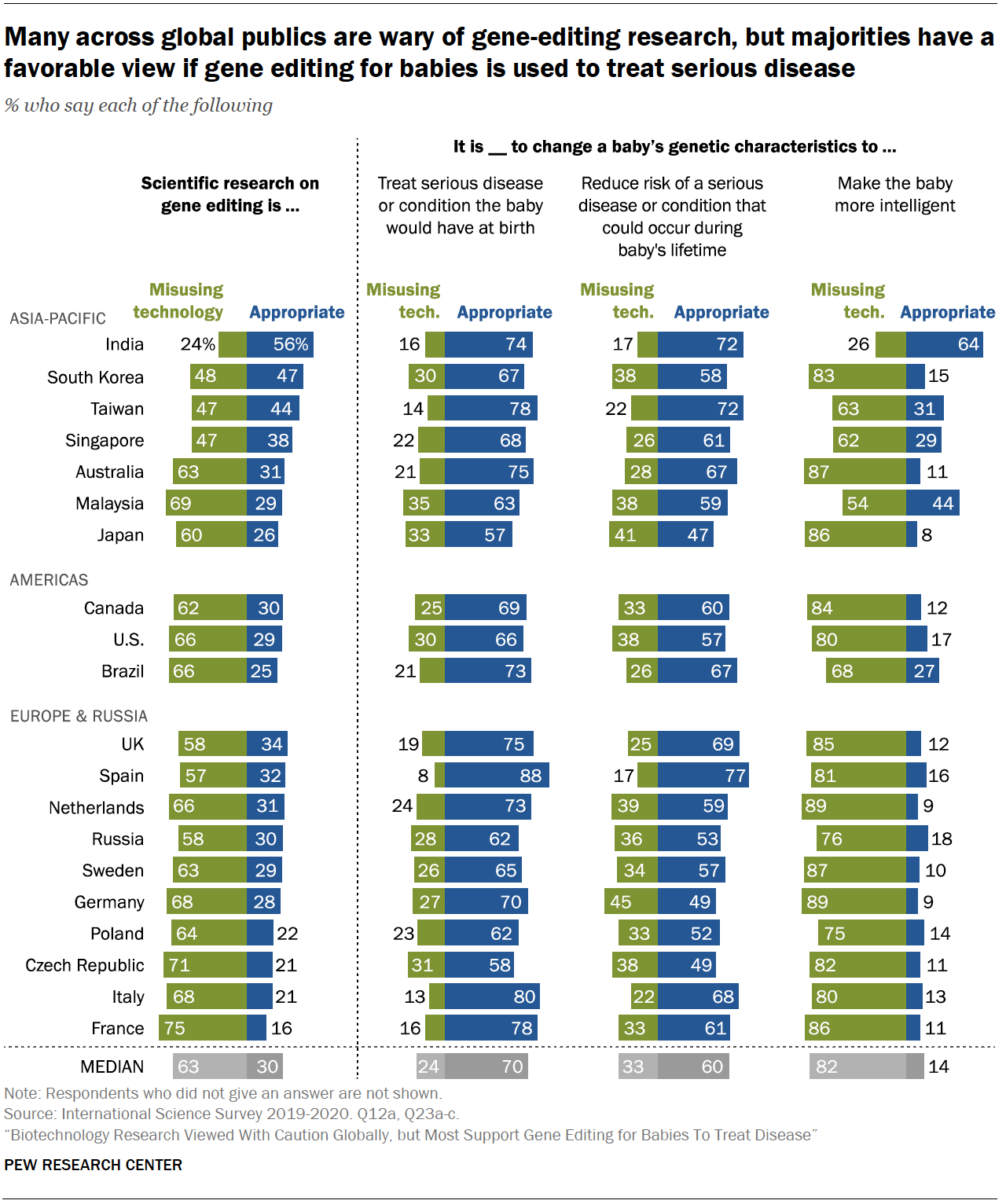 Vedic Hyperpower 2100?