For now I'm just making the data available without commentary. Make of it what you will.
Levada (18-21 Nov), VCIOM (19-20 Nov), and ISI (4-10 Nov) predictions of election results based on polls.
Election results as of Dec 9th 2011, 16:55 Moscow time, 99.99% counted.
VCIOM (62 regions), FOM (80 regions), and ISI (24 regions) are exit polls.
The FOM exit poll also had a breakdown by federal region, but it has since been removed from their site – perhaps because of the inconvenient discrepancies between it and the official tallies in Moscow, the Volga Federal District, and the North Caucasus Federal District. Fortunately, some enterprising sleuths saved the relevant files beforehand.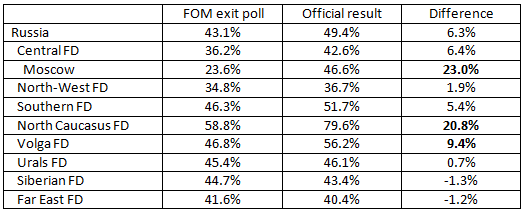 A comparison of United Russia's official results with the regional FOM exit polls can be found at Alexander Kireev's blog. It is translated and reproduced above.