My attention was brought to the following map of Ukraine's IQ.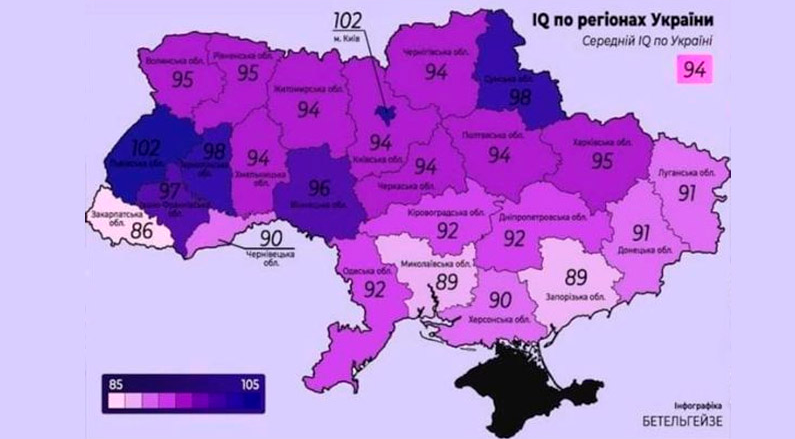 I don't know the methodology behind it, but it seems to be based on what is not an uncommonly cited average (usually low to mid 90s) coupled with the results of the ZNO, which is the nationwide school-leaving exam in Ukraine.
Russia's equivalent is the EGE. It doesn't tend to reveal much in the way of regional details, possibly as a result of political correctness considerations around the low results from DICh (Dagestan/Ingushetia/Chechnya), so the best sources of Russian regional IQ estimates are regional PISA results for the years in which regional details are available and, more recently, the results of military-run online proficiency tests for aspiring contract soldiers. I have a lengthy Russian language article on all this here: https://akarlin.ru/2020/04/russian-noosphere/
But anyhow, back to Ukraine. What I can say is that the above map does correlate with the regional maps of ZNO results I have seen. For instance, there are interactive maps available not just at oblast level but even at raion level at this website (which, however, unfortunately seems to be down right now). Nonetheless, here is not an atypical screenshot (this map shows regional results from the 2013 ZNO on Ukrainian history).
There are detailed raion level data at this website testportal.gov.ua/reg/, so all of this can be confirmed/reconstructed for more recent years as well.
Are these results an artifact of western Ukrainians doing better on Ukrainian history? Not really, looking at performance between subjects, there aren't major differences in regional performance between an ideologically "neutral" subject like Math, and something like Ukrainian Language and Literature (e.g., Lugansk oblast actually did relatively worse on Math, last on the list, relative to Ukrainian language and Ukrainian history).
Here is the "general" rating of Ukrainian oblasts by ZNO performance for 2017.
Місце
Область
Середній бал ЗНО
К-ть випускників
2017
2016
Δ
Всього
Не здали один
або більше тестів
1
1
Lvov
149.99
13239
2859
21.6%
2
2
Kiev
149.69
22919
3772
16.5%
3
3
Ternopil
146.54
4581
1053
23%
4
7
+3
Sumy
144.71
4918
1051
21.4%
5
4
-1
Kharkov
144.01
11802
2686
22.8%
6
6
Volyn
143.04
6355
1638
25.8%
7
8
+1
Ivano-Frankovsk
142.98
6965
2191
31.5%
8
5
-3
Cherkasy
142.52
6067
1469
24.2%
9
9
Poltava
142.45
6809
1644
24.1%
10
13
+3
Chernigov
142.2
5597
1497
26.7%
11
12
+1
Khmelnitsky
142.05
6586
1673
25.4%
12
10
-2
Vinnitsa
141.88
7387
1924
26%
13
11
-2
Dnepropetrovsk
141.76
14741
3783
25.7%
14
18
+4
Zhitomir
141.3
6516
1857
28.5%
15
14
-1
Donetsk
141.08
8017
2060
25.7%
16
17
+1
Zaporozhye
140.86
7981
2116
26.5%
17
15
-2
Rovno
139.86
8155
2871
35.2%
18
19
+1
Odessa
139.41
11797
3792
32.1%
19
20
+1
Kirovograd
139.15
4668
1337
28.6%
20
16
-4
Lugansk
138.73
3068
786
25.6%
21
21
Nikolaevsk
138.12
5314
1755
33%
22
22
Kherson
137.41
5673
1837
32.4%
23
23
Chernivitsy
136.07
5306
2401
45.3%
24
24
Zakarpatye
134.08
8324
4203
50.5%
All in all, even more than this is a Ukrotriumph, I would describe this more specifically as an APTriumph (in honor of the pro-Habsburg commenter).
After all, Lvov is on the same level as the capital Kiev, while the much more rural Ternopil and Ivano-Frankovsk, the two other major regions to have been within the Austrian-ruled part of Austria-Hungary – and which came to mass literacy a generation earlier than most of the rest of Ukraine – continue to strongly outperform today.
In contrast, Zakarpatye, which was within the more backward Hungarian ruled part of the Austro-Hungarian Empire, is instead at the very end.
Other than that, to the extent there exists a geographic pattern, it is that northern Ukrainians tend to do better than southern Ukrainians (Sumy of all places, an economically desolate and depopulating region with a significant Russian minority, does as well as the rural Galician oblasts). Northern Ukraine in this respect covers the territories from Volyn and Rovne, which were part of the Russian Empire but spend 25 years under Polish rule after its collapse, all the way to Kharkov, the much more Russified core of "Sloboda Ukraine" that has been part of Russia since as early as 16C. Meanwhile, perhaps rather surprisingly, classical Novorossiya seems to be the worst performing major region (only caveat is that Donetsk and Lugansk are probably both a bit underrated because since 2014, the LDNR hasn't been participating in the ZNO, and the breakaway republics contain the more urbanized part of their oblast's population). I don't have a good explanation for this, the region had light serfdom, and both numeracy (see below) and literacy during the Russian Empire in this region were actually higher than in northern Ukraine and comparable to north-eastern Russia.
Speculatively, perhaps "internal colonization" selected for stupider (poorer, more desperate) peasants. They acquired more wealth, which even translated into higher human capital, during what remained of the Malthusian era, but then fell behind during the industrial era. Within Russia, IQ tends to fall as you go east beyond the Urals, even though Siberia was (mostly) settled by brighter northern Russians.
From PISA tests, Ukrainians on average ~= southern Russians, so probably what this really means is that the Novorossiyans are a bit below them whereas the northern Ukrainians are similar to Belorussians and most central Russians (northern Russians being higher still). Kiev and Lvov, being half an S.D. above the Ukrainian average, might be quite close to Moscow, Saint-Petersburg, and Yaroslavl oblast.
Here is the map of Russian regional IQ for comparison: https://akarlin.ru/2020/04/russian-noosphere/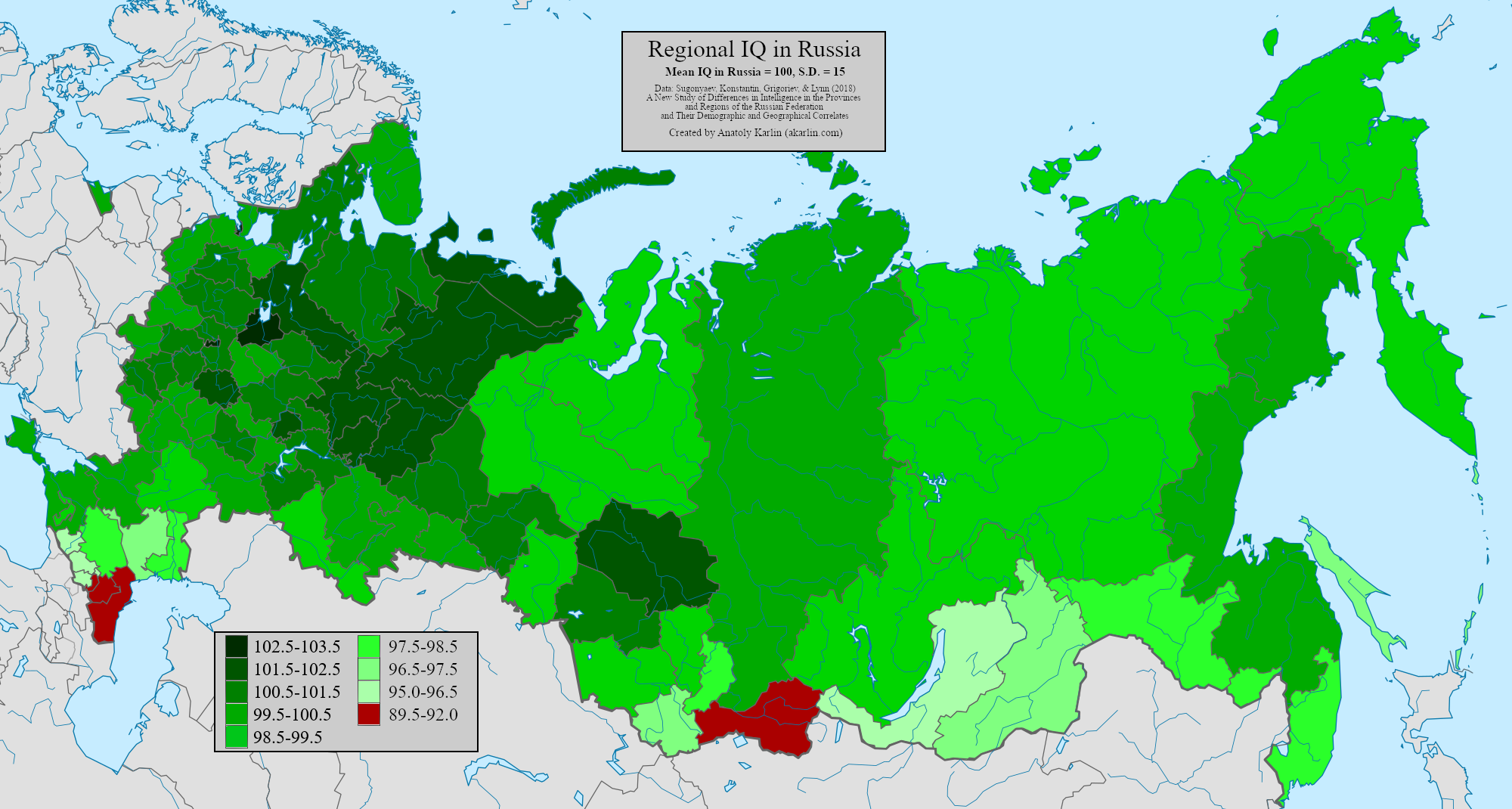 Since we also have a good picture of Kazakh regional PISA results, all we need is some regional data for Belarus (their exam is the ЦТ but I have been unable to find regional results) and we would be able to construct a pretty good regional IQ map for the bulk of the ex-USSR, mostly using standardized exams as proxies for the regional IQs and norming the differences in the average to the PISA gaps between them.