Further to my last post on the matter, I spent this evening collating all the most interesting maps I have on Russia, which I just published on my website:  https://akarlin.com/projects/ruriks-seed/
(Why not here? Because I want it to be a page that I can keep editing indefinitely – adding to, and occasionally, deleting. For instance, since I posted my first post, I discovered that this was a fake map).
If you have any good (high quality * novel/unusual) Russia maps, then feel free to post them here.
---
In my original post, I said I'd forego commentary, allowing my readers to look at the data through fresh eyes. But in this post, I will go ahead and spell out some basic observations. Just quick notes, nothing serious.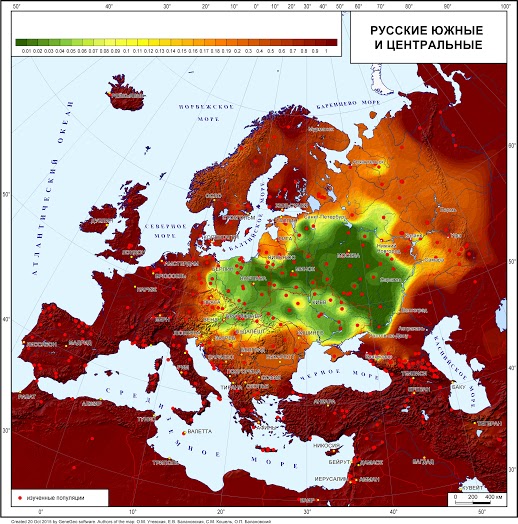 Population Genetics
North Russians are Slavic/Finno-Ugric metis. Emphasis that not Finnic; according to the Balanovsky maps, the Finns are very distinct even from their Estonian linguistic cousins.
Central & South Russians are "core Slavs", like the Belorussians, Poles, Ukrainians, and Slovaks. Incidentally, I am amused to note that Czechs might be slightly more distant; but not surprised, given their personality differences relative to other Slavs (more phlegmatic, less religious).
Politics
I discussed the patriotism map here.
I have discussed Russia's electoral patterns frequently on this blog, so I will forego doing that except to make the obvious point that the South/Center is more conservative – see the 1990s "Red Belt" (Communism = conservatism in Russia during the 1990s, slowly becoming less so as Soviet boomers die out), giving way to greater support for Putin from the 2000s. Meanwhile, the North consistently votes relatively more liberal (as well as supporting nationalists more than Communists in relative terms).
While I have highlighted Latvian support for the Bolsheviks in 1917, Belorussia was also rather strongly red. Perhaps it was inevitable that they got Lukashenko.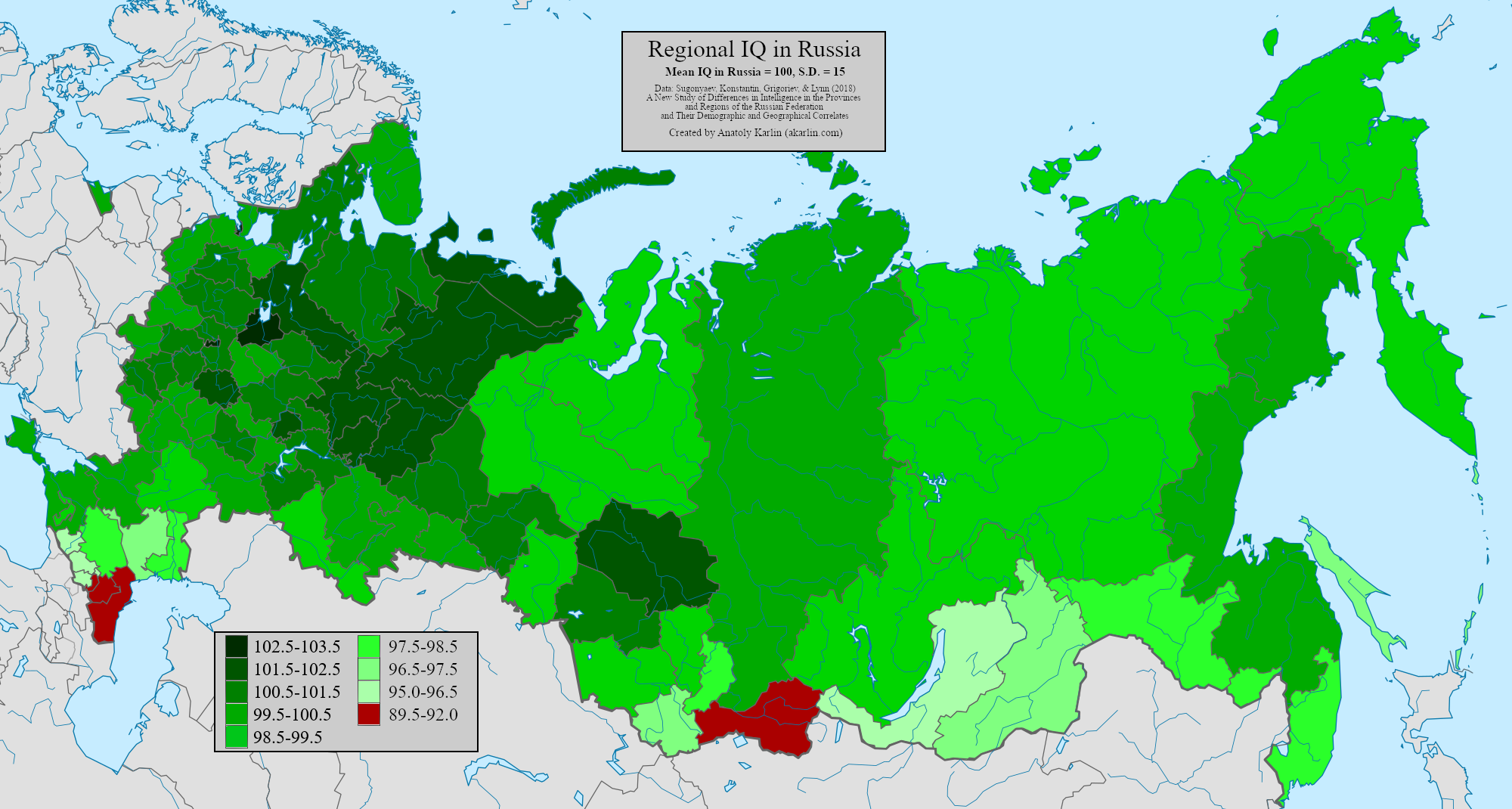 Human Capital
Society & Culture
While the North is more K-selected in cerebral matters, they also drink a lot more so have more suicides, murders, lower life expectancy (especially male), etc. This greater propensity towards drink was evident even more than a century ago.
In line with its much greater irreligiosity, the North has much higher illegitimacy rates; a pattern evident even more than a century ago.
However, the Deep South (not the Black Earth region) and Siberia (esp. has much higher rates of teen pregnancy. This is strongly correlated with intelligence, and – surprise, surprise! – that perfectly tracks regional IQ patterns.
Building ways in rural private homes: Northerners have banyas and saunas; southerners have baths or showers.
Many more rural southerners own their own individual houses. This is, again, deep history.
In the Deep South, private homes are more often made of brick; in much of the rest of the country, they are more often made of wood. This must presumably be account of the steppe/forest division.
All of this also has deep historical roots. Traditional southern Russian farmsteads are more spread out, with separate buildings for different functions, while northern peasant dwellings are huge structures (the farther north, the bigger) that traditionally also sheltered livestock.
Southerners are much more corrupt than the North. This is my personal impression – but all the worst cases of official corruption/impunity and criminality (Khakhaleva, Kushchevskaya) seem to be from that region. Statistics/polls seem to bear that out.
There is much more electoral fraud in the South, in line with corruption. As I have argued before, this suggests that Russian electoral fraud is not "centrally planned" but something that local bureaucrats organize to suck up to the people above them.
More debtors in the South, indicative of shorter term, low future orientation attitudes.
~50% cash use in the North, rising to almost 90% in the Deep South, peaking in DICh and… Crimea (legacy of Ukrainian backwardness).
Cannabis dominates drug violations in the South and Center, while the more alcoholic North is unsurprisingly into harder stuff.
Other
Map of migrant region donors to Russia's two major cities is novel, and interesting; Moscow sources predominantly from the Center and South, while Saint-Petersburg sources from the North. I wonder how "deep historical" this pattern is. Personal observation – there do seem to be more blondes in SPB, and it has a reputation for being more polite. In terms of human capital, they are about equal. That said, while Moscow is a world-class city, SPB is more rundown; I'd say that it's closer to being Russia's biggest millionik than its second capital.
Ukraine maps: Typical East/West maps which have been often discussed on this blog already.
Moscow maps: Also often discussed.
Google Trend Maps
When searching on Google, these geographic patterns reproduce themselves:
North & Center more interested in Navalny (interest in liberal politics)
Western regions most interested in the "Russian Spring" (combination of nationalist sentiment plus proximity to Ukraine).
Vera Brezhneva (pop singer) vs. Harry Potter comparison is almost an IQ map.
Deep South and Far East more interested in sex, porn. Incidentally, it would be interesting to do a butts vs. boobs comparison for Russian regions, like Pornhub [SFW] did for the US and the world (boobs are more g loaded).
Deep South most interested in football, followed by rest of European Russia; Siberia – not at all. This one I assume is just a function of climate.
European Russia and Urals search for Egypt flights; east of the Urals, Russians search for Thailand flights.
This is significant: European Russia searches for "TV"; Siberia searches for "Internet". The latter is culturally more important in Siberia, because most Russian federal programs are orientated towards Moscow time. This is politically relevant, because this makes insurgent politicians likelier to succeed east of the Urals.
European Russia and Far East coast search for "fishing", North-East and Siberia search for "hunting."
Cats dominate most of European Russia and the Urals; dogs are more popular in some of the western border regions, as well as East Siberia and the Far East.