I am not exaggerating when I say that the Jewish Museum and Center of Tolerance might just be the single best museum that I have ever visited.
This isn't because I identify with Jewishness, consider myself an outstanding philo-Semite, or am particularly moved by its spiritual gravitas.
I admire it because it does absolutely everything a "national" history museum needs to do, and it does that absolutely perfectly. I would even argue that it is nothing more or less than a blueprint for how history should be taught from the point of view of K-selected nationalism. 
The museum has a tripartite structure:
First, visitors are treated to a propagandistic 4D film – importantly, one with excellent production values – on themes such as the Jewish Covenant with God, the Promised Land of Israel, and the evil Pharaoh who forced the Jews to build his pyramids (never forget or forgive a grudge). Now yes, in some sense, you may consider this to be just feed for the most r-selected visitors. But I think it plays an important role. It sets the tone for the rest of the visit, invoking pride amongst Jews and sympathy for the Jewish experience amongst Gentiles – at least, it did do something like that for me. This patriotic, semi-mystical approach is the universal foundation to instilling a sense of pride for the nation.
The second part consists of the museum's main exhibit area. While the first section is equivalent to simple historical tropes and slogans, the main section might be compared to a college level history course in its level of sophistication. There is no outright dishonesty, but many issues are skirted over – most notably, the degree of Jewish involvement in Bolshevism – and/or slanted in a way that promotes interpretations that are favorable to Jewish interests and their own self-image.
The third part of the museum is a serious historical research center and library. This is for the most committed and K-selected scholars. They uncover new data about the Jewish experience, contextualize it within the existing narratives of Jewish history, and feed their work back into the museum's other constituent parts – national propaganda tropes and national narratives, respectively – to further optimize and refine them.
Attached to the museum is a "Center of Tolerance", whose invitees tend to preach a cosmopolitan narrative that is somewhat at odds with the rather more… "particularist" message propounded all around it.
Now I have always been a fan of learning from Jewish wisdom, and the Jewish Museum is no exception. So let's get started on this virtual tour.
---
There is a security check required for entry into the premises.
---
The Jewish Museum is located close to the heart of Moscow (just 5 km away from the Kremlin). Consequently, a disproportionate percentage of the people who count in the former Soviet space – one of the Jews' three "promised lands" (as per Yury Slezkine) during the 20th century – can access it within the space of two hours.
This is part of a general global pattern. There are museums about Jewish culture, history, and especially the Holocaust sprinkled all over the world's leading metropolises. This is one of several factors that give Jews cultural or "soft" power far in disproportion to their demographic and even economic heft.
This is a lesson that all other nationalists need to bear in mind, at least as concerns their own cities and elites.
If you give premium "advertising" to another nation, should it be so surprising if your politicians come to privilege it over your own?
At 400 rubles ($6), tickets are perfectly priced for the center of a SWPL metropolis – high enough to ward off the riff raff, low enough to still attract a mass visitorship.
---
The Museum is estimated to have cost $50 million. Putin donated a month of his salary towards its construction.
The Council of Trustees is a who's who of multiethnic business elites close to the Kremlin and the globalist Davos set. This is a rather interlinked grouping, a fact which should make both the Western neoliberals and Alt Rightists who calumny/glorify modern Russia as the PUTLERREICH quite sad (if either of them cared for Russian realities, as opposed to caricatures – they don't, of course).
They include some of the following:
The oligarch Viktor Vekselberg
The UK's richest man and donor to US political parties Leonid Blavatnik.
Chief of Staff of the Presidential Administration Anton Vaino (and legit weirdo who discovered the so-called nooscope, a "baffling mystical instrument that he claims can forecast and control society and the economy by scanning the universe").
Abramovich's former wife and DNC donor Dasha Zhukova.
A metropolitan of the Russian Orthodox Church and a Grand Mufti.
Lord Browne, who as former CEO of BP was best known in Russia for being an obsequious rug to Putin.
French banker David René de Rothschild.
President of the World Jewish Congress Ronald Lauder.
It is always a good idea to get high profile movers and shakers to invest their names, cash, and prestige onto your museum.
---
The tour begins with a short, Hollywood-esque 4D film about the glorious and tragic history of the Jewish people.
---
With a budget that probably exceeds that of every church, museum, and cultural landmark combined in any single provincial Russian city, no expense was spared to make the Jewish museum into an immersive, multimedia experience.
This is important. Just as an expensive palace or luxurious apartment confers prestige upon its owner, so too does a richly decorated and equipped museum confer prestige upon the narratives it propounds. It's not like people are deep.
---
Many Russian museums have only patchy and low quality English translations, and sometimes lack them altogether. This is nothing to be proud about. If something isn't available in English, it might as well not exist so far as the global discourse is concerned.
As we might expect, everything is made meticulously available in both Russian and English in the Jewish Museum.
---
The Jewish Museum's point of view is put across in a highly diplomatic way that avoids offending the host country, while portraying Jews in the best possible light.
During the Civil War, … the majority of Jews didn't participate in the battles between the Bolsheviks and their opponents. They only tried to survive in those terrible times. While some Jews joined the anti-Bolshevik forces, a great many more tied their fates to the Bolsheviks. This was in large part forced on them – for Jews, the choice between the Bolsheviks and their enemies was often a choice between life and death.
After all, the anti-Semites were printing a certain unflattering forgery about them (which originated in Paris and saw its biggest print runs in the West after the Bolshevik Revolution).
And yet there is no discussion of less comfortable topics such as the ethnic makeup of the Cheka or the NKVD.
That said, it is still possible to make out many things by reading between the lines.
Anatoly Lunacharsky (1929):
It is with great joy that we view the immense increase in the number of Russo-Jewish marriages. This is the right path. Our Slavic blood still has a lot of peasant malt; it is thick and plentiful, but it flows a little slowly, and our whole biological rhythm is a little too rustic. On the other hand, the blood of our Jewish comrades is very fast flowing. So let us mix our blood and, in this fruitful mixture, find the human type that will include the blood of the Jewish people like delicious, thousand-year-old human wine.
This guy was responsible for education from 1917 to 1929. (Amongst other things, he agreed with Lenin that Russia should move to the Latin script). That explains many things about the early Soviet Union.
Nikolay Semashko (1926):
Anyone who sows national discord and smears Jews – consciously or unconsciously, it doesn't matter – plays into the hands of our worst enemies.
This acquires a sinister note when we consider that not only was the Soviet Union headed by people such as Lunacharsky, but that anti-Semitism could be punished with the death penalty.
But there's not that many people who know such caveats, and as befits a national Jewish museum, it doesn't particularly strive to change that.
---
The Center of Tolerance is a special area of the museum where leftist academics and democratic journalists lecture the goyim on how racist and xenophobic they are.
At least that's my guess based on reading the GloboHomo gobbledygook about it:
Prosperity Through Tolerance

In the Russian Federation, people of many different religious and cultural groups, social and ideological associations, hundreds of ethnicities and nationalities live side by side. We are diverse, and this is our strength. Respect for other people's cultures, history, and traditions is an essential prerequisite for peace, harmony, and prosperity.

In the Tolerance Center, you'll have the opportunity to join a discussion about the importance of inclusiveness to our social and cultural enrichment.
---
There is a cafe. Another box checked.
---
Last but not least, the Jewish Museum hosts a research center (created by the Blavatnik family) and the Schneerson collection. The latter was the subject of a spat several years ago between the Russian state and American Chabad Jews who wanted it back.
Amusingly, the single boldest thing that Putin has ever said on the "JQ" was intended to justify keeping this collection in Russian hands:
"I thought about something just now: The decision to nationalize this library was made by the first Soviet government, whose composition was 80-85 percent Jewish," Putin said June 13 during a visit to Moscow's Jewish Museum and Tolerance Center. …

According to the official transcription of Putin's speech at the museum, he went on to say that the politicians on the predominantly Jewish Soviet government "were guided by false ideological considerations and supported the arrest and repression of Jews, Russian Orthodox Christians, Muslims and members of other faiths. They grouped everyone into the same category.

"Thankfully, those ideological goggles and faulty ideological perceptions collapsed. And today, we are essentially returning these books to the Jewish community with a happy smile."
The very best museums are more than just a stale set of exponents gathering dust. They are living and breathing entities that continue to produce original content. This is perhaps especially true in today's digital age, when people can access many museum exhibits through a browser.
Thanks to this research center and the library, the Jewish Museum passes this test of relevance with flying colors.
---
Regardless of what one may think about Jews, it is undeniable that they have an unequalled talent at getting their narrative across, defining the terms of the debate, and acquiring cultural hegemony. The Jewish Museum is an example of this in practice, and an easily accessible one, so one would hope that more nationalists and nationally-oriented patriots make a pilgrimage to it. Again, you can either kvetch about Jewish influence – and be marginalized for your trouble. Or you could try to learn from the Jews and how to emulate their success.
I for one hope that there will come a day when we will se a Russian Museum and Center of Tolerance. Not as an art gallery (as in the eponymous museum in Saint-Petersburg), or as a collection of precious objects and historical chronicles (as in the State History Museum in Moscow). I envision the Russian Museum as a luxurious, multimedia wonderland that presents a moving and internally self-consistent narrative about the trials and tribulations of the Russian people over the centuries – in particular, the stream of physical and cultural genocides committed against the Russian people from 1917-1953 by people who were mostly not Russians. And it will also have a research center that will continuously expand upon this narrative, as well as compiling reports on the state of present-day Russophobia and actively countering hateful language in both Russia and abroad that could over time develop into further genocides.
To the extent that the little recognized Russian genocide has a name it is called "The Russian Golgotha". The name invokes both a sacrifice (crucifixion), as well as a tomb or catacomb.
Consequently, I can hardly think of a better location for the Russian Museum than Lenin's Mausoleum: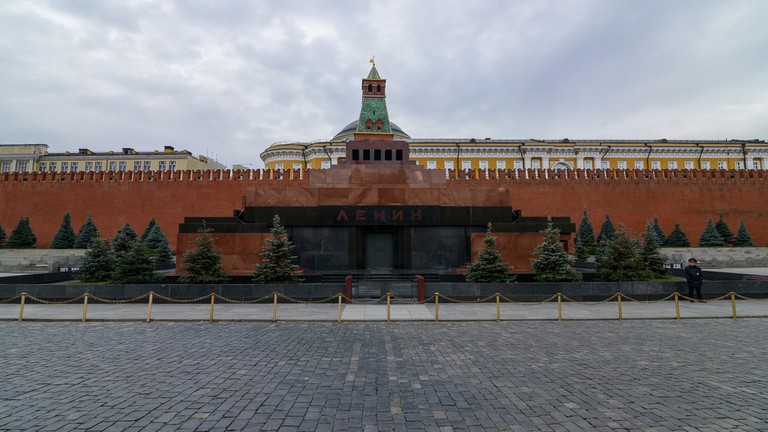 Toss out the syphilitic mummy, update the inscription, and expand the underground section into a huge bunker that is connected to the Moscow Metro.
If the Jews can build their national museum within walking distance of the Kremlin, then the putative owners of this country should have the right to tell the Russian story at its very heart.