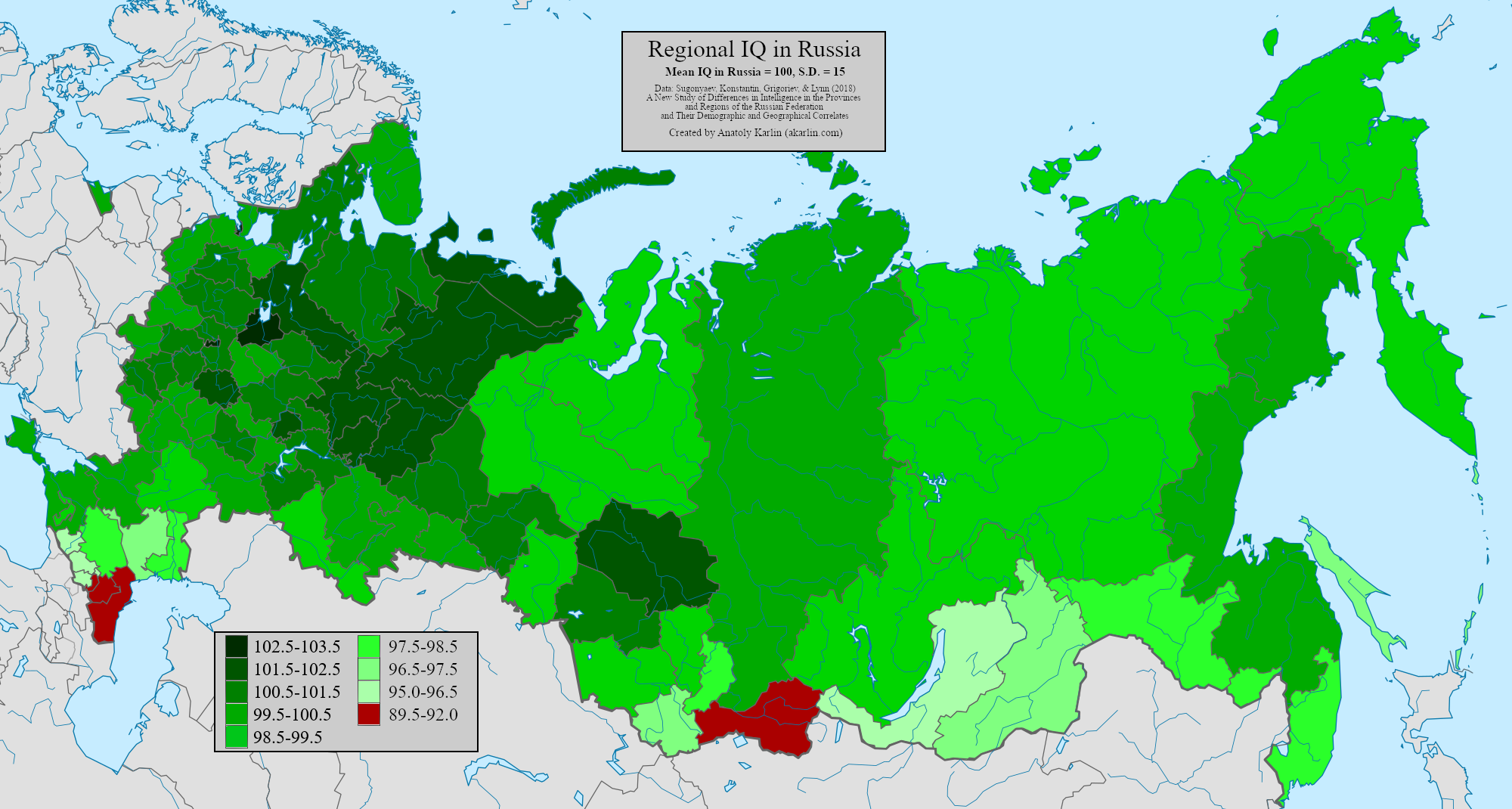 Konstantin Sugonyaev, Andrei Grigoriev and Richard Lynn (2018): A New Study of Differences in Intelligence in the Provinces and Regions of the Russian Federation and Their Demographic and Geographical Correlates [PDF]
This is by far the largest survey of Russian IQ ever undertaken (n=238,619). The test was designed by the Ministry of Defense and is aimed at aspiring contract soldiers, consisting of 30 questions testing verbal, numerical, and logical skills. The data used in the paper (and in my map) was based on results from September 2012-December 2017.
If you understand Russian, you can try the test yourself here: https://recrut.mil.ru/career/soldiering/test.htm
There are excellent correlations with my data on regional Russian PISA-equivalent IQs.
I blogged about Sugonyev's work about a year ago, when he presented the preliminary results at the Institute of Psychology Russian Academy of Sciences.
A recap of some highlights:
Geography of Russian IQ: Despite individually small samples, even Russia's regional PISA results showed a recognizable gradient of increasing IQ as you go north.
In Sugonyev's data, it becomes even more distinct, with IQ rising in the areas of Finno-Ugric admixture, and falling as one goes south and east.
There is perfect and unsurprising agreement on the brightest regions (the two capitals), the dullest ethnic Russian regions (Zabaikalye, Stavropol), and the dullest ones overall (DICh, Tyva).
There is excellent agreement between these results and both statistical assessments and stereotypes about individual regions (e.g. recent story about a criminal band of alcoholics attacking a military formation in Zabaikalye).
While absent from PISA, Yaroslavl oblast performed as well as the two capitals. As I have pointed out, this has "deep historical" antecedents: Yaroslavl gubernia was the most developed ethnic Russian region in the late Russian Empire outside Moscow and Saint-Petersburg.
2. Flynn Effect: While people born between 1973 and 1987 performed at a stable 19.5-20/30, the post-1988 period saw a steady improvement towards an average score of 21/30. This is equivalent to a 4-5 IQ points increase. This is very substantial, being equivalent to the difference between the duller ethnic Russian regions (e.g. Orenburg = 98.6, 66th/85) and the brightest Russian regions (e.g. Saint Petersburg = 103.5, 1st/85).
This is plausible, because Russia's performance on PISA – in which 15 year olds are tested on math, science, and reading – likewise started going up from 2009, with PISA-equivalent IQ increasing from 95 during 2000-2009 to 99 by 2015 (see right).
"Patriotism": Since we have n's for individual regions, we can calculate what percentage of each region's population took the test, which would presumably be positively correlated with interest in military service and a general "patriotism" factor. I will create a map of "patriotism" based on this data a bit later.
But TL:DR, for the curious: The second most "patriotic" region is Sevastopol (5.4/1,000 took the test), and Crimea as a whole (2.2/1,000) is well above the Russian (1.6/1000) – and this is bearing in mind that they only joined the "experiment" midway through. So much for muh Russian occupation. Some other patriotic regions include Altay, Murmansk, Buryatia, Amur, and Zabaikalye. Saint-Petersburg (1.8/1,000) is more patriotic than the Russian average, while Moscow (1.2/1,000) is less patriotic. The least patriotic regions include Dagestan (0.8/1,000), Tatarstan (0.7/1,000), Yakutia (0.7/1,000), Tyumen (0.5/1,000), Ingushetia (0.3/1,000), and Chechnya (0.2/1,000).
Prospects
This is a huge database that keeps growing every day, as more and more people take the test. So far we have only scraped the boundaries of what we can do with it.
While the data for regional IQs has finally been published, the finer details of demographic structure remain unanalyzed. Which regions saw the biggest Flynn effects? (Related question: Is the lagging Caucasus converging on the Russian average?).
The geographic data in the database is finer-grained than oblast level, which allows for the creation of much more detailed maps.
The IQ part of the test is followed by a couple of personality tests to assess the aspiring soldier's suitability for military service. This can open up entirely new avenues of psychometric mapping and analysis.