Why is the HBDsphere so damn interested in IQ, anyway?
While I can't speak for the "movement" at large, in my own case the interest stems from the fact that it explains so much about our world. (In fact, I was interested in this topic long before I discovered HBD, Charles Murray, Jensen, Lynn, Rushton, etc). In particular, it convincingly answers the central question of political economy since the days of Adam Smith – why are some nations poor and some nations rich? After all the long debates about the merits of free markets over industrial policy, over the influence of institutions versus geography; after all the human miseries suffered from zealous adherence to some ideology or other, from the Great Leap Forwards in China to the capitalist disaster zone that neoliberalism made of the ex-Soviet Union in the 1990s, after all these blunders, mishaps, and occasional horrors committed in search of the Answer, we find that it mostly boils down to just one ultimately rather banal thing: Some peoples are more intelligent than others, work more efficiently, and hence enjoy greater wealth; and as a result of said greater efficiency, capital naturally flows towards them, further multiplying their output relative to the backwards countries.
In extreme cases, institutional factors do make a huge difference. Countries with a socialist (central planning) legacy – that is, East Central Europe, the ex-USSR, China, Vietnam – are still systemically much poorer than countries where markets have long functioned with at least some minimal degree of freedom, even though their IQs do not differ much from those of the US, Western Europe, and Japan. Stress on the "minimal" – beyond some fairly modest point of economic freedom and basic political stability, it appears that institutions and economic openness offer rapidly diminishing returns; for instance, the Belorussian economy, which is still 90% state owned and a dictatorship, was actually the most successful of all the ex-Soviet economies after 1991, including even economic reform stars like Estonia (actually Azerbaijan performed even better, but it was helped by a massive oil windfall). Speaking of which, on the other side of the correlation curve you have countries with a very big resource windfall per capita – Saudi Arabia, South Africa, Norway, etc. – which are much richer than the level "warranted" by the quality of their human capital. But once we take these two groups out of the equation, and also get rid of tiny finance-orientated city-states, the correlation between national IQ and economic wealth becomes extremely close – a fact all the more remarkable when we consider that estimates of both national IQ and GDP per capita (PPP) can vary fairly widely.
Here is a graph I made from 2013, which shows a correlation of R2=0.84. This is entirely in line with other similar calculations by professional psychometricians like Heiner Rindermann.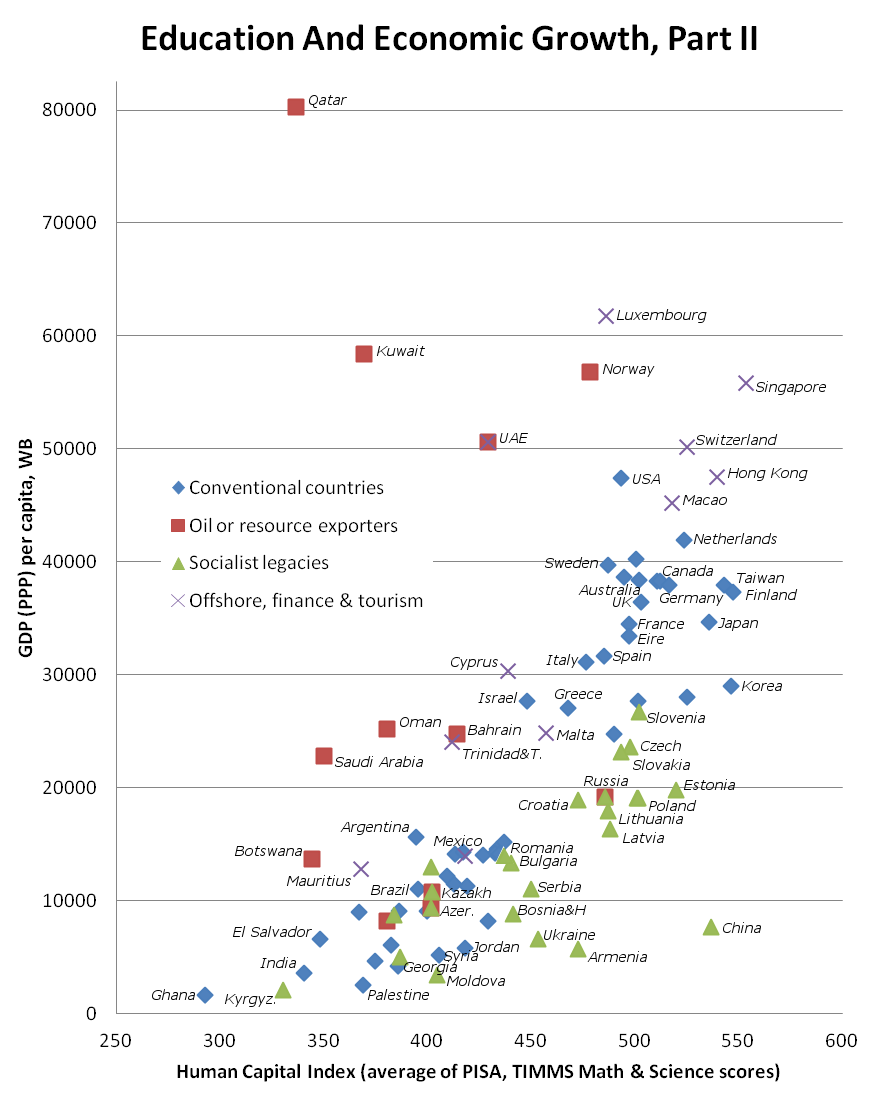 That said, as I noted even back then, there are some curious outliers in the "capitalist normal" countries. Moreover, these outliers tend to be concentrated at the wealthy frontier: The US is a positive outlier, whereas Japan, the East Asian countries, Finland, and to a lesser extent, the "Anglo offshoots" (Canada, Australia, New Zealand) are negative outliers.
As economic historian pseudoerasmus pointed out on many occasions, while national IQ is central to the growth story for low-income and middle-income countries in catch-up growth, for already developed nations with their standard 100±5 IQs the benefits accrue overwhelmingly to those with more "marginal" advantages, such as those having somewhat better institutions, or conditions for doing business. This is a hypothesis that makes good theoretical sense, but a closer examination reveals that things might not be that simple. The Anglo nations have what are widely regarded as very good institutions, courts, and conditions for business, but they are relative underperformers, even (especially) when productivity is taken into account. Japan has a 5-7 IQ advantage over, say, Italy, but its GDP per capita (PPP) is similar, while its productivity is significantly lower – even though Japan rates higher on ease of business and perception of corruption indices. There must be other factors that are at play, and I will admit that I am unsure as to what they are. But before we get ahead of ourselves, let's examine the data in greater detail.
This is the data table I used in the charts in this article:
I limited myself to countries that satisfied the following list of conditions:
Those that had a substantial population, at least 5 million or more (smaller countries tend to be financial/tourism hubs with too much artificially inflated wealth).
Did not have a central planning legacy that depressed their wealth (so, no country from the socialist camp during the Cold War) or a big resource endowment per capita (so, out go countries like Saudi Arabia and Norway). We are talking primarily of the old OECD members minus Mexico and Turkey.
Are wealthy, i.e. have a GDP per capita of at least $20,000. We already established that the correlation between national IQ and wealth in poorer countries is very good; the question we now want to answer is why it begins to break down at the edge of the graphs.
GDP per capita is measured in purchasing power parity terms because it better reflects the real level of production and living standards in any country and accounts for short-term currency fluctuations. Productivity is the GDP per capita (PPP) adjusted for the labor participation rate and average hours worked per country, i.e. GDP per hour worked. Most of the data I got from the World Bank or the OECD, though I frequently had to look for other sources in the cases of Taiwan, Hong Kong, and Singapore. The regional averages were calculated as a weighted population average of each regional label. National IQs were derived from the average of the Math, Science, and Reading component in PISA 2009.
The first series of graphs show regional and country national IQ versus GDP per capita (PPP) data, with the bubbles scaled for population size.
Here, at an amalgamated level, we already see a distinct pattern: Americans are much richer than they "should" be, whereas East Asians are much poorer. But curiously, the Anglo offshoots are closer to East Asia here than they are to European-stock populations, so it is not at all obvious that it is an HBD issue.
And now for the country specific data.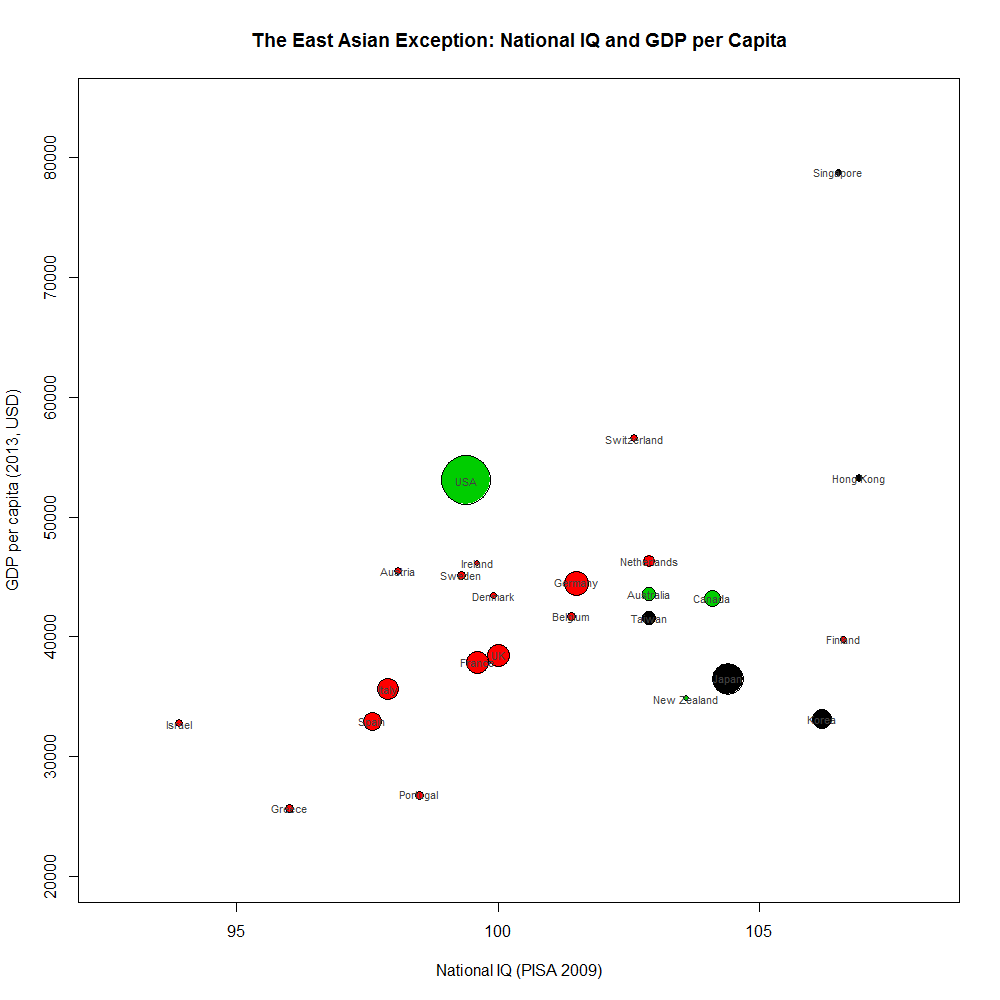 While all the countries of Western Europe hew close to the line of best fit, again there are three major exceptions: The US to the upside, and Japan and South Korea to the downside.
The obvious and immediate explanation is that some countries have greater labor participation rates, and/or work more hours. So a natural adjustment would be to calculate the GDP per capita generated per manhour of work and see if that explains American and East Asian exceptionalism relative to Western Europe.
I would note at the outset a few caveats to bear in mind. First, in many cases – certainly regarding the US vs. Western Europe – a large share of the differences in overall labor participation is explained by the greater percentage of American youth and the elderly in the workforce by dint of its less generous welfare state (left-wing view) and less restrictive labor laws (right-wing view). Increasing the labor participation of both of these groups will yield only marginal improvements in total output because they are far less productive than people in their prime. Likewise, working longer hours is of questionable value, because workers will presumably either get more tired and less productive, and/or end up wasting time due to Parkinson's Law ("work expands so as to fill the time available for its completion"). On paper, Greeks work far longer than Germans… if by "working" you mean drinking coffee. The Japanese have it even worse; extra hours "worked" there means pretending to work until the boss leaves. Germans, on the other hand, actually get all the important stuff done quickly and efficiently, and get to enjoy a big chunk of the rest of the day. Americans tend to work long hours and productively.
Even so, on average, productivity is probably more impacted by national IQ than the level of GDP per capita. At the very least, by far the biggest discrepancy – that between the US and Western Europe – largely vanishes after this adjustment.
Although the gap between the Westerners (barring the Anglo offshots) and East Asia then becomes even wider.
Now that I've laid out all the data, time to consider some hypotheses for American exceptionalism and Asian mediocrity. At the outset, I should thank pseudoerasmus and James Thompson for participating in the Twitter discussion where many of these ideas were initially raised, analyzed, and critiqued.
1) Historical Leadership. The US has been at the technological edge since its inception; Britain industrialized a bit earlier, but there was never a significant gap in per capita output. Moreover, it burst clear of everyone else in the wake of World War Two, which devastated most of Europe. But 70 years is more than enough time to recover and catch up. In fact, that is precisely what happened: The first part of the period was of the Wirtschaftswunder, the Trente Glorieuses, Il Sorpasso, the Japanese Miracle, and the East Asian Tigers. But ever since 1990 or thereabouts, longterm per capita growth rates in developed Europe, the US, and Japan – for all the rhetoric about "European stagnation" and "Japan's lost decade" – have basically converged. Here is Paul Krugman's famous chart on this:
The only two major countries for which uncompleted convergence could still be a significant factor are South Korea and perhaps Taiwan. But any further relative gains on their parts, if the past five years are anything to go by, are going to be slow and marginal. For all its dazzling PISA performance and blisteringly rapid economic catchup, Korea's productivity levels are still equivalent to those of Portugal, which has traditionally been the poorest country in Europe with the exception of a few Balkan backwaters, and Greece, which is at the tail end of a multi-year depression. Both Portugal and Greece have national IQs almost 10 points below Korea's.
2) Immigration, Population Composition, and IQ Structure. But if anything, this makes the puzzle even more acute. We know that in recent decades Europe received a lot of immigrants, whose IQs are far lower than those of the natives and show no signs of convergence. The US, meanwhile, is host to two major population groups – Blacks and Non-White Hispanics – with consistently subpar IQs that together make up more than 20% of the population. If anything, that should depress productivity, which probably partially explains New Zealand, where ~90 IQ Maoris and Pacific Islanders also make up slightly more than 20% of the population. In contrast, high IQ and ethnically homogenous Japan, Korea, and Finland all underperform, as do Canada and Australia, which are not ethnically homogenous but do make sure to have cognitively elitist immigration policies.
That said, there are two reasons why this effect might not be all that powerful for both Europe and the US. First of all, in both Europe and the US, these NAMs (Non-Asian Minorities) have a relatively greater demographic preponderance amongst the youngest cohorts, whose members are either not in the workforce at all (infants, schoolchildren, students) or aren't able to contribute much anyway (they are younger workers with less experience; while they might be quicker on the uptake, older workers often beat them with experience, especially in the more cognitively intense professions). This will likely do Europe and the US no good in the longterm, as they develop ever larger, ethnically distinct cognitive/economic underclasses that will pull down overall GDP per capita and productivity, but this probably just doesn't play that big of a role… for now.
Moreover, at least in the US, the situation is further improved by the presence of sizable "smart fractions," which have a disproportionately large positive effect on overall GDP per capita according to many psychometricians like Heiner Rindermann. These smart fractions are both ethnic – most notably, the 2% of the population that is Jewish – as well as the result of a global cognitive clustering effect (many of the world's brightest and most ambitious people are inordinately drawn to US universities and Silicon Valley). It would also explain Israel's overperformance – while the national IQ is depressed by Arabs and Sephardic Jews, and the economy is burdened by Haredi welfare bums, the Ashkenazi Jewish cognitive elite still manages to compensate for all that and elevate GDP per capita above the global correlation curve.
Some thinkers have speculated that the reason for East Asian underperformance is that although they have higher IQs than Whites, they have fewer very high IQ people ("smart fractions") because of narrower distributions. The only problem with this very plausible and reasonable theory is that it is almost certainly completely wrong. The PISA tests show that East Asian S.D.'s are no different from those of European countries (though Finland's, curiously enough, is lower at a statistically significant level). This theory could furthermore be disproved by a cursory glance at a list of names of members of the US Mathematical Olympiad teams – since 2010, fully 75% have either Chinese or Vietnamese last names.
Another, more plausible theory, advanced by Griffe de Lion as well as Rindermann, is that some forms of IQ, most notably verbal, in which the European-East Asian gap is very modest or even non-existent, are relatively more important for economic success than mathematical aptitude, where the gap is substantial, or visuospatial ability, where it is as big as 10 points. (Lynn actually claims that Europeans are verbally smarter, but PISA shows otherwise, though it does confirm that the Asian/European gap in verbal IQ is much less than the mathematical one). This would largely though not fully resolve the puzzle of East Asian underperformance, though you would still have to convincingly explain why verbal IQ in particular is more important for economic prosperity than, say, just g.
Finally, we must also bear in mind that gaps in cognitive ability can increase or decrease with age. Most tests of intelligence are performed on children or teenagers because it is easy to get big, representative samples from them. But what is true for under-18s may no longer be true for the mid-25s, when fluid intelligence is maximized (the ability to learn), or the 50s, when crystallized intelligence (total stock of applicable knowledge and experience) is maximized. For instance, while male and female IQ tends to be similar, though the latter have famously narrower distributions, it appears that at least on progressive matrices tests, a 5 point gap opens up during the 20s in favor of men and persists thereafter. Just as a significant part of the Flynn Effect can be explained through faster maturation due to better nutrition and parasitic disease control during the past century, so the biological reality that men fully physically mature about five years later than women could explain the appearance of a gender IQ gap in adulthood. Could there be similar processes at work in regards to different ethnic groups? Certainly it seems to pertain to the famous Black-White IQ gap, which increases with age, and very substantially so. Note that productivity in most smart fraction professions peaks in the 50s, when crystallized intelligence is maximized.
Could it be that the Asian IQ lead over Europeans in childhood and adolescence closes or even reverses with age? I have no idea. I was unable to find any hard statistical data on this. (Do tell me in the comments if you have). So for now it must remain but a stab in the dark hypothesis. However, if this is indeed the case – that the Caucasian/Asian IQ gap diminishes or even reverses with age, or put another way, that the much maligned "old white man" really is the smartest dude around – would be able to fully explain Asian underperformance, especially if paired with the observations on the relatively greater importance of verbal IQ as it pertains to economic prosperity.
3) Institutions and Economic Freedom. We know that in the most extreme cases – for instance, central planning under Communist regimes – lack of economic freedom leads to substantially inferior economic outcomes relative to what they might have been under market conditions. Beyond some minimal level, however, the role that increasing economic freedom plays seems to be subject to rapidly diminishing returns. Chile is one of the freest economies on the planet thanks to Señor Pinochet, Argentina is the exact opposite – but their GDP per capita is virtually the same, as – who'd have guessed it? – are their national IQs. But Chile and Argentina are middle-income countries, so institutional differences might not be making themselves felt as much as in fully developed countries.
So let's look at the biggest outliers and the quality of their instutitions and business environment, as proxied by the World Bank's Ease of Doing Business indicator and Transparency International's Corruption Perceptions Index.
Now this is hardly a rigorous statistical test, but it's clear that there's little or no evident connection. All negative outliers are well within the world's top quintile by ease of doing business – unlike, say, Italy (56th) and Greece (61st), which although poor by OECD standards are not however major outliers on the IQ charts. Finland, Australia, New Zealand, and Canada are some of the freest economies and best places for business on the planet.
The only two negative outliers which might have a significant problem with corruption are Taiwan and Korea. Now Taiwan is… a strange case. According to one poll, also carried out by Transparency International, 36% (!) of them said they paid a bribe in the past year. This is almost certainly a statistical fluke. On the other hand, only 2% of Koreans said they paid a bribe in the past year; only Denmark, the UK, and Norway, all countries that everyone agrees have minimal levels of everyday corruption, claimed to have paid fewer bribes. Assuming they weren't lying, perhaps Korea's rating on the CPI is overly pessimistic. Regardless – that's still a lot better than most of the rest of the world, including rich non-outlier countries like Italy and Greece, both of whom are joint 69th on the CPI rankings.
4) Economies of Scale. The US is a single integrated market of more than 300 million people with a common language and set of laws and institutions, which enables massive economies of scale. To a lesser extent, this is also the case in the EU, which now has common markets but is still divided by political-fiscal barriers that are make life very difficult for at least some of their members, such as Greece and the Mediterranean countries generally. While Japan might not be of continental proportions, it does have a very substantial population – at 127 million, it is more than one and a half times as big as Germany's – so it should enjoy most of the benefits from this as well. This factor would have a negative effect on Australia and especially New Zealand, which have low populations themselves and are geographically distant from other big markets.
5) Geography. The US has some of the best geography for industrial civilization on the entire planet: Multiple excellent ports on both seaboards,and the massive Mississippi River and Great Lakes water network that interconnects the entirety of its central core at next to no cost. Europe has middling geography, while Japan's is poor and prone to natural disasters. Australia and New Zealand are very isolated, making economies of scale unrealistic. That said, the role of geographic factors in our days of dirt cheap oceanic bulk transport and dense railway networks is presumably quite modest.
6) Resource Windfalls. I purposefully excluded those countries where the economy is very clearly radically inflated by large resource windfalls per capita, such as Norway, but even so this factor is still significant for Canada, where natural resource rents as a share of GDP is at 4.4%, and Australia, where it is 8.0%. Combined with their relatively high national IQs and careful immigration policies, their "underperformance" becomes more puzzling, if anything. Even though the US also has a very substantial resource endowment, its effect is swamped by the overall size of its economy; natural resource rents as a share of GDP are a mere 1.3%.
7) Financial Windfalls. Might be a factor in Singapore's good (relative to the rest of East Asia) performance. Why not Hong Kong? Because after it rejoined its motherland, China had no particular reason to favor it over, say, Shanghai or Guangdong, and quite a lot of disincentives to, considering the pro-Western tilt of many of Hong Kong's elites. Singapore, however, was free to continue its project of becoming the world's third major financial hub after London and New York, and its skyhigh GDP per capita (though unremarkable productivity) is a result of that. However, as mentioned at the start, I purposefully excluded places that were so small that a financial or tourism sector could play a dominant role, such as Luxembourg, Monaco, and Liechtenstein, all of which have ridiculously inflated GDP per capitas. Once you get to a British scale, let alone an American one, the impact of global financial centers like London or New York on GDP per capita becomes swamped by the overall economy.
8) American Alpha. Artificially lower risk premiums in the US means foreigners are willing to "irrationally" invest in American bonds at rates well beyond equilibrium. Here is Willem Buiter's explanation of this phenomenon:
Some of the excess returns on US investment abroad relative to foreign investment in the US may have reflected true alpha, that is, true US alpha – excess risk-adjusted returns on investment in the US, permitting the US to offer lower financial pecuniary risk-adjusted rates of return, because, somehow, the US offered foreign investors unique liquidity, security and safety. Because of its unique position as the world's largest economy, the world's one remaining military and political superpower (since the demise of the Soviet Union in 1991) and the world's joint-leading financial centre (with the City of London), the US could offer foreign investors lousy US returns on their investments in the US, without causing them to take their money and run. This is the "dark matter" explanation proposed by Hausmann and Sturzenegger for the "alpha" earned by the US on its (negative) net foreign investment position. If such was the case (a doubtful proposition at best, in my view), that time is definitely gone. …

There is no chance that a nation as reputationally scarred and maimed as the US is today could extract any true "alpha" from foreign investors for the next 25 years or so. So the US will have to start to pay a normal market price for the net resources it borrows from abroad. It will therefore have to start to generate primary surpluses, on average, for the indefinite future. A nation with credibility as regards its commitment to meeting its obligations could afford to delay the onset of the period of pain. It could borrow more from abroad today, because foreign creditors and investors are confident that, in due course, the country would be willing and able to generate the (correspondingly larger) future primary external surpluses required to service its external obligations. I don't believe the US has either the external credibility or the goodwill capital any longer to ask, Oliver Twist-like, for a little more leeway, a little more latitude. I believe that markets – both the private players and the large public players managing the foreign exchange reserves of the PRC, Hong Kong, Taiwan, Singapore, the Gulf states, Japan and other nations – will make this clear.
Such a painful adjustment is indeed what has been occuring in Mediterranean Europe. But note that his pessimistic and falsifiable predictions specifically in regards to the US – that there would be "a global dumping of US dollar assets, including US government assets" – have yet to happen.
9) Cheaper Land and Energy Inputs. Land in the US tends to be pretty cheap, outside the North-East, the SF Bay Area, and a few other prestige locations. Much cheaper than in developed Europe or in Japan. Energy inputs are also lower, specifically in relation to fuel, which is taxed at much lower rates than in Europe or Japan. This should lower the cost of business across the board and increase overall thoroughput.
The only problem? The countries right next to the US here are Canada, Australia, and Japan – some of the biggest negative outliers.
10) Hedonics and GDP Fiddling. There are various claims that the US is really… generous at calculating its GDP. Perhaps "American exceptionalism" is just a statistical artifact? I haven't studied national accounting practices on any detailed level, though pseudoerasmus has and he is skeptical, and I'm also a bit put off that a lot of the sites that make these claims tend to be libertarian goldbugs and LaRouche types. That said, I will admit to an intuitive sense that there might be something behind this. As the commentator Lazy Glossophiliac has pointed out a few times, many things that are either free or cheap in Europe and most of the rest of the world can be pretty damn expensive in the US. The healthcare industry is just the most blatant (and perhaps grotesque) example, accounting for a prodigal share of American GDP while delivering population health outcomes that are, in general, nothing to write home about. Americans dine out much more frequently than Europeans – the labor of chefs and waiters appears in GDP, while creating a home cooked meal does not. You can probably extend this to quite a lot of different things.
American Exceptionalism, East Asian Mediocrity
To sum up: At the technological edge of high IQ/high wealth per capita, there appears an interesting and puzzling disjoint between the US, which is a big positive outlier, and Japan and the rest of East Asia, which are big negative outliers. Adjusting for labor participation and hours worked, to get in effect a measure of productivity, largely resolves "American exceptionalism" relative to developed Western Europe, but if anything widens the chasm between the West and East Asia even further. Moreover, Australia, Canada, and New Zealand – all Anglo-derived settler societies that are culturally close to the US and enjoy low corruption and good institutions – are moderate negative outliers.
In general, possible explanations are either critically flawed in some way, or only partially explain some difference while deepening the puzzle around some other difference. For instance, cheaper energy inputs might appear to partially explain why the US is a positive outlier, but then it would make the question of why Canada and Australia are negative outliers – even though their fuel taxes are also low – all the more inscrutable. Beyond some fairly minimal conditions like having free markets, the quality of institutions do not appear to play any significant role.
Still, it is possible to identify a few factors that likely play some important role:
1) Economies of Scale – Clearly give the US and to a lesser extent, continental Europe, a boost. Many of the negative non-East Asian outliers are relatively isolated island nations with small populations, especially Australia and New Zealand.
2) Smart Fractions and the US – The two biggest rich positive outliers, the US and Israel, have many duller ethnic minorities but also enjoy an Ashkenazi Jewish cognitive elite. Moreover, a significant percentage of the world's smartest and most ambitious people immigrates to the US.
3) Personality, Culture, IQ Structure – Apart from the partial exception of Singapore – a fact that is mitigated by its status as a financial city-state – all East Asian states economically underperform relative to where they "should" be at. This is The (Other) East Asian Exception. This leads me to believe that the cause of this must be something that is culturally or even biologically common to the region. Maybe it has something to do with a relative lack of creativity in terms of personality (in Nobel Prizes per capita, as in GDP per capita, Japan far more closely resembles Italy than Germany; while Korea has yet to win a single real, i.e. non-Peace, Prize); maybe it is a consequence of East Asia's shame culture, which is more socially stultifying than Europe's guilt culture, and can lead to inefficiencies like paying undue respect to an incompetent boss who just happens to be older; maybe it is simply that East Asian IQ is simply "worth" about 5 points less than European IQ due to its particular quirks or structure (specifically, the fact of the Asian advantage in verbal IQ being much more relatively modest relative to Whites); and/or maybe – and this is by far the most tentative hypothesis here – it might be that the East Asian IQ advantage over Europeans disappears in adulthood, meaning that Europeans still retain a relative preponderance in the fraction of smart 40-50-60 year olds who are responsible for most of the greatest scientific and cultural accomplishments.
4) Other Factors – This leaves only Finland and Canada to explain. Finland's underperformance might be due to the lower S.D. of its national IQ, if the PISA tests are accurate. Moreover, Richard Lynn pegs Finnish IQ at a standard British 100. Perhaps, for whatever reason, Finns simply perform unduly well on PISA. If Lynn is correct, it would not even be an outlier. Or it could be their particular psychological profile, which might be unfavorable for the expression of ingenuity. Canada could be a modest negative outlier because it borders the US and loses too big a percentage of its smartest fractions to its giant southern neighbor.