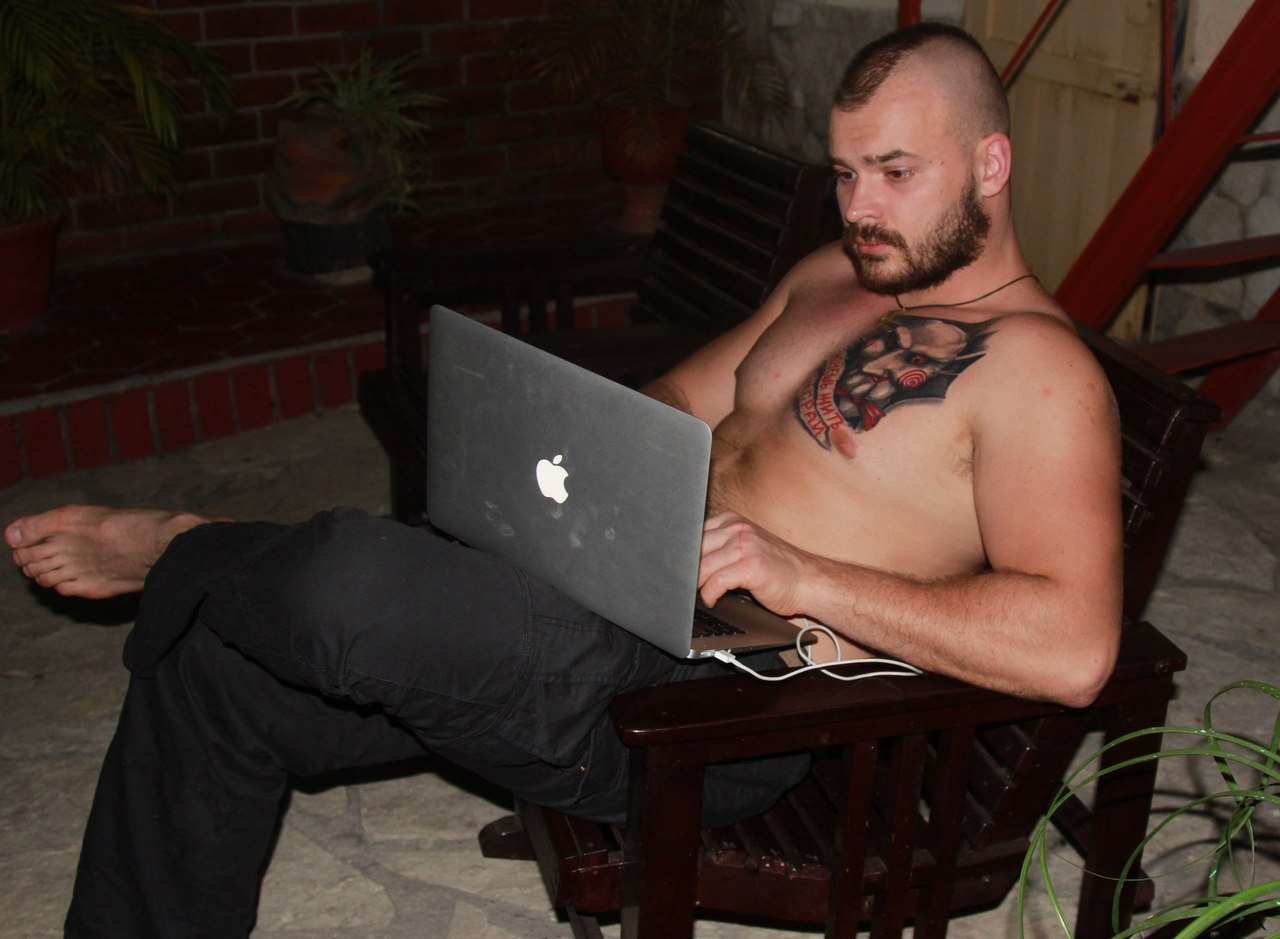 This has not been a good year for Russian nationalists mortality-wise. The NazBol Eduard Limonov died in March, while the natsdem (liberal nationalist) Konstantin Krylov passed away in May. And now, the OG of Russian Neo-Nazism, "Tesak" (lit. "Hatchet", real name: Maxim Martsinkevich), a skinhead of Polish-Russian ancestry who can be said to have invented the concept of Neo-Nazi ironic trolling a decade ahead of /pol/ and The Daily Stormer, was found dead in his prison cell on September 16, 2020.
In a way, Tesak's untimely death at the age of 36 may be viewed as the capstone to Russia's skinhead subculture, which has been in fast decline since the late 2000s along with "gopnik" culture in general. This is even corroborated by statistics from the SOVA Center, Russia's equivalent of the SPLC, whose concern for human rights and free speech stops where the rights of ethnic Russian begins. According to them, annual deaths that could be attributed to "racist attacks" have been in the single digits since 2015.
The Yeltsin to early Putin era Far Right was dominated by Soviet boomer "anti-Zionist" conspiracy theorists and pagan 14/88 skinheads. Today, that scene has been largely displaced by a melange of natsdems, White Guardists, Orthodox conservatives and reactionaries, and even a few American-influenced "groyper" larpers (thankfully, the latter mostly confined to Twitter). In his own way, even Tesak seems to have gone with the general flow, having transitioned from beating up hachi in the 2000s to imposing mob justice on drug dealers and pedophiles in the 2010s. Based on his prison letters in the last few years of his life, an acquaintance who has studied Tesak tells me, there is a good chance that Tesak would have moderated into a liberal right-winger in the 2020s.
I am not very familiar with Tesak, so I cannot attach any great confidence to my subjective impressions about his life. Right off the bat, I will say that he was probably not a very nice person. The aforementioned Tesak expert tells me that his "Destrukt" audiobook contains many insane anecdotes from his life, including one time in which he butchered a cat and served to his friends, pretending it was rabbit. On another occasion, Tesak says he tried to lure an anti-fascist activist to a homosexual gangster acquaintance, who was supposed to rape him and film it on camera; it failed on account of the anti-fascist failing to turn up. On the other hand, in his follow-up book "Restrukt", Tesak claims that the cat story was a fake – which might be backtracking, but is nonetheless not entirely implausible, given his shtick as an Uber-Nazi shock jock. I suppose we will never know where "performance" ends and "reality" begins in the story of Tesak's life.
Tesak was probably a traumatized man; I only recently learned that his one-time girlfriend was killed in one of the 1999 apartment blasts that reopened the Chechen War, which must have played some role into his adopting white supremacist beliefs. While everybody left of G.W. Bush is a Nazi these days, Tesak was the real deal. This is no exaggeration or smear job. He openly told Russian and foreign journalists of his violent "activism" and his wish, as an Aryan, to "kill all niggers, Chinese, Jews, and hachi from the Caucasus." In one of his most famous "performances", he and his comrades "executed" a Tajik drug dealer. The ensuing investigation found that the shocking video was thankfully a fake, but he did end up getting his second conviction and imprisonment from it on the basis of Article 282, Russia's "hate speech" law.
As with many in the White Nationalist camp, national loyalties often conflict with internationalist "white" racial solidarity. In 2013, Tesak was praising Ukraine for its "many freedoms" and there being no "Untermenschen" on the streets, as in Russia. (The rejoinder to that is that the absence of swarthy Gastarbeiters often doesn't mean you're so much "based" as just poor – what Tajik will go to Kiev over Moscow, LOL). That said, while he supported Ukrainian independence, he also said a successful Euromaidan would end in disaster for Ukraine, and unlike the majority of his 14/88 colleagues, such as Belov (Potkin) and Demushkin, he ultimately sided with the Donbass after the outbreak of war. He could have probably mustered a batallion out of his followers had the Kremlin humored him.
An alliance of lower-tier Kremlin propaganda, leftist "Western Russophiles", and "based" Western racialist nationalists portray Alexey Navalny as a nationalist based on a few racially charged comments he made a decade ago. It is therefore highly ironic that he was the architect of Tesak's first prison sentence. In 2007, Tesak barged into a club hosting a debate between the a couple of journalists, the pro-Putin Maxim Kononenko and the pro-Western Yulia Latynina. The moderator, who happened to be Navalny, agreed to give him a word. Tesak used the opportunity to ask them if they agreed that Russia would be better off if it killed all democrats, and then started to throw up his hands and "Sieg Heil" with his followers. Navalny, along with fellow liberal Ilya Yashin and Masha Gaidar (the daughter of the late Egor Gaidar, the principal ideologist of Russia's 1990s economic reforms; incidentally, she has since given up her Russian citizenship and emigrated to Ukraine), wrote a complaint to the Prosecutor-General asking to raise a case against Tesak. As a result, he was imprisoned under Article 282 for three years. Once you're convicted once under Article 282, it becomes increasingly likely you will be imprisoned under it time and time again, even if you subsequently "moderate" your message (see my Rule 5). So it's not too much of an exaggeration to say that none other than Navalny was a key architect in Russia's most prominent Neo-Nazi spending most of the rest of his life in prison.
In 2013, a third case was raised against Tesak under Article 282. His choice of Cuba as a getaway destination wasn't ideal, and he was deported back to Russia. In 2017, there was a fourth case under Article 282 as well as hooliganism. However, the subsequent decriminalization of Article 282 in late 2018 meant he was eligible for early release as early as May 2021. But then the prosecutors got other ideas.
While I don't usually take such claims seriously, there are significant indications that at "best", Tesak was driven into suicide, if not outright murdered. Back in 2014, he had written that should he ever "open his veins", it would not be from suicide. His lawyer Alexey Mikhalchik reports that he was subjected to torture for several months beforehand, allegedly from prosecutors who wanted him to take the rap for some murders in the 2000s that he claimed he didn't commit. His parents are demanding a murder investigation. His lawyer from a previous case, the Russian-Chinese hapa nationalist Matthew Tszen, has also expressed doubts on Facebook.
In death as in life, we will probably never know where performance ended and reality began.
Links:
---