Once again, a picture that's worth a thousand words, courtesy of Alex Kireev: A map of how Russians abroad voted in the 2012 elections (see below).
Quantitatively, they split into three main groupings, each accounting for about a third of the votes from abroad: (1) Residents of Abkhazia, South Ossetia, and Pridnestrovie; (2) Other republics of the former USSR, or the "Near Abroad"; (3) the "Far Abroad", which is basically the rest of the world. Each of these have specific electoral patterns.
1) Here support for Putin is overwhelming: 91.1% in Abkhazia, 90.4% in South Ossetia, and 87.2% in Moldova. Though very high, practically North Caucasus-like, I do not consider these figures suspicious. All of these states – most of the Moldova voters are from Pridnestrovie – owe their de facto independence to the Russian Army, and to the Kremlin's foreign policy. Russian military, security, and diplomatic officials stationed in these areas would also be largely pro-Putin.
2) In the former USSR, Putin too has dominant support among Russians (more so than in Russia itself): 92.6% in Tajikistan, 90.7% in Kyrgyzstan, 88.5% in Armenia, 80.9% in Uzbekistan, 76.1% in Ukraine, 77.5% in Kazakhstan, and 66.4% in Belarus. It is ironic that his lowest score would be in Belarus, ostensibly the post-Soviet country with which Russia is closest integrated: Could it be an indirect protest vote against Lukashenko, or is that Belorussian TV's propaganda campaign in 2010 against Putin as a thief has taken root? The Baltics follow the same pattern: 89.1% in Latvia, 85.4% in Estonia, and 75.7% in Lithuania. It is perhaps indicative that the more Russians are oppressed in a Baltic country, the greater their support for Putin.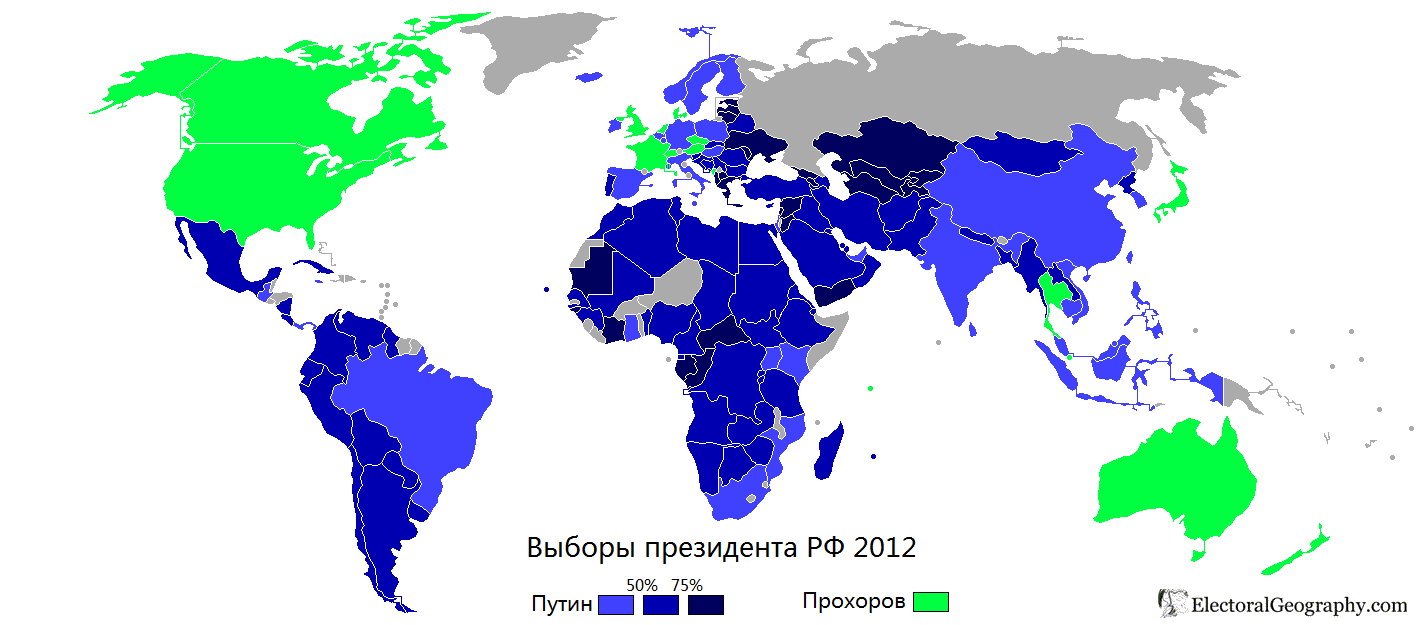 Blue: Putin wins; Darker blue: Putin wins in first round; Darkest blue: Putin wins with more than 75%; Green: Prokhorov wins. [click to enlarge]
3) In the Far Abroad, there is a real contest, but not between Putin and Zyuganov – who is unpopular practically everywhere – but between Putin and Prokhorov. There are a few further subdivisions here.
(A) In countries where the Russian presence is dominated (in relative terms) by diplomatic and/or security staff, Putin is dominant. This describes much of Africa, Latin America, and the Middle East.
In the BIC's countries, where there are also many business-types, there is more of a contest with Prokhorov but Putin still wins: China (VVP 40.7%, MDP 34.3%); Brazil (VVP 45.1%, MDP 28.4%); India (VVP 46.2%, MDP 24.5%). (India is also curious in that Mironov performs very well there, by his standards, getting 16.6%; I wonder if @FarEasterner was one of his voters there?).
In the South-East Asian emerging markets, where the non-official presence is probably dominated by businesspeople, it is a close race between Putin and Prokhorov: Indonesia (VVP 41.3%, MDP 39.4%); Malaysia (VVP 35.2%, MDP 32.6%); Thailand (VVP 38.3%, MDP 39.7%). However, Russians in Singapore almost give Prokhorov a first round victory with 48.8%. In most other emerging markets, however, Putin wins comfortable: 63.6% in Turkey, 55.8% in Argentina, 54.3% in Mexico, 53.5% in Egypt, 51.1% in Venezuela and Colombia, 43.8% in South Korea, 43.1% in South Africa.
Putin is dominant in Orthodox and Russia-friendly Greece (84.1%), Macedonia (81.6%), and Serbia (68.0%), but one of the most popular locations for Russian relocating abroad, Cyprus, gives a lower score, 56.8%.
(C) In the Western countries, Putin is either level-pegging with Prokhorov, as in much of post-socialist East Central Europe, the Med, Scandinavia, and the Germanic lands; or decisively behind him as in the Anglosphere.
In the following Western countries, Putin would have to fight a second round with Prokhorov: Hungary (VVP 49.9%, MDP 27.9%); Poland (VVP 48.5%, MDP 30.2%); Italy (VVP 48.3%, MDP 32.1%), Israel (VVP 48.1%, MDP 38.8%), Finland (VVP 44.0%, MDP 36.2%); Spain (VVP 40.8%, MDP 37.0%); Sweden (VVP 37.0%, MDP 36.5%).
In the Anglosphere, and a few other Western countries, Prokhorov leads Putin: Japan (VVP 38.2%, MDP 36.2%), France (MDP 41.2%, VVP 31.3%), Czech Republic (MDP 43.4%, VVP 36.0%), Australia (MDP 43.5%, VVP 33.1%), Canada (MDP 43.8%, VVP 36.2%), Switzerland (MDP 44.8%, VVP 32.0%), and the Netherlands (MDP 46.4%, VVP 27.8%).
In the two major Anglo-Saxon countries, Prokhorov would win the first round outright: The US (MDP 52.4%, VVP 30.0%), and Great Britain (MDP 58.0%, VVP 28.1%).
Looking at the map, there is a striking correlation – especially for the Far Abroad nations – between the level of Russophobia (especially in the media) and Putin's result.
In a place like Germany, though the media is highly critical of Putin, coverage is however on the whole far more balanced and sophisticated than elsewhere in the West; that might be why Putin won. The French media is highly anti-Russian – on Runet discussions, the "глюк" is used as a unit of measurement for Russophobia, inspired by André Glucksmann – however, from the comments, my impression is that the French aren't quite as taken in by the propaganda as the British or Americans. Broadly similar things may be said of Italy.
As for the UK, it hosts people like Zakayev, Berezovsky, and Chichvarkin (him on Putin voters: "Zombies, who wake up after drinking beer and vodka and switch on the first (state-controlled) TV channel. They don't want to think, they don't want to work, they don't want to learn"). It is also the global center of the radical anti-Putin opposition, represented by people like Andrei Sidelnikov, who was along with Berezovsky's PR man Alex Goldfarb the driving force behind the establishment of the anti-Putin campaign Strategy-31 Abroad. Practically all of its major newspapers without exception take a hysterically anti-Putin tone, and in the case of the Guardian actively censor people who argue otherwise (or who question their censorship for that matter). So no wonder that the UK Russians love the robber baron Prokhorov so much, the one who got a mere 6% in Norilsk, the Russian town where he is the major employer, and whose people presumably know him well – too well, perhaps. One can only hope that Prokhorov will leave for Britain to join his oligarch buddies there, to answer his true calling in life which is to be President of Londongrad.
Needless to say, the US media is also highly Russophobic, though perhaps not quite as vitriolic as the British press (for instance, the New York Times is certainly a lot better in that regard than any major British paper). No surprise then that Putin got the second least amount of votes in the US.
The results at the polling station of the San Francisco consulate (where I happened to vote) were 57.1% for Prokhorov and 26.7% for Putin, the biggest discrepancy in all the Russian polling stations in the US. My experience is that of the people from Berkeley, votes were split evenly between Prokhorov and Zyuganov (what do you expect? It's a leftist place), with Putin taking up third place. However, in the wider Bay Area, the electorate is dominated by Silicon Valley types, who tend to be people who emigrated from Russia during the Soviet era and who associate it with backwardness, anti-Semitism, etc., and coupled with the libertarian / bourgeois nature of their views, Prokhorov is a perfect fit for them.
In the BIC's nations, and most of the emerging markets, where the media environment is fairly neutral as far as Russia goes – as opposed to its highly Russophobic nature in the West – Putin ends up winning comfortably, including in countries that everyone accepts to be liberal democracies like India, Brazil, Turkey, etc. In fact they are very close to the results in Russia itself, especially when one adjusts for the types of people who are likely to be abroad (richer, well-educated) to their equivalents in Russia. This is evidence that whatever supposed pro-Putin bias the media may have in Russia (and I would say that on average it is now more negative than positive) it is far, far outweighed by the anti-Putin and Russophobic bias of the Western, and especially Anglo-Saxon, media, as testified to by the fact that Russian voters in the US and the UK would rather vote for a confirmed Yeltsin-era thief and oligarch than Putin.