Vox Day speculates:
* Major Premise: A very large quantity of Jews were killed in the 1936 to 1945 time frame.
* Minor Premise: The meticulously bureaucratic Germans, for whom historians possess a tremendous quantity of historical documents related to the WWII era, do not appear to have kept any records of any of the many aspects of the logistical and operative decisions and actions required for the major premise, nor did they have the motive or the opportunity to thoroughly eliminate those records.
* Conclusion: Someone other than the Germans killed most of those Jews.

Now, who could that someone else be? It would have to be someone who was alive in the relevant time period and possessed the following attributes:

* Access to Eastern Europe and Russia.
* A willingness to commit mass murder.
* Control over large-scale military and logistical forces.
* Significant influence over Western government figures and the media.
* A master of propaganda.
* Lethal hostility to Jewish Bolshevists.
* An expert at playing "let's you and him fight".

Can you think of anyone who might fit that bill? And recall that it was not until just eight years ago when it was finally confirmed the massacre of 22,000 Poles in 1940 that took place in the Katyn Forest was approved by the Soviet Politburo and was committed by Soviet forces, rather than by the Nazis as had been previously believed.

From Infogalactic: Following the Soviet invasion of Poland, Stalin began a policy of relocating Jews to the Jewish Autonomous Oblast and other parts of Siberia. Throughout the war, similar movements were executed in regions considered vulnerable to Nazi invasion with the various target ethnic groups of the Nazi genocide.

Doesn't that sound a little… conveniently coincidental? Was Stalin relocating these target ethnic groups out of the goodness of his otherwise black heart? And how did he know those ethnic groups were at risk during the 22 months between September 1939 and June 1941, given that the Nazi invasion of 1941 is supposed to have taken him by complete surprise?
It just strikes me that this would be a very good approach for neoliberalism.txt to take: Rewrite history to have Russians do the Holocaust.
Is it practical?
Well, with concerted effort, why not. See the swing in French viewpoints on which country contributed most to Allied victory in WW2 between 1945 and the 1990s, thanks to half a century of Hollywood.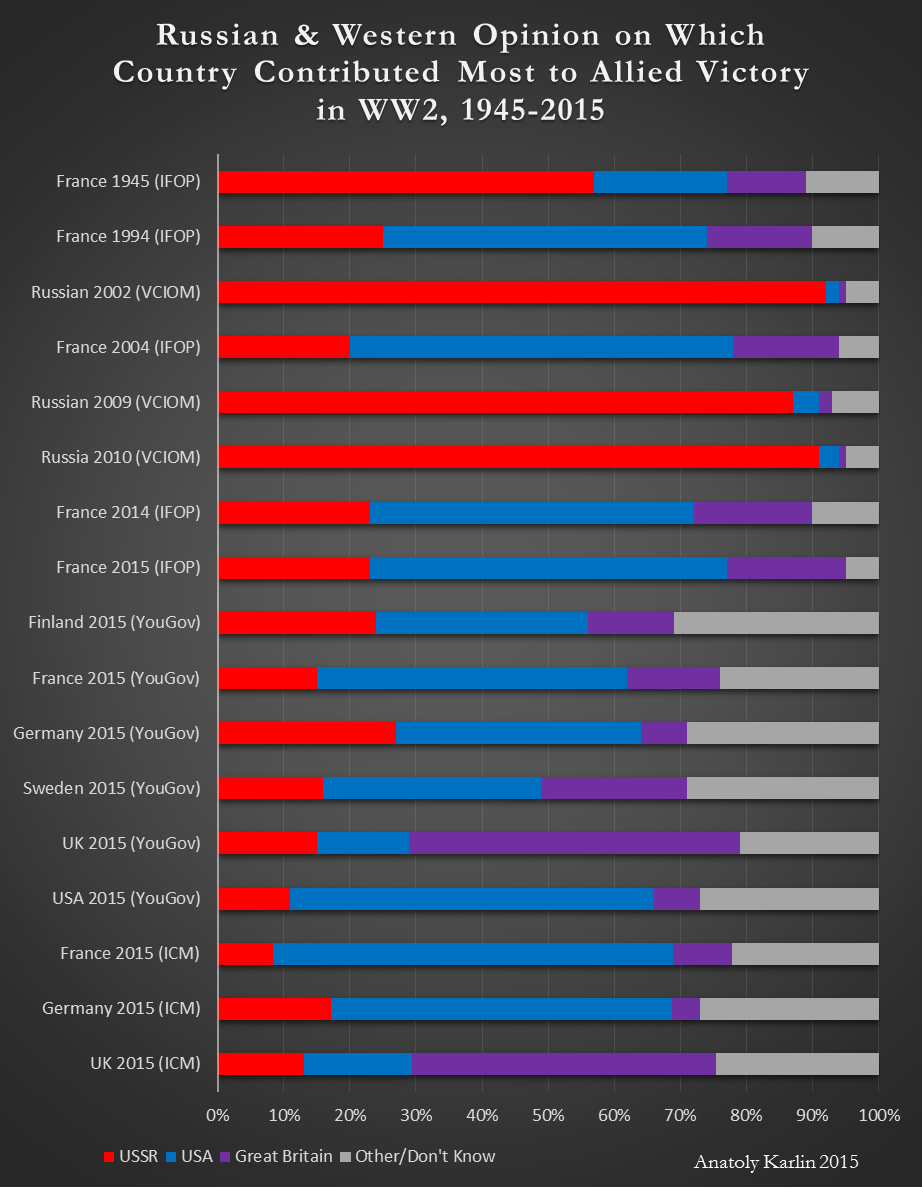 Something similar has already been accomplished, when early 20th century polemicists claimed millions of Jewish deaths in Tsarist pogroms (in reality, they numbered in the low thousands).
So it's clearly feasible – especially bearing in mind the increasing consolidation of media control into fewer and fewer companies, and the elimination of non-mainstream voices in social media.
The Nazis = Russia equivalence has already been well established by Blue Cheqmarks anyway, so approximately half the heavy lifting is already done anyway.
Existing Holocaust denial laws can be weaponized against conspiracy theorists who continue to claim it was the Germans.
It will also be high disreputable, if not outright illegal, to question the Soviet = Russian equivalence. They won't even have to invent much of the narrative – the basic framework has already been laid down by the alliance of sovoks, neocons, and East European nationalists.
It's also safe to say that there wouldn't be any particular qualms about this. Neoliberalism.txt is pathologically opposed to Russians to an essentially genocidal degree, while ZOG as the metaphysical distillation of Jewish ethnic genetic interests will stop at nothing in service of its propagation (e.g. see how Netanyahu basically blames the Holocaust on Palestinians).
But would ZOG cooperate with neoliberalism.txt on this project?
While neoliberalism.txt has this strange, creepy unity of purpose on both sides of the Atlantic, ZOG itself is subdivided into several factions.
In particular, while ZOG Prime – the main Jewish adjunct to neoliberalism.txt – can be expected to go for the ride, it's not clear that the more overtly nationalist Chabad ZOG will swallow the bait.
But the incentives are there.
After all, a Russian Holocaust of the Jews would form a powerful founding myth for a neoliberalism.txt dominated world (at least outside the Sinosphere). Its patent incorrectness will constitute feature, not bug; all great religions are built on taboos, and it would have the added bonus of necessitating total information control unto the ages of ages. By conceding one of the central questions to their most hardcore elements, it would bring the Western Alt Right in line with the neoliberalism.txt hegemony (perhaps they could call this process Gleichschaltung). Immanentized Russophobia will also reconcile East European nationalists – or at least the Polish and Baltic ones – with the Western Alt Right, which is otherwise currently riven by a cold war between Russophiles and Russophobes. Finally, ZOG itself will be perfectly at home in this brave new world – Holocaust guilt will still be the center of the Western world-civilization, but will no longer tainted by ROG.