Central Bucharest, from my Airbnb apartment.
---
Romania: Impressions
Long awaited RO-POAST is finally here!
As many of you know, I was in Romania early this June. Why Romania? It was nowhere near the top of my to-go list. As with Portugal, the adventure fell into my lap – one of my friends was getting married there. Moscow-Bucharest return flight with Aeroflot was $250, and the country itself is very cheap, so why not?
The wedding itself was excellently organized, certainly the best I have ever attended, and I got to meet many interesting people during my stay there.
A considerable part of my observations draw from in-depth discussions with DT, an Alt Righter who is partly based in Romania, as well as MP, a blog reader and investment banker – as well as the scion of a Romanian boyar family who repatriated after Communism.
TLDR:
Romania is a patchwork quilt of Balkan, Slavic, Mediterranean, and Turkish influences – in approximately that order – so exploring it is endlessly fascinating (e.g. did you know that Romanian was written in Cyrillic until 1860?). The people are friendly enough, the economy is doing well, and infrastructure has been massively upgraded in the past decade. On the other hand, the country remains quite dysfunctional in many ways – rather more so than Russia, in my admittedly brief experience.
This is an observation also made by the Alt Right expat Archie Munroe in his article Is Romania Part of the West?, which perhaps overstates the case but doesn't seem to be implausible to me.
---
The Romanians
---
Bucharest Metro.
So I assume my readers are familiar with Le 56% Face meme that Europeans mock Americans with?
You realize that this applies to Romania more than the US as soon as you exit Arrivals at Henri Coandă Airport. Romania might well be the most phenotypically diverse nation in Europe (recent immigrants excluded). There is the stocky, brachycephalic Balkanoid type; the paler, higher cheekbone Slavic type; the swarthy, sleek Mediterranean type. There are also the Gypsies, who are furthermore not entirely discrete from the general population, since there has been interbreeding between the two groups. Consequently, you get startling throwbacks to all these ethnic archetypes, making any Romanian street or transport hub a veritable museum of European anthropology.
One amusing consequence is that I was often taken to be Romanian by other Romanians, at least before I opened my mouth. Although one might ascribe that to me being 1/4 quarter kebab, at least one acquaintance I made in our group had exactly the same experience, despite his classically North European visage. Romania: The true postracial society?
Bucharest Northern Railway Station.
Bucharest schoolchildren.
---
Gypsies
Although Gypsies officially account for 3.0% of the Romanian population, according to the last census in 2011, almost all Romanians with whom we had this conversation insisted that the real figure was at least 10%.
It will hardly surprise anyone that Gypsies constitute an underclass in Romania. During my short stay in Ploiesti, I was approached by a couple of Gypsy girl-children while withdrawing cash from the ATM. Although I did not understand Romanian, it was clear they were beseeching me for money… while slowly tiptoeing me and furtively glancing at the wallet in my pocket. I completed the withdrawal and briskly strode away.
The strippers in the night club our stag party visited in Ploesti were exclusively Gypsies. To their credit, they do an honest job.
The Romanians only have bad things to say about the Gypsies; for instance, in Transylvania, the female guide at the bear sanctuary that one of our groups visited said that the local Gypsies only steal, while getting government money and the best places to live in the mountains. (Then again, is it different anywhere else? I was talking with a white American in Romania, one of those BLM-supporting boomer types. I was amused to see that when the conversation drifted from American fascist police shooting innocent blacks to the Gypsy Question he abruptly transformed into a hardcore Nazi.)
As if to confirm her point, that same group later stopped to buy a basket of raspberries from some roadside Gypsies. Honest reward for a hard day's work? Not really. It turned out the basket was half empty.
---
Economy
---
Living Standards
Romania has done very well for itself in the past two decades, and especially the past couple of years, when GDP growth approached a Chinese-like 7%.
Consequently, it has surged well ahead of Bulgaria, converged with Croatia, and even come close to Hungary – all economies that have conversely done pretty badly in the post-socialist transition.
But to what extent do the statistics stack up to what ordinary Romanians say?
On the way back to the airport, I got to chatting with my Uber driver, as any Fat Tony ought to do.
He told me that he makes 4,000 lei ($1,000) per month. That was a doubling of his previous salary working in a factory, where he got 2,000 lei ($500).He also said that 2,000 lei is about the average Romanian salary. (This anecdote more or less matches the statistics).
He said that typical 2 bedroom rent in Bucharest is around 250 Euros, so you can see that life there would be pretty tough for non-property owners.
He was pretty skeptical about Romania's prospects, not even so much about the low wages as social attitudes. He felt that the older generations (his generation) were ruined by Communism, having become overly dependent on the state – while treating paying taxes as something purely optional (this is a legitimate observation).
Incidentally, he struck me as a libertarian sort of fellow, as Uber drivers in my experience often are. He even supported the LGBT protest and gay marriage ("why should the state dictate what individuals want to do?").
The Uber driver's pessimism is one that I met rather frequently, including from an academic economist who was in our party. He claimed that the government had "destroyed education" and that the country was in a "bubble" that would collapse sooner or later.
Still, n=1 anecdotes aren't the be all and end all. Most people love to complain, after all.
The countryside generally struck me as having a sort of quiet prosperity, though it also seemed quite diskempt.
Since people try to avoid taxes, and the shadow economy is huge (32% of GDP according to recent IMF estimates), there is no shortage of decent looking properties in the Transylvanian countryside. These are a testament to the existence of considerable private wealth… surrounded by dirt sidewalks.
Though I'm quite skeptical that the above property would fetch anywhere close to 150,000 Euros, unless it comes with vast tracts of land. That's thrice the price of a centrally located studio in Bucharest.
New church in Transylvania.
There are also plenty of churches, including new ones. I assume that this is mostly various private businessmen and rich people looking out for the long-term good of their soul (as in Russia).
Râșnov street.
That said, there were certainly scenes of considerable poverty as well, especially in some of the smaller towns we drove through.
We often saw cows and horses grazing on the country roads, even immediate outside sizable cities such as Ploiesti (population 225,000).
There were plenty of people selling food by the roadside.
Horse-pulled carts are a popular stereotype about Romania, and a correct one at that (even if much reduced relative to the 1990s). We saw an average of one such cart everyday in our travels.
As is typical of underdeveloped economies, there is a lot of wasteful use of labor.
For instance, the train station at Ploiesti had two WC's about 200 meters apart, both of them staffed by a couple of middle-aged women who collected 0.5 lei for using the facilities.
I need also emphasize that I only really visited three regions of Romania: The capital Bucharest; Ploiesti, the center of Romania's former oil industry; and the touristic part of Transylvania, which has a strong German/Hungarian cultural – and economic – legacy.
All of these regions are considerably above the Romanian average.
That said, bearing this in mind, I would make the following assessments about Romanian living standards:
They are far below "Western" living standards (duh).
Modestly (20%?) below Portuguese.
Approximately equal to Russian living standards. That said, Bucharest is not even in the same class as Moscow, while many of Russia's "millioniki" are also superior.
Medium-sized (~100,000 people) Romanian and Russian towns seem to be about equal.
The Romanian – well, Transylvanian – countryside seems more prosperous than its Russian equivalent.
My impression was that prices were around 50% lower than in the USA/UK, as in Russia (Portugal is in between). This is again confirmed by statistics.
That said, gas prices were much more expensive than in Russia or the US, and almost as high as in the UK.
Romania has a reputation as the country with one of the world's highest Internet speeds, and based on my admittedly limited experience at my Airbnb residence in Bucharest, that certainly seems plausible.
---
Demographics
Ceausescu fantasized about making Romania a Great Power. But population equals power, and Romanian population growth was beginning to trail off by the 1960s as it entered a sharp fertility transition.
The Communists implemented Decree 770 in October 1966, barring abortions in all but a few exceptional cases. This produced a fertility spike, if one that faded away with time; still, population growth remained firmly positive, peaking at 20.1 million by 2011.
Then the fertility rate collapsed, as in the rest of the ex-Communist world.
Decree 770 was repealed in 1989. Despite the Romanians being a religious people, MP noted that religion is "shallow" – as in Russia – and that Romanians as a people are the sort who want to be left alone by the state – so the chances of abortion becoming criminalized again are near zero. This syncs with my own thinking. After all, in Poland, access to abortion was associated with the "godless" Communist regime, and immediately banned upon its overthrow; in Romania, it was precisely the opposite. Still, it's worth repeating that in modern times, abortion doesn't seem to have a major effect on demographics – the current TFR of Romania is 1.7 children per woman, vs. 1.5 for Poland (up from 1.3 during 2000-2015).
The Romanian population peaked at 23.2 million in 1990, but had declined to just 20.1 million by 2011, and an estimated 19.7 million today.
Only 1.1 million of that decline can be attributed to natural decrease. The rest accrued to emigration; there are an estimated 3.4 million Romanian emigrants.
I was independently told by several Romanians, without any prompting on my part, that Romania has the world's second highest numbers of emigrants after Syria.
This obviously means that this particular statistic – which appears to be true – has been getting a lot of play in the Romanian media.
This emigration has disproportionately affected the well-educated. For instance, half of Romania's doctors (!) left between 2009-2015, primarily to other EU countries.
This is something that I often encountered myself. Here was the pattern amongst the wedding guests, who represented a cross-slice of the more prosperous parts of provincial Romanian society:
The elderly were in Romania.
Large percentage (well more than half) of the middle-aged were working in the EU, e.g. one of them painted and restored icons in Italy.
Almost all the young people worked abroad (a significant part directly for the EU).
The one thing that Romania doesn't have a problem with is refugees. I was told that 200 Syrians were settled there under an EU directive, but before a few months were out, all but three of them had departed for greener pastures to the west.
This must also explain why Romania has been lackluster about supporting Visegrad in its struggle with the EU on immigration questions. This is simply not a problem that Romania will have for the foreseeable future… though the reasons why are hardly flattering to it.
---
Infrastructure
Transylvanian highway.
Around Bucharest, and Transylvania, the roads are quite good, probably thanks in large part to EU funding (Romania has one of the highest rates of EU subsidies as a percentage of GDP).
The quality of the drivers is worse than in the US or Portugal (which in turn are worse than in most of Western Europe), and about equal to Russian ones. However, there are of course regional variations (I heard that both roads and drivers are worse in the relatively impoverished area bordering Moldova).
To my surprise, seatbelt enforcement is not yet universal; a couple of our taxi/Uber drivers did not wear them, whereas this is hardly ever encountered in Russia these days.
During my stay in Bucharest, I saw a sports car holding some youthful yobs blasting loud music speed down the main thoroughfare and physically nudge an old Dacia with a couple of pensioners.
Preparing to drive from Brașov to Ploiesti.
Although it's not any sort of automotive powerhouse, Romania does produce its own cars – more than enough to satisfy internal demand, and as many, in per capita terms, as Poland.
Automobile Dacia is its fourth largest company.
The (newly upgraded) Henri Coandă International Airport is functional but unremarkable. There is still no metro line there, which is inconvenient (though this will soon be remedied); there are also no rail communications to nearby Ploesti.
Admittedly, this is not such a major problem in the age of ubiquitous Uber (which is about as cheap in Romania as Yandex Taxi/Uber are in Russia).
Ploiesti Sud.
The rail infrastructure is old and creaky, but presumably reliable – and extremely cheap. A first-class rail ticket from Ploiesti to Bucharest (60 km) cost me 7.20 lei for first-class (less than $2).
The double-decker train.
Bucuresti Nord.
That said, the country's rail arteries leave much to be desired. I was idly thinking of taking a train from Ploiesti to Budapest, but reconsidered after learning that it would take 14 hours.
As in most of the rest of Eastern Europe, there is no such thing as high-speed rail in Romania.
---
Bucharest Metro
The Bucharest Metro seems to work well, but it's a rather modest and uninspiring system.
Trains run about once every 5-8 minutes, at least outside rush hour; the design consists of gray concrete slabs, but without the futuristic-bunker chic of Washington D.C.'s system.
Metro map.
---
Politics & Nationalism
The Romanian protests have conveniently been in the news of late (August 2018), so this would be of particular relevance at this time.
I owe my basic understanding of the Romanian political compass to DT (the quotes here are his).
(1) On the one side, you have the Social Democrats (PSD), who got 36% in the last elections – "vaguely conservative/welfarist/popular/welfarist". They have a strong reputation for corruption, but "know the rhetoric and (legitimate) gibs policies that people like."
They are also supported by the traditionalist Orthodox church.
(2) On the other side, you the "liberal elites, anti-corruption office (DNA), secret services (illegally/selectively giving evidence to DNA), EU-German-Soros-funded NGOs".
Although the liberals may have legitimate concerns about corruption, they have also "adopted much of the worst Western snobbishness, social values, and alienation from their people."
The alliance between the DNA and the secret services is known as "binomiul" (the binomial), which came to play a prominent part in Romanian politics during the last liberal-conservative government before the EU accession.
Here is how one French identitarian writer describes the standoff:
… The theme of a struggle between the democratically elected bodies against the "binomial" (the secret services and anti-corruption floor) – that's to say, a sort of colonial prefecture instituted by Washington D.C. and Brussels to limit the sovereignty of the Romanian people until it "politically matures" – has also proved to be very strong.
In between these two forces, you have the ethnic Magyar minority party, which always gets into government regardless of who is in power – and gets amply rewarded for it.
Hardcore nationalism is all but dead – the only exception was in 2000, when Vadim Tudor got 33% of the vote in the second round; however, this was an artifact of the traumatic 1990s, and his party collapsed after his death in the late 2000s.
At the present time, nationalist parties are minor league.
However, DT notes that while Romania is not "terribly interesting" from a nationalist perspective, there might be a strong potential for a nationalist party to emerge, and – perhaps in an alliance with PSD – "Visegradize" the country.
That said, while formal nationalist movements are weak, it should be noted that most Romanians are implicitly nationalist.
Bucharest Metro.
Slogans such as "Basarabia e România" and "Antonescu erou national" can often be found graffitied on walls and sidewalks.
My impression from conversations is that opinion about Antonescu is split about 50/50, which is not bad for a dictator who led them to defeat. But it's not that surprising. The Italians are cool with Mussolini – Berlusconi and Caesar Salvini have both quoted him. Franco's tomb sees tens of thousands of pilgrims. It is only the Germans who are the exception to the rule; honoring the Great Leaders of yore is otherwise quite normal.
At the museum & gift shop in Cetatea Râșnov. Crimea belongs to… Romania? 
Although it's not, of course a topic that normal people go on about, it seemed to be that there is a fairly wide consensus that Moldova is a "fake and gay" country (to use Thorfinnsson's scientific terminology).
Pretty much everyone is okay with annexing reunifying with Moldova… so long as it doesn't hurt the economy too much, anyway.
In all fairness, I don't even see how they're wrong on Moldova.
Moldova's color revolution was called the "Twitter Revolution." Ponder on that for a moment. Then an amount of money equivalent to one eighth of their GDP was stolen by a Jewish businessman, who promptly absconded to Israel.
It is indeed hard to imagine a country that is more fake and gay than Moldova.
Incidentally, Romanian nationalists even have a serious lobby group at Brussels shilling for the cause in the form of the European Centre for Romanian Unity.
Established in December 2017, the European Centre for Romanian Unity brings the reunification project to the heart of EU policy making. A politically independent non-profit organisation, ECRU campaigns for a peaceful and democratic reunification of Romania and the Republic of Moldova based on a shared history, language and culture, strongly anchored in EU values, democratic principles and the rule of law.

From 1947 to 1989, what is today the Republic of Moldova found itself under the illegal occupation of the Soviet Union. The history of Moldova between 1947 and 1989 is one of famine, deportations, russification, human rights breaches and communist oppression.

In Moldova, the collapse of the communist regime in 1989 started with citizens asking the authorities to acknowledge their Romanian identity.

The growing trend of reunification in Romania and Moldova is peaceful in nature and democratic in spirit and method. … ECRU does not associate itself with any extremist, revisionist or ultra-nationalist views.
Sure you don't, buddies. (Not that there's anything with that).
These social media savvy nationalists dress smart, hobnob with "respectable" politicians and journalists, and – critically – couch Romanian nationalism in the language of democracy and human rights.
This is a lesson that many nationalists might want to take lessons from.
World War I monument near Predeal railway station.
World War 1 – the Great War – is central to Romanian national memory. All medium-sized Romanian towns seem to have a prominent memorial to it.
At the Sinaia Monastery near Peleș Castle, the western wall has a scene with Carol I – the first King of independent Romania – leaning against a broken column, symbolizing the "lost" territories of Transylvania, Bukovina, and Bessarabia.
Despite Romania's trials and tribulations during the Great War, in which it lost 8% of its population – the third highest figure after Serbia and the Ottoman Empire – it ended the war by snapping victory from the jaws of defeat, restoring all three of those columns by seizing Bukovina and Transylvania from the hapless Hungarians after the war in the west came to a formal close – and later pressuring the short-lived Moldavian Democratic Republic into a union with Romania.
(Russia, of course, did the opposite, snatching defeat from the jaws of victory).
I noted that many Romanians wear the national dress. Any Russian who casually wears the kosovorotka would be considered at least slightly weird. Apparently not so much in Romania.
This is because, unlike the Putlerreich, Romania is a true national state. Looking after the interests and ethnic identity of ethnic Romanians abroad is written into their Constitution.
The Communist period is viewed very negatively. I would estimate that Ceausescu has a 10% approval rating.
That said, they are not that Russophobic.
While Romanians are certainly not Bulgarians or Croats, their opinions on Russia – 47% favorable to 45% unfavorable – are comparable to those of Slovaks, Croats, and Slovenians. They are also better disposed to Russia than the Hungarians, for all the ridiculous talk of Orban as a Putin puppet. (Latvians are false friends; remove ethnic Russians, and their numbers would be comparable to those of Western Europeans. But Western Europeans dislike Russia for things like "persecuting" gays, which Latvians couldn't care less about).
One of the latest Eurobarometer polls. Romanians are basically neutral on Russia, unlike most of Western Europe, Poland, Czechia, and the Baltics. 
In another poll, some 52% of Romanians said they view "a strong Russia" as being necessary to "balance the influence of the West." Considering Romanians have very strong pro-NATO views, which are universal across the political spectrum, these are remarkable numbers (only 49% of far more NATO-skeptical Czechs think likewise). 65% of Romanians think Russia has an obligation to protect Orthodox Christians outside its borders (equivalent to Greece), and 74% of Romanians even think it has an obligation to protect ethnic Russians outside its borders (equivalent to Russia itself, and indeed one might say – given the daily shellings of Russians in the Donbass – a shameful indictment of the Russian people themselves).
I don't have a hard time believing these numbers. While I certainly don't want to give away the impression that Romanians are Russophiles – they are certainly not – they're not really Russophobes either, at least on average. I encountered approximately zero Russophobia during my stay. For comparison, I have encountered plenty of Russophobia during my (thankfully limited) experiences with Latvians, and considerable Russophobia from Poles (though in their case, this was also balanced out by considerable Russophilia).
As I have often argued, Western Russophobia has a strong ideological/religious element to it; they hate Russians not because of Communism, but because they betrayed its "ideals" (or in Double Horseshoe Theory terms: "Stalinism is not true Marxism, and that's terrible").
Many Balts (especially Latvians) have what might only be described as a deep racial antipathy to Russians.
Romanian Russophobia is far more… "practical" – they associate Communism with Russian occupation (although this is an association muted by Ceausescu's independent streak), and for breaking off Moldova.
Russia can't accommodate the West except by joining up to its GloboHomo religion, nor can Russia accommodate the Balts except by… I don't know, ceasing to exist?
However, so far as simpler folks such as Romanians are concerned, whose grievances are easy for the Russian mind to understand, powerful deals can be worked out. For instance, more strenuous efforts to disassociate Russia from (Latvian-imposed) Communism – which Russia needs to do for its own sake, anyway; and a partition of the fake and gay country of Moldova – Romania gets historical Bessarabia, Russia gets Transnistria.
That said, although the average Romanian is an implicit nationalist, trends amongst young people – especially the highly educated, geographically mobile types – are rather concerning.
Central Bucharest is a very SWPL/yuppie sort of city, full of hipsters, Priuses, and bike rental stations. Young Romanians also have very good English language knowledge, at any rate for an East European country (probably in large part because they don't dub foreign films). Now this would all be fine – SWPL culture is a genuinely attractive, civilized culture – if it didn't also come packed with ideological thermite.
As DT once observed:
My experiences in that country are really very congruent: very diverse phenotypes, as much as half-Turkish, extremely corrupt, low-trust, basic health & safety problems, with all the young émigrés idealizing the West and believing all will be well if only their stupid parents would adopt in their hearts the "Soros-Kalergi agenda." The nice parts of Romania are those which were built by the Saxons and, to a lesser extent, the Hungarians, in Transylvania. …

The nice thing about Romania's "backwardness" is that there is no degeneracy. Apolitical people talk about race/gay/Jews like normal, non-brainwashed people do. Very refreshing. All of their celebrated intellectuals – Eminescu, Iorga, Eliade, Cioran, Tutea . . . – were reactionary and/or fascist. The youth are also very Americanized – good and bad, the average educated one thinks it is very cool to watch John Oliver.
As in the rest of Eastern Europe, sentiments that now only predominate in Bucharest's gay pride parades will steadily be seeping their way into society at large.
---
Intellectual Life
Whenever I am in a foreign country, I make sure to check out a couple of bookshops – especially their bestseller stacks – to get a finger on what the intelligentsia is thinking.
Recommended books. Some familiar titles in the second photograph.
Viktor Suvorov really appears to be in vogue. Not surprising that this conspiracy theory enjoys popularity in Romania.
Mircea Eliade.
I bought this history book by Neagu Djuvara, which was recommended to me by the macro-economist.
Mikhail Zygar's All the Kremlin's Men appears to have been translated. 
Ion Pacepa.
Orlando Figes, Timothy Snyder… Anne Applebaum's Gulag (which strenuously doesn't notice who disproportionately ran them) was also featured. Basically, liberalism.txt on Russia.
Cioran and Tutea.
---
Cărturești is a landmark bookstore in Bucharest – and for good aesthetic reasons, as you can see below.
Jordan Peterson's 12 Rules of Life is prominently featured as a bestseller. Somehow I don't see that happening in a Western bookstore frequented by hipsters and SJWs.
---
The Martian? Meh. I am more impressed that this relatively obscure book by Brandon Sanderson has been translated!
Again, I don't see Yukio Mishima being prominently featured at a bookshop's front end in any Western capital.
Or Karl May, for that matter.
Street book vendor in Bucharest.
---
Society
---
Attitudes & Bureaucracy
In a number of amusing (if inconvenient) ways, Romania reminded me of Russia… approximately a decade ago.
First observation: Romanians still clap when the aircraft lands, which is common in countries where people have only recently started flying. Russians stopped doing that about a decade ago.
City administration of Ploiesti, a city of 225,000 people. Monumental structures to the bureaucracy seems to be a universal to commie regimes.
Many apparently trivial things require passports. I was required to provide my passport for my Airbnb booking in Bucharest, to buy or sell Romanian lei (with trivial sums involved), and once to even make a small purchase at an electronics hardware store. Russia hardly has anything to write home in this department, but I don't think you need a passport to acquire rubles, and I certainly haven't ever had to show my passport to buy anything but alcohol. In fairness, as I have pointed out, the Anglos are pretty much the only people who manage to do bureaucracy right.
People don't like giving change. I had issues with sellers being unhappy at getting paid with 100 lei ($25) or even 50 lei ($12.50) notes. This sort of thing stopped being an issue in Russia around the mid-2000s. In the provinces, people also don't like accepting credit cards – and not just for minor purchases. I was told that the inn we stayed at, which required a considerable payment for booking 50 odd people – that's a few hundreds of dollars in addition to the individual charges – required it in cash. This goes some ways to explaining why Romania has one of the largest shadow economies and one of the lowest revenues as a share of GDP of any EU country.
Bucharest.
There are a great deal of intrusive advertisements. Not as much as in 1990s Russia, but a lot more than in Russia today. It is rather annoying.
Entrance to History Department of the University of Bucharest.
Graffiti is everywhere – including on "serious buildings", such as the the entrance to the History Department of the University of Bucharest. I suspect this is common to all "southern" countries.
Another observation I have to make is that there seems to be quite a bit of incompetence. Speaking of that particular inn, they had assured us that each guest would have their own room, but in the end I had to share it with two other people – thankfully from our own party, but still, not exactly what we had expected. But the €30 price remained the same as if we had paid for single rooms. In terms of comfort, this basically made our room a hostel – and you can get hostel rooms in central New York for cheaper prices. Another example: I booked a car via Cronoscar, Romania's best known car rental company, in advance via the Internet. When we came to pick it up in Ploiesti, they said they had no record of it and plainly wanted us to shove us off, before I produced the email with my booking via my cell phone. This, at least, forced them to scrounge up a replacement car, although a different (and more expensive) model. But if I hadn't had that email on my cell phone, I assume our travel plans for that day would have been ruined.
---
Corruption
Transparency International: Global Corruption Barometer 2016.  Bribery rates in Europe as proxied by opinion polls.
MP told me that corruption is not prevalent at lower levels – while people paid bribes to policemen in the 1990s, this is not the case today. He found it hard to imagine someone paying off prosecutors and judges for a more lenient sentence, which is something that is not exactly unheard of in Russia. The higher up politicians do get rich as a matter of course, and illegitimately, but not at the level of the Kremlin elites.
My impression syncs with the results of many opinion polls and other formal data. Romania is much more corrupt than the average EU country, but less so than Russia.
---
Religion
Biserica Nașterea Maicii Domnului din Suceava in Bucharest. (This version of the church was built in 1850-52)
Opinion polls consistently show that Romanians are some of the most religious Europeans (e.g. only 1% of them identified as atheists in a recent PEW survey, relative to 5% of Bulgars, 7% of Poles, 15% of Russians, and 72% of Czechs). This seems to be backed up church attendance figures. In Russia, only old women regularly attend church; in Romania, I got the impression that so, too, did middle-aged men.
However, as I mentioned above, my interlocutor MP insisted that religion in Romania is shallow, and actually seemed to have the impression that Russia was a more religious country. I certainly do not think that that is the case, but nonetheless, this did cause me to readjust my prior conceptions about Romanian religiosity. It might be very wide, but as in Russia, it is in very large part an expression of national identity, as opposed to being a genuine spiritual phenomenon, as I think is the case in the United States, the Islamic world, and (to an extent) Poland.
---
Language
As with phenotypes, cuisine, and architecture, the Romanian language is also a hybrid. It has a Latinate structure, but with considerable Slavic vocabulary borrowings (ranging from 5% in standard Romanian to 20% in Moldova).
I was amused to note that their word for war is "razboi" (e.g. Primul Război Mondial). In Russian, the term разбой denotes brigandage; bandits are разбойники. I found this linguistic false friend to be endearingly Balkan.
It seems that all the military and quasi-military terms are Slavic (e.g. voivoda, boyar).
Wikipedia has some more interesting information, e.g.:
At the arrival of the Slavs, the Romance-speaking Vlachs were rural cattle breeders… most Romanian vocabulary related to cattle and cattle-breeding is of Latin origin. In contrast, most tools and utensils related to agronomy (as well as urban life) were replaced with Slavic names.
Some last minute commitments before my trip prevented me from spending a few hours learning the Romanian language, as I had done with Portuguese.
Nonetheless, I am not sure it would have been of much use.
Despite its Slavic borrowings, even for me Romanian seems considerably harder than Spanish, Portuguese, and probably Italian (though I can't say for sure since I haven't spent any time learning Italian).
Reflecting Romania's Francophile culture, most older Romanians speak French (not Russian as in most of the rest of the post-Communist bloc). Many young people speak okay English – more so than in Hungary.
---
Weddings
Romanian weddings are LARGE! Not the modest affairs more typical in the traditionally bourgeois West. The typical wedding has dozens, if not hundreds, of guests.
They also have a bride kidnapping tradition as in the Caucasus, which is recreated during weddings.
Traditional singers.
Belly dancer.
---
Cuisine
As in most other things, Romanian cuisine is a Med/Slavic hybrid – with a stuffing of Germanic sausage.
Central ingredients include potatoes, polenta, cornmeal, pickles of all sorts, salted cucumbers, sausage, sour cream, and – of course – KEBAB. That said, I do like their habit of presenting hot green peppers as standard sides. I hope that Russia could adopt this great innovation as the climate warms. They are not big on olives; they are all imports. Also no good dry red wines that I can tell. They prefer palinka moonshine that they make themselves.
It's pretty simple, and you can sample most of the keynote dishes in a day or two. As with Portuguese cuisine, it is filling, but there's nothing particularly noteworthy about it.
The classic restaurant in Bucharest is Caru' cu Bere, which was founded in 1879.
Like many such restaurants, it is perhaps overrated, but people go there for the decor anyway. And at 30 Euros for a three course meal with two beers, it won't bankrupt you.
Ciorba Radauteana – sour chicken soup with garlic and cream).
Viennese sausages with cheese, pickled cabbage, and polenta.
Papanasi for desert.
---
The other restaurant I dropped into was the Casa Doina in Bucharest, which was originally intended to be a pavilion for the grand Paris Exhibition of 1890.
Unfortunately, the Romanians didn't finish it in time, so it became a buffet for Bucharest boyars instead.
I ordered the following modest meal for about 10 Euros.
The sausages are mititei, which are "grilled ground meat rolls made from a mixture of beef, lamb and pork with spices."
The spirit to the left is pălincă, a Visegrad/Romanian plum brandy.
---
Polenta and cabbage rolls with spicy green pepper at the wedding.
Mămăligă – cornmeal porridge.
KEBAB (salad, potatoes, etc).
This is probably just apple pie but I don't really remember.
Kürtőskalács is a Hungarian pastry that is also prevalent in Transylvania.
Some sort of sweet fruit wine poured out of an elegant 5 litre plastic bottle.
Vișinată – cherry liqueur.
---
Romania: Ploiesti
---
From the Airport
Henri Coandă Airport.
Having also recently been in Portugal, my initial impressions of Romania were that it was a blend of Portugal and Russia.
Even many of the roadside houses seemed to be like izbas, but with Mediterranean-style tiles and decorative patterning.
A new church.

A Communist era technical college conferring some useless degree.
Many new churches, malls, places with familiar names (e.g. Auchan supermarkets, Lukoil gas stations).
Ploesti
Typical commieblock in the outskirts.
There is a well-reviewed clock museum in Ploiesti (unfortunately I didn't have time for it).

Nightclub.
---
Maia
This is the ancestral village of one member of our group. Deep Romania.
The St. Nicholas Church where Barbu Catargiu, Romania's first Prime Minister, is buried. He was assassinated in June 1862 after less than half a year in power. His assassin was never caught.
Barbu Catargiu was a modernizing conservative, who wanted to build railways and preserve the large boyar estates and run Romania as an aristocratic republic.
The Communist regime was naturally antipathetic to him, and most monuments to him were destroyed. However, the church itself was left alone in benign neglect.
Local museum.
Another reason why World War I is so central to Romanian history: Compare the number of names under each conflict.
Book containing records maintained and updated by each successive church priest for the past two centuries.

Many interesting icons and old books, most written in Romanian Cyrillic. 
The museum's archives also host a drawing by a Russian POW held during WW2 (they don't know what eventually happened to him). I suppose he was treated well to be able to engage in such pursuits.
---
Romania: Transylvania
---
Scenes of Transylvania
Although it's more associated with dark, foreboding forests in the popular imagination (Count Dracula), in reality it's more of a "green and pleasant land."
As one of my acquaintances remarked, the Shire scenes of Lord of the Rings could have been filmed here.
---
Peleș Castle
This Neo-Renaissance castle was constructed in 1883 for Carol I, the first King of independent Romania. Reflecting his technophilic priorities, it was the first European palace to be powered with electricity.
Incidentally, I noted that about at least a quarter of the tourists were Chinese. This is something that one notices in popular tourist attractions in Russia as well.
I suppose that an Eastern European tour is a legitimate (and cheap) solution to Paris Syndrome.
Carol I was a Germanophile, and technically competent. His personal library was stocked with a wide range of German and English books on modern science and technology
He wanted to enter World War I on the side of the Central Powers; he had signed a secret treaty in 1883 linking Romania to the Triple Alliance, though Romania wasn't obligated to honor it because it only applied if Russia attacked one of the signatories. However, Romanian public opinion was highly Francophile, and he was voted down at the Crown Council convened on August 3. After that, Carol I fell into decline and died on October 10.
The Sinaia Monastery (built in 1842-46 build, restored around 1900). It was also the first electrified church in Romania (1906). The equipment was sourced from Vienna.
The western wall has various royalty scenes, including the one with Carol I and the missing columns (Transylvania, Bukovina, Bessarabia). The narthex has two icons, Saint Nicholas and Sergey of Radonezh, gifted by Nicholas II.
---
Cetatea Râșnov
Although construction dates to Roman times, the fortress as we know was built around 1225 by the Teutonic Knights of Burzenland.
Did I mentioned the Romanians are obsessed with World War I? The tower hosts a series of posters with a history of the Great War.
Display on socialist Romania.
After having spent the preceding century as an abandoned ruin, the fortress was renovated in 1955-56 under Communism.
Gift shop with the Roman soldiers, national maps, etc. (has the map with Crimea as part of Romania).
---
Peștera Valea Cetății
This cave is located about 3 km from Râșnov. It's almost 1 km long, though only the first major atrium is accessible to the general public. It was discovered in 1949, and made into a tourist attraction in 2011.
Due to the cave ecosystem's sensitivity to fluctuations in temperature, tour groups are only allowed to stay there for no more than 20 minutes once every hour.
---
Râșnov
The Romanians do love to ape that Hollywood sign everywhere. Brașov has the same thing.
---
Bran Castle
Although it is known as "Dracula's castle", in reality Bran Castle doesn't have anything to do with either Vlad Țepeș or vampires apart from being the likeliest location of the fortress described in Bram Stoker's famous novel. A wooden fortress in this location was first built in 1212 by the Teutonic Knights, but it was destroyed by the Mongols. The current stone version was constructed by the local Saxons of Kronstadt (Brașov) in 1377. Vlad Țepeș had no connection to Bran Castle apart from occasionally passing through it. Dracula's real redoubt would be Poenari Castle, a much more modest and remote fastness. And legend has it that he is buried at Snagov Monastery. I did not visit either location.
The Romanians view Dracula – the late medieval voivoda, not the vampire count – as a popular saint (though I was sorry to discover that he was not actually canonized as a saint, as one Romanian had led me to believe). Still, everyone agrees that he was a swell guy – including the Communists under Ceausescu, whose regime had good reason to play up the legacy of a man who run multiple military victories for Romania, founded Bucharest in 1459, and terrorized the "treasonous" boyars (who may have ended up murdering him).
According to the museum texts, Dracula was a Robin Hood, who was "merciless with the rich", and a "reliable friend of the poor" – a "national hero" to the peasants of Wallachia.
The wide distribution of the so-called "German narratives" in Europe was meant to libel him and created him a bad reputation. He was described as an antichrist, a wicked criminal and a cannibal.
Indeed, this theme that he was a hero calumniated by foreigners seems to have much in common with patriotic Russian narratives on Ivan IV (the Terrible).
"At that time, in all of feudal Europe, there was a climate of cruelty, and Vlad the Impaler, characterized by his enemies as a sinister person, thirsting for human blood, did not outdo most other monarchs of the 15th and 16th centuries, starting with Louis XI and ending with Ivan the Terrible, or starting with Henry VIII and ending with Matei Corvin. Vlad the Impaler's significance is his contribution to maintaining the existence of the Wallachian state by fighting off the Turks, let by Mohammed II, conqueror of Constantinople."
Bran Castle was more expensive than Peleș Castle, and less remarkable, too; the display focuses around the (modern) furniture collection amassed by Queen Marie, the last Romanian queen. It is Romania's first private museum, having been given back to descendents of the royal family thanks to a law passed by the Romanian parliament on restituting Communist-era expropriations. My impression is that they just collect the rent from its (fictitious) association with Dracula.
The views are certainly great, the furniture is meh… but don't come for the "authenticity".
---
Transylvania Hike
We did a one day hike through Piatra Craiului National Park, which is characterized by a long limestone ridge spanning most of the area that is popular with climbers.
Cabana Curmătura.
"No we don't have WiFi. Talk to each other!"
There are shepherds who maintain herds of cattle and sheep in these mountains.
---
Brașov
Brașov (again helpfully denoted by the Hollywood sign) is the historic center of the Transylvanian Saxons, and is now a prosperous 250,000 population city boosted by tourism.
Catherine's Gate.
Black Church (Biserica Neagră).
There are panels recounting the church's history inside. Constructed in the late 15 century, it got its name after being partially burned during a fire set by advancing Hapsburg forces in 1689.
The main noteworthy thing I found is that the literacy push amongst the local German community started extremely early, just a few years after the coming of Protestantism. The local bishop published an edict demanding that local German communities collect taxes for schools.
Today, it is run by the Evangelical Community of Augustan Confession. They hold Sunday services in German for their 1,000 parishioners.
---
Romania: Bucharest
---
Arrival in Bucharest
This studio apartment just a block away from the University of Bucharest, with a sweeping view of the Palace of the National Military Circle, was just 33 Euros a night on Airbnb.
My hosts said that this apartment costs around 45,000 Euros. This is pretty remarkable; a similar apartment would cost no less than 20 million rubles ($300,000) in Moscow. In London, it would be about a million.
The one unfortunate thing is that the front facade of the National Military Circle was covered with scaffolding, but I suppose that's going to be temporary.
---
Keto Cafe
I met up with MP at the Masa Casa, a newly opened ketogenic cafe (as I said above, Bucharest, like many of East Europe's capitals, has become a strongly SWPL place).
---
Bucharest Streets I
Dacia Boulevard.
Monument to Pilsudski at Ion Voicu park. 
Many of these mansions used to belong to the boyars before the Communists. They are now neglected and available at knockdown prices.
Although it's possible for some of them to get them restituted under the decommunization laws, in practice it's an extremely bureaucratic and complex process that's not worth the trouble in many cases.
Romanian girl. (Eastern Europe and Latin America are known for such murals).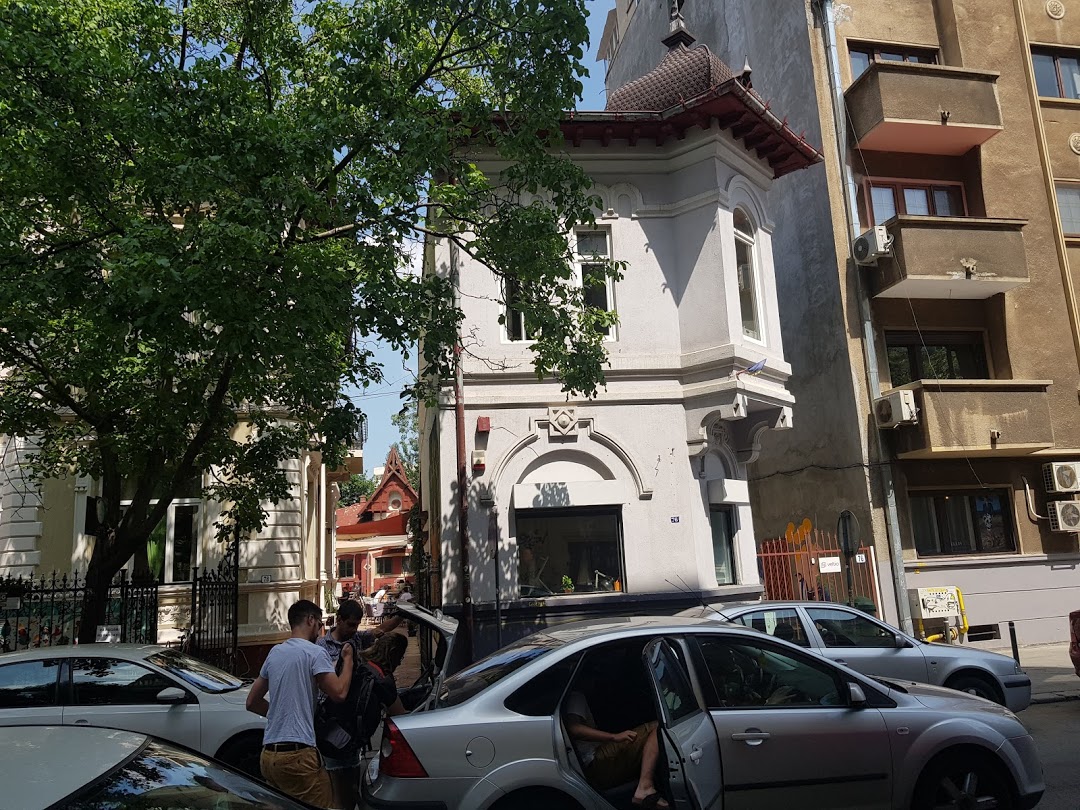 One thing you quickly notice walking in Bucharest is not just the variety of architectural styles, but how they are all intermeshed with each other. This is because the 1977 Earthquake leveled a significant part of the city. Apart from killing 1,500 people, it also haphazardly collapsed many buildings across Bucharest. The spaces left over were filled by monolithic commieblocks.
The British Embassy in Romania.
At this point, a policeman rushed up to me and told me to stop taking photos.
Did I tell you there's too many ads?
The Ateneul Roman.
Equestrian statue of Carol I.
The Memorial of Rebirth to denote the victory over Communism in 1989. 
Like most other things, it is covered in graffiti. It is in front of a gargantuan palace hosting the Ministries of Justice, Health, and the Interior.
Was Ilya Varlamov in Bucharest recently?
Bucharest has a liberal attitude to gambling. Groups of Israeli businessmen, from a country where the laws are much more conservative, take weekend trips to the many casinos here.
---
Bucharest Municipal Museum
This is a very good, introspective museum about Bucharest's history.
General flavor of postwar Romanian history that I got from it:
1947-1965: Large increases in economic output (e.g. coal, steel, etc.) and social development, but living standards remain low, rationing is in effect, and class enemies strongly repressed. Khrushchev had agreed to the withdrawal of Soviet troops in 1958.
1965-1980: Ceausescu comes to power. Initially more freedoms, development of tourism as Romania veers away from the USSR, and builds up relations with the West (e.g. Ceausescu condemned the crushing of the Prague Spring). There are particularly warm relations with France (where Charles de Gaulle displays a similarly defiant attitude to the US). But growing repression in the 1970s prevents the relationship from blossoming.
1980-1989: Return of rationing and labor repression as Ceausescu decides to opt for a more North Korean model, large parts of Bucharest rebuilt in a monolithic totalitarian style after the 1977 earthquake.
---
Bucharest Streets II
---
Palatul Parlamentului
Unfortunately, I was unable to visit Bucharest's most famous landmark – the Palace of Parliament, which is the world's second largest administrative building by area (the Pentagon is first) and the world's heaviest.
You need to book tours by phone, 24 hours in advance; as befits a Communist-era behemoth, there is no option to do it via Internet. The first lady told me that all tours were booked out for the next week. I tried calling again early the next day, in the hope that places had been opened up and that I could schedule it for tomorrow afternoon. They had indeed opened up, but it emerged that by "24 hours", they meant the entire next day inclusive – and the day after tomorrow was already the day of my return flight.
---
Medieval Fair
I ran into this historical recreation festival at Piața Constituției, not far from the Palace of Parliament. I suspect historic recreation is popular in Romania, as in the rest of Eastern Europe.
I bought the Vlad Țepeș wood carving for about $30 (it actually cost $40, but I didn't have enough change and the wood carver was kind enough to offer it at a discount).
---
SPD Demonstration
I emerged from Piața Victoriei (the one where the lifts were covered with "Basarabia e România" stickers) into the middle of preparations for a sanctioned protest by the Social Democrats.
See the "Politics & Nationalism" section for a background on Romanian politics.
The journalists at the scene (who supported the opposition) said that it was a protest of the Social Democrat party "against justice," claiming that the protesters were paid and bused in
In fairness, there were plenty of buses, and while the event seemed very well organized, I didn't manage to get clear answers to what they were protesting about from any of the ordinary protesters. Say what you will about them, but at least the ideological "Maidanist" types are more than happy to air their complaints to any who would listen (and many who won't).
PSD HQ.
The event organizers. They, at least, were able to give the most detailed explanation – that they were marching against the opposition's attempts to "overturn" and "sell off the country".
Arcul de Triumf.
---
Dimitrie Gusti National Village Museum
This is a huge park that doubles as museum devoted to detailed reconstructions of traditional Romanian dwellings.
It just so happened that Rossotrudnichestvo was hosting a cultural event there at this time.
---
Parcul Regele Mihai I al României
Statues to the bureaucrats who made the European Union.
This park was right next to the National Village Museum. It seems like a popular vacation for picnickers.
Taras Shevchenko.
Charles de Gaulle statue.
In an amusing expression of Romania's traditional Francophilia, the country developed warm ties with Charles De Gaulle's France in the 1960s – a bond made stronger by the fact of both countries expressing an independent streak relative to their respective superpowers during that period.
---
Gay Parade at University Square
Back from the pro-regime demonstration, onto the gay pride march! This was right in front of the (graffiti-marked) University of Bucharest.
LGBT + Anticapitalism + Antiracism + Anarchism + Feminism + Antifa = ♥
Queers against Capitalism.
It's OK to be gay but not hater.
Based Bucharest Black Woman.
Fat acceptance movement also weighs in.
---
Bucharest Streets III
Stavropoleos Monastery Church.
Originally built in 1724, little of the monastery survived apart from the actual church and a small courtyard in the back. They hold regular Orthodox services.
"No parking! Garage."
---
National Museum of Romanian History
There was a large World War I exhibit when I was there: România în Marele Război.
Interesting facts:
On August 1916, on Entente promises of territorial gains (that I don't recall being mentioned in the exhibit), Romania found itself fighting on two fronts with four states: Austria-Hungary, Germany, Bulgaria, and the Ottoman Empire.
Romania mobilized 15% of its population.
Romania had 44 planes at the outbreak of the war, which is not at all bad considering that the air forces of the principal combatants numbered in the low hundreds in 1914. However, their troops were far worse equipped than the Central Powers.
It managed to quickly take most of Transylvania, where it was greeted enthusiastically by Romanians who did not want to fight for the Austria-Hungarian Empire. However, it was soon pushed back, and forced to retreat to Moldova by early 1917 – where it held the line with Russian help for most of the next year.
Romania sent its gold reserves to Russia in December 1916 – equivalent to 10 billion lei in gold – where they were, of course, confiscated by the Bolsheviks when they came to power. (The USSR returned some items in 1935, and most of the coins, art, jewelry, and other cultural artificants in 1956).
The withdrawal of Russia from the war made the Romanians' situation untenable, and they were forced to sign the Treaty of Bucharest in April 1918. This resulted in territorial losses to Bulgaria and Austria-Hungary, and they were obligated to give all its surpluses of oil, grains, cattle, and many other products to Germany. All the brass, copper, and even bells were confiscated. I assume this helped prolong the German war effort.
The exposition focused a lot on what it saw as the cruelty of the German occupation. There were many cases of looting; Romanians had to guess permission to use train transport; and were forbidden from sending parcels, using the telephone or the telegraph, or selling cattle. One of the panels claimed that the Germans had all the dogs in Bucharest shot, and fined their owners.
There were ~145,000 Romanian POWs in Germany (of whom ~45,000 died), ~61,000 in Austria-Hungary (of whom 22,000 died), ~25,000 in Bulgaria (of whom 5,00o died), and ~10,000 in Turkey (of whom ~1,800 died). Romanian prisoners had the highest mortality rate (29%) of all the prisoners in German camps during World War I. (I wonder to what extent this ill treatment was a result of the Germans feeling Romania had "betrayed" them by joining the Entente after having signed a secret alliance with the Triple Alliance in 1883).
However, Germany's defeat did enable Romania to rejoin the war on its very last day and recover its three lost provinces of Transylvania, Bukovina, and Bessarabia – belatedly snapping victory from the jaws of defeat.
---
They also had an exhibit on the lost territory of Bessarabia, which was of course occupied by the USSR in 1940. (As I said, some themes crop up over and over again there).
---
Stephen III of Moldavia (The Great).
The main hall of the museum is given over to the medieval origins of the Romanian/Moldovan state.
Document issued by Stephen the Great.
This book shows the influence of Slavonic styles on Romanian.
I was amused to see the Ottomans casually getting called pagan. No SJWs in Romania?
---
Plaster cast of Trajan's column.
The ancient history part of the museum had a complete plaster cast of Trajan's Column, which recounts the Roman Emperor's victory over the Dacians.
There were also various stone steles, with the earliest ones dating to the ancient Greek period.
Funerary stele of Attalos the gladiator.
Votive dedication from the 3rd century BC.
---
This part of the museum hosted Romania's main valuables collection, which hosts the Romanian Crown Jewels.
The Hoard from Pietroasele, Buzău country (4-5th century).
Princely diadem from 14th century.
Portrait and swords of Carol I.
George Palade was the only ethnic Romanian winner of the Nobel Prize, who did most of his scientific work in the United States.
---
Bucharest Streets IV
Statue of Trajan and the She-wolf.
---
Cișmigiu Park
This is Bucharest's most central park. Built in 1847, it is full of monuments to various historic figures.
Monument to the French troops. Did I tell you Romanians are Francophiles?
---
Bucharest Streets V (Night Edition)
All-In Poker Club.
These poker clubs are quite common in Bucharest. This one runs 24 hours a day, and services free food/non-alcoholic drinks once every few hours.
Control Club.
---
Departure
I wrote about my impressions of the Sukhoi Superjet-100 here.
---