Here is why Russia also needs a BBW (Turkestan edition):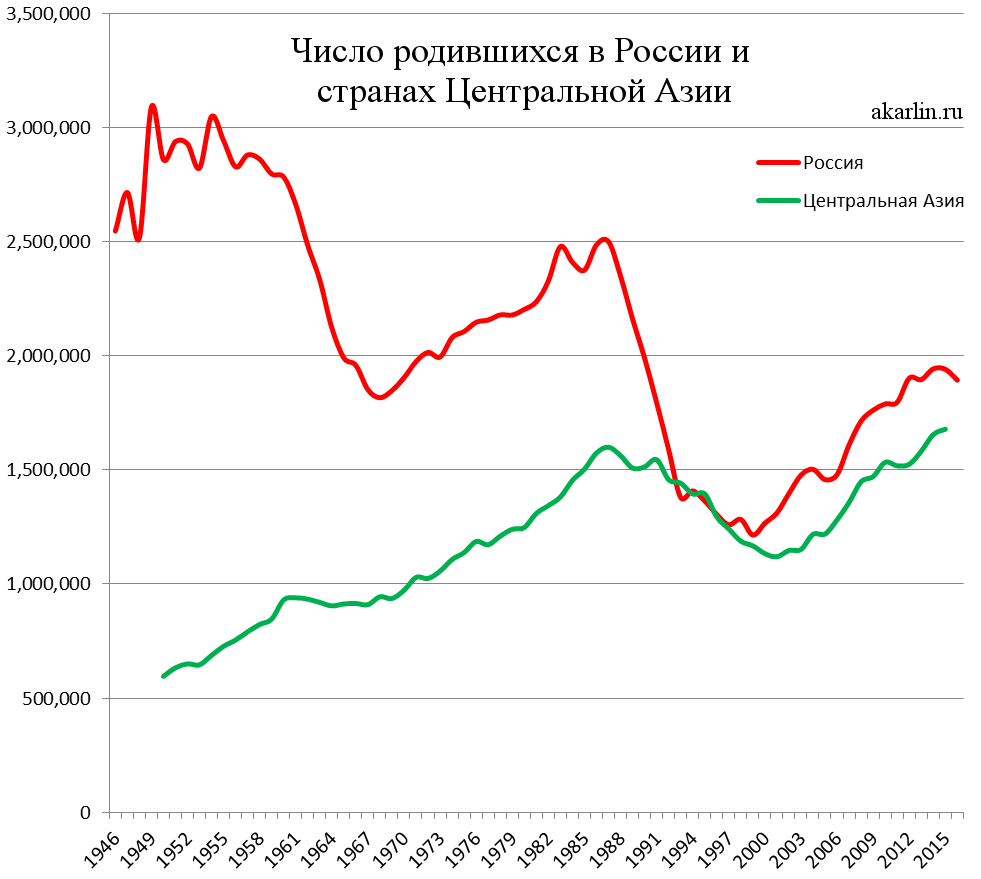 Number of births: Red = Russia; Green = Central Asia (Uzbekistan, Kazakhstan, Tajikistan, Kyrgyzstan, Turkmenistan).
In 1897, there were ten times fewer people in Russian Turkestan than within the modern borders of the Russian Federation.
Today, they constitute 50% of the Russian Federation's population.
They have produced about as many children in the past thirty years as Russians, especially once you account for the mass emigration of Russians from Central Asia.
Therefore, later in the century, the population of dry, landlocked Central Asia may converge with or even come to surpass that of the Russian Federation.
(The usual disclaimers: No further regatherings of Russian lands, no radical life extension, no real life Fallout, etc.)
Open borders between Russia and Central Asia will probably result in Russia acquiring a permanent underclass of lower-IQ Muslims, and in the worst case, outright transforming it into Russabia (impossible with its current ethnic makeup, but the Turkestan demographic reservoir is an order of magnitude bigger than that of the Muslims in the North Caucasus).
The situation is very redolent of the challenges facing the United States vis-a-vis Central America and Europe vis-a-vis the Middle East and Africa.
One of the things I'm looking forwards to doing here is transmigrating HBD insights to Russian realities. On the plus side, it's socially easier (no WEIRD "racism" taboos) and intellectually easier (since innovation is harder than copying, even if one does have to coin a lot of terms – e.g., "human biodiversity" itself – that don't exist in Russian). On the negative side, there's no First Amendment here, as in the rest of Europe.