The data is based on Goertzel, Ted & al. (2012), Homicide Booms and Busts A Small-N Comparative Historical Study.
The lead author kindly emailed me the data used to build their graphs (their version is on the right), which I used to construct the above graph of Russian historical homicide rates from 1875 to 2018.
---
Russian homicide rates were stable at around 5/100,000 in Tsarist Russia from 1875, according to a couple of studies that they cite. This was above the 1-2/100,000 rate in contemporary "Core Europe" (Britain, France, Germany, the Low Countries, and Scandinavia); Russia lagged Germany by about a century, and Britain, one of the world's first states to undergo cultural and (perhaps) genetic pacification, last saw such figures in the 17th century. However, Russia's homicide rates were nonetheless similar to countries such as Italy, Finland, and even Japan. Contrary to the scenes of barbarity that authors such as Orlando Figes have painted of the Russian village, in reality it does not appear to have been especially violent relative to much of the rest of the world outside Core Europe at that time.
Records are sparse from the Russian Civil War to the end of Stalinism. It is clear that the aftermath of the Bolshevik coup and Russia's collapse saw a huge spike in criminality. Russian criminologist Viktor Luneev in Crime in the 20th Century writes that Moscow saw 11 times as many murders in 1918 as it did in 1914, and "crime intensity" in the new capital increased by a further 50% by 1921. I have been unable to find any sources or estimates of homicides during the 1920s, but the general crime situation could be approximated by the rate of convictions per capita, which are available for the RSFSR since 1922 (statistics for the USSR are also available, but they are less reliable). The RSFSR convictions rate falls from 2,500-3,000/100,000 in 1922-1924 to 1,000/100,000 in 1927-28, before going up to nearly 1,500/100,000 during the early 1930s famine years. These numbers seem plausible, since the 1920s have a reputation as having been highly criminalized, as evidenced by the popular culture of that time, which saw the emergence of criminal music genres.
The RSFSR convictions rate fell back to 900/100,000 by 1935, at which point it ends and the all-USSR series resumes after a break in the early 1930s, standing at 700/100,000 during that same year. By the late 1930s, the Soviet rate falls to around 550/100,000, where – apart from a minor spike in 1946-47, which marks post-war demobilization – it stayed until Stalin's death.
The Central Statistics Directorate (РГАЭ 1562.33.2638) has numbers for urban homicides in the USSR from 1935-1954, which I found via the @burckina-faso blog. Using Census and approximated numbers for the Soviet urban population during these years*, I calculated that the Soviet urban homicide rate fluctuated between 5-7/100,000 during 1935-1952, except for a spike to 10-12/100,000 during the 1945-47 demobilization period**.
I expect that the urban Soviet homicide rate would have been representative of the Russian homicide rate overall. From the late USSR to today, rural areas had higher homicide rates than urban ones, and Russian areas had higher homicide rates than Soviet ones. However, the first factor was much weaker (if at all existent) when the country was still primarily rural, and much of the gap between Russian and non-Russian areas opened up after the 1960s alcoholization epidemic, which hit Russian areas relatively harder.
At this point it's worthwhile to make a few observations. There were 6,321 executions in the Russian Empire between 1825 and 1917; that was a typical couple of years in the early USSR (not counting 1937-38, which saw almost 700,000 death sentences). The Russian Empire imprisoned around 100/100,000 people, which compares favorably with many modern countries; Stalin created the world's first major prison-industrial complex. All manner of firearms were openly sold in the Russian Empire; the Bolsheviks confiscated private weapons stocks in 1918, and Stalin went so far as to ban some types of knives.
Even so, homicide rates in the urban USSR from 1935-1955 were no better than those in the Russian Empire.
There is much better data for the RSFSR from 1955, which is shown on the graph (via Bogoyavlensky). Data from 1990 is drawn directly from Rosstat. What you have what should be a familiar picture to regular readers of my Russia demographics posts: Increase up to the early 1980s, then a drop correlating with Gorbachev's anti-alcohol campaign, then an explosion in the 1990s when the alcoholization epidemic reached peak levels and the Russian state fell apart at the same time. Since the reversal of both of these trends since the early to mid-2000s, partly but not exclusively thanks to the Putin government (these improvements are common to the entire post-Soviet world), the homicide rate in Russia has been plummeting ever since.
Russia's homicide rate had fallen back to 6.0/100,000 in 2017, and it is currently at 5.4/100,000 for the first nine months of 2018. Since the homicide rate was 5.3/100,000 in the US last year, this means there's a good chance that Russia will drop to America's level this year and become absolutely safer in the next few years.
I am not going to going into further details here, since I have already written plenty about the post-1965 alcoholization crisis, its relation to homicide rates and other social and health problems, and its reversal under Putin. People interested in my previous posts on this can consult the Demography section of my archives: http://akarlin.com/category/demographics/
---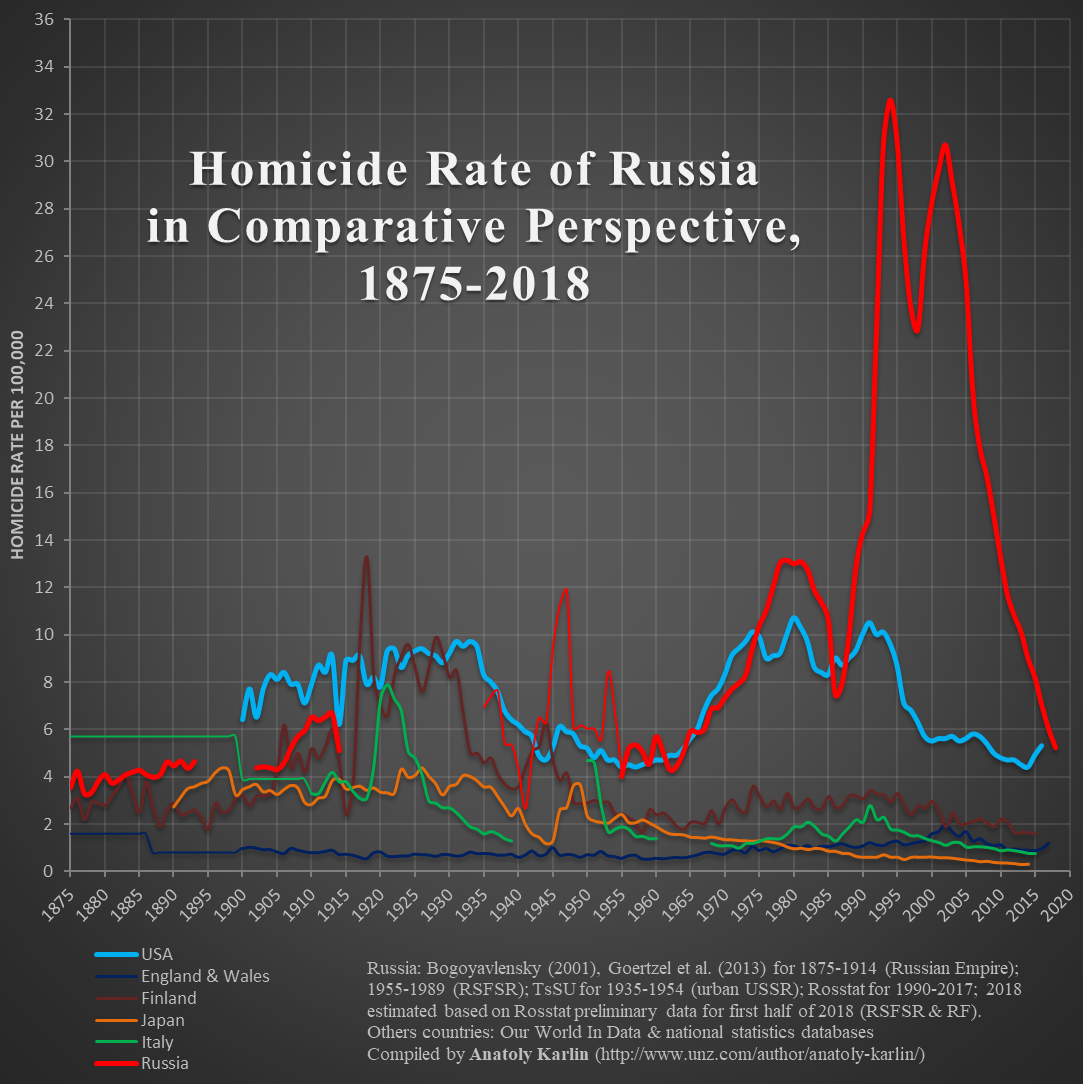 It is also worth taking a minute to take a look at the international context during this period:
Japan and Italy are notable as two countries with homicide rates not too dissimilar from those of the Russian Empire a century ago, that have since converged to those of England & Wales, which was an extremely peace-abiding country back then – even though this is no longer the case now, probably mainly thanks to Black Caribbean immigrants.
Finland: Finland was killing (and drinking) at rates similar to that of the Russian Empire at large before the Revolution. However, they had decidedly diverged by the end of World War II. Due to its propensity for drink, Finland is still somewhat more violent than typical First World nation, but only modestly so. Absent the USSR and its alcoholization epidemic in particular, Finland is probably where Russia "should" be – and will probably eventually converge to.
USA: The Russian Empire was twice safer than the United States. They equalized under Stalin, and remained in sync for the rest of the Cold War – though for different reasons. In Russia, the alcoholization epidemic resulted in more and more cases of middle-aged men bludgeoning or stabbing each other to death in days-long zapoi in their apartments (though street crime remained modest until the 1990s). In the United States, crime rose from the 1960s due to adverse economic and social changes, as well as liberals hamstringing the criminal justice system. Harsher law and order policies started dragging the US rate down from the early 1990s, while Russia exploded into a flurry of what the eXile people called "death porn" and temporarily dallied with the likes of Colombia and South Africa on the violence scales before it started to sober up in the 2000s. Although Russia will soon become less violent than the United States, these figures are still nothing to write home about, because of America's specific demographic composition.
This comparative exercise shows us that in homicide rates as in almost everything else, the Soviet period constituted an unmitigated disaster for Russia.
---
* Soviet urban population (source, and my estimates in italics).
| | |
| --- | --- |
| Year | Soviet urban population |
| 1935 | 46,100,000 |
| 1936 | 48,600,000 |
| 1937 | 51,100,000 |
| 1938 | 53,600,000 |
| 1939 | 56,100,000 |
| 1940 | 63,100,000 |
| 1941 | 64,000,000 |
| 1942 | 36,181,453 |
| 1943 | 46,049,121 |
| 1944 | 54,045,201 |
| 1945 | 60,000,000 |
| 1946 | 62,000,000 |
| 1947 | 64,000,000 |
| 1948 | 66,000,000 |
| 1949 | 68,000,000 |
| 1950 | 69,600,000 |
| 1951 | 73,000,000 |
| 1952 | 77,000,000 |
| 1953 | 80,300,000 |
| 1954 | 84,400,000 |
** 
Another graph I found via the @genby blog shows registered murders per year in 1940-46 (see right).
Unfortunately, they are unsourced, so it's unclear what can be done with them.
.