Long-time readers will know that I am a fan of The Nature Index for tracking global scientometrics. Unlike raw numbers of articles published, it automatically adjusts for quality, since only submissions to elite journals are counted.
In my previous longread on the subject, I presented a per capita map of the Nature Index FC (fractional count). However, while it illustrated the dominance of just a few rich, high IQ countries to scientific development, even it could not do justice to the sheer geographic lopsidedness of the world's distribution of cognitive talent that is devoted to science production.
While the final tables for the 2019 indices are still being compiled, Nature Index has released a database of the world's top 500 cities by scientific output for 2017. You can open the map directly from your browser here.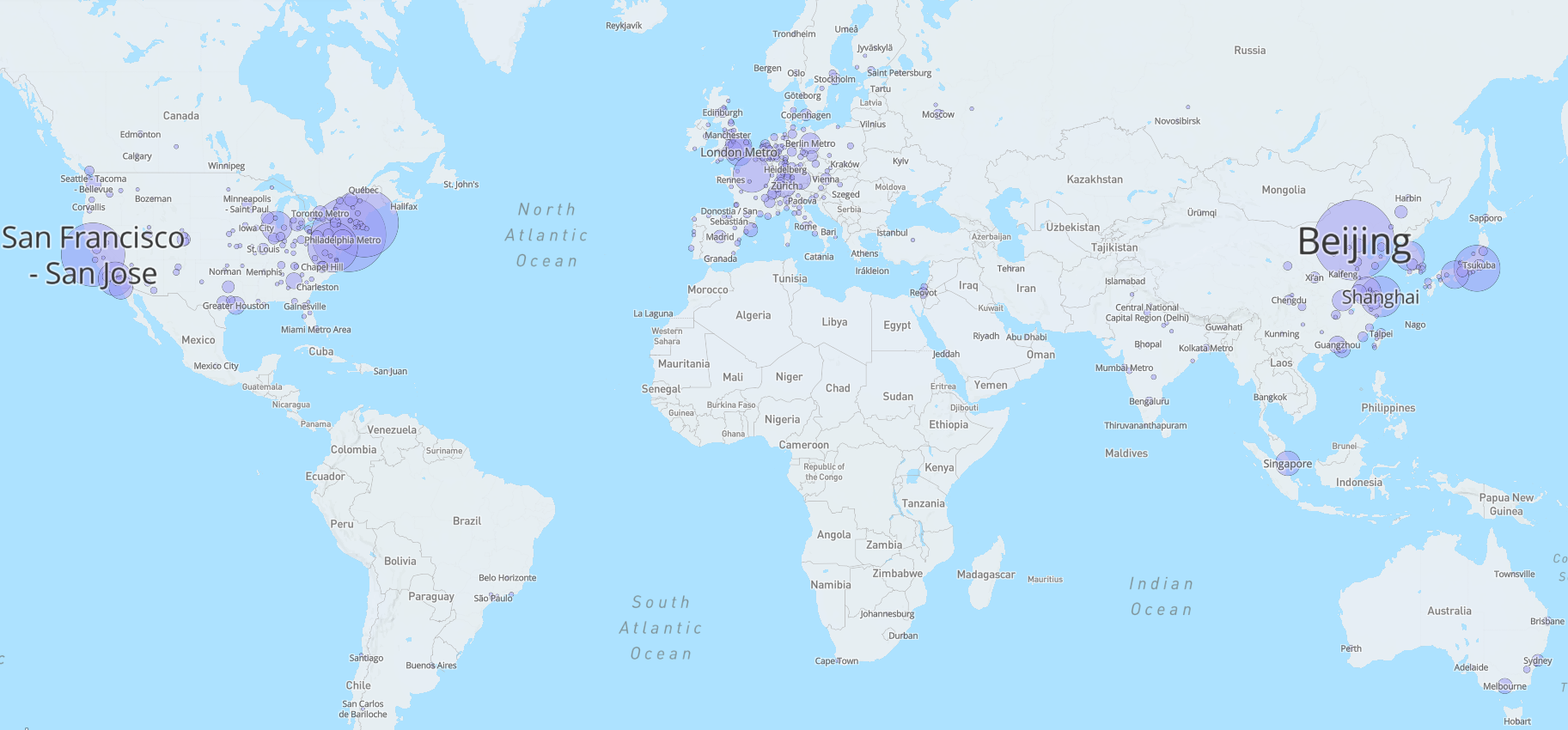 If our world was a civilization game, almost all the world's "beakers" would accrue to just a few metropolises and university towns in Western Europe, North America, and East Asia.
There are small if distinguishable clusters in India, Moscow, and SE Brazil, but otherwise the world outside those "core" areas is a scientific desert.
The leading US scientific centers are New York (1.980), Boston (1,809), SF Bay Area (1,676), and Baltimore-Washington (1,296), with Los Angeles and Chicago considerably behind (~800 each).
Otherwise, as per stereotypes, there's much less happening in "flyover country", with most other notable clusters being in the 200-300 range.
Beijing (2,142) was even as of 2017 already the world's single biggest scientific cluster, overshadowing all other competitors in East Asia – Tokyo (1,194), Seoul (725), Osaka (680) – not to mention China itself.
Curiously, despite its status as China's premier commercial hub and most "Westernized" city, and its star pupils who ace the PISA tests, Shanghai clocks in at just 1,041 – far below Beijing. Indeed, interior Nanjing (705) and even Wuhan (495), while is heavily populated by xiangxiaren/vatniks – are not that far behind. I can only assume that in Shanghai there's more vigorous competition for talent from the commercial sector. And despite its status as China's tech hub, Shenzhen (189) is not impressive at all. I suppose this would be one way in which it's different from Silicon Valley, which is embedded within America's third biggest cognitive/scientific cluster. These two patterns are perhaps the only "surprises" I had from the regional breakdown of the data.
As expected, Taipei (189) and Hong Kong (356) clock in modest performances relative to their status (note that Singapore much higher at 596). The result, I suppose, of targeted brain drain.
Although India's performance is as yet quite modest, what I would note is that its scientific output is very evenly distributed geographically relative to other big countries/blocs. The four biggest clusters – Bangalore, Calcutta, Mumbai, Delhi – are all in the ~100-150 range. My only modest surprise from India is that there is no significant cluster in Kerala, which is the most developed (non-city) Indian state and was the historical focal point of Indian mathematics.
By Europe, we really mean, Western Europe, and by Western Europe, we really mean Paris (938), London (673) and Oxbridge (~500 each), Switzerland, and small German university towns.
The Med is much less remarkable, with Barcelona and Madrid (~275 each) being its only notable clusters
Eastern Europe is a scientific desert, with Moscow (188) – accounting for almost half of Russia's elite level scientific output – constituting its only significantly noticeable pinprick, if only by dint of the emptiness around it.
There is pretty much nothing in the Balkans.
The Middle East is pretty much just Israel, there being otherwise only two pinpricks.
Tehran (Iran) – despite the sanctions, Iran with its smart fraction even manages to do better than Turkey overall – and most of its output is concentrated in the capital, whereas Turkey's is split between Ankara and Istanbul.
And Jeddah (Saudi Arabia) – all thanks to KAUST, a lavishly funded institution whose overwhelmingly Western professors were poached with oil money.