Since the Russian election is taking place on the anniversary of Crimea's incorporation into Russia – an intentional play to increase turnout – now is as good a time as any to reflect on the complete failure of the Kremlin's Ukraine policy.
All 12 of Past Zero Collapses
The Adepts of Putin's "Clever Plan" have predicted all twelve of the Ukraine's past zero disintegrations since Euromaidan
I do not think this is a controversial observation, as those of you who have followed the Russophile Alt Media in the past few years will agree.
For instance, here is The Saker, probably the most prominent pro-Russian advocate for Putin's mnogokhodovka (lit. chess combination, an approximate Russian equivalent of Trumpian 4D chess), writing about Ukraine's imminent collapse in 2015:
The Ukrainian economy is basically dead. There is nothing left to salvage, nevermind turn the tide and overcome the crushing economic crisis… Folks in the western Ukraine are already seriously considering demanding their own special autonomy status. As for Odessa with Saakashvili in charge and the daughter of Egor Gaidar as Deputy Governor, it will inevitably explode, especially since the USA officially pays their salaries.
Back then, he might have had a point.
Only problem, it was still collapsing in 2016:
Remember Dmitri Orlov's five stages of collapse? They are:

Stage 1: Financial collapse. Faith in "business as usual" is lost.
Stage 2: Commercial collapse. Faith that "the market shall provide" is lost.
Stage 3: Political collapse. Faith that "the government will take care of you" is lost.
Stage 4: Social collapse. Faith that "your people will take care of you" is lost.
Stage 5: Cultural collapse. Faith in "the goodness of humanity" is lost.

Even a cursory look at what is happening in the Ukraine clearly shows that Stage 5 has already been reached, quite a while ago, really. What comes next is basically Somalia. But a big, really big, Somalia, with millions of assault rifles circulating in the population, with major industrial sites capable of triggering another Chernobyl-like disaster, with various death-squads (private or semi-official) freely roaming around the country and imposing their rule with armored vehicles and heavy machine guns.
And in 2017:
What we are seeing today is not just a Ukrainian military which seems to have given up on the notion of reconquering Novorussia, it is also one which appears to be giving up on the notion of holding the country together. Right now, this is only affecting the Donbass, but pretty soon other regions are likely to follow suit, especially the south (Odessa, Nikolaev, Mariupol) which, by itself, could be wealthy and prosperous and which has no need whatsoever for Neo-Nazi rulers. There are even some separatist movements in the western Ukraine who want to get rid of all the pseudo-Ukrainian "ballast" and build a "pure" Ukrainian state in the only place where such a state has real historical roots: on the border with Poland.
And presumably the Ukraine will continue spiralling down down to Stage 5 of collapse, to the post-nuclear apocalypse world of Fallout, and eventually to the very extinction of multicellular lifeforms on the Pontic steppes.
But in the real world, things are rather different.
The Ukrainian economy is now recovering for two years in a row. Its military is much better prepared than it was in 2014. Russophiles in the Ukraine have been purged of power, many have been imprisoned or even killed, and the rest cowed into silence. Most importantly, Russophile sentiment in the Ukraine all but collapsed during the course of 2014 and has remained dead ever since.
It is stupid and pointless to live in a world of delusions. Also rather hypocritical, considering that many of these Russophiles (correctly) criticize the Western media for exaggerating Russia's problems, but then go on to lie even more assiduously about the Ukraine.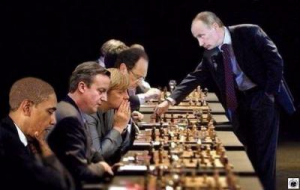 Contra Rostislav Ischenko, one of the foremost adepts of Putin's "clever plan" and his supposed grandmaster level skills at geopolitical chess (typically illustrated by retarded cult of personality memes like the one to the right), Russia has most decidedly not "won all of Ukraine." It only won the Crimea, an island connected to the Russian mainland by a single pretty vulnerable bridge, and recognized by no country of significance. Otherwise, it only possesses influence over the economically depressed and demographically collapsing LDNR, which it has been unsuccessfully trying to "shove back" into the Ukraine for the past few years; and its political and soft power influence over the rest of the Ukraine has shrank to essentially zero.
All this said, I want to make a couple of things clear before I delve into the statistical details of Ukraine's victory over Russia.
As a Russian nationalist, I remain unwaveringly committed to the idea of the triune Russian nation, just like Ivan Ilyin and Alexander Solzhenitsyn. There will come a day when the dismemberment of the Russian nation will be but a bad memory in the Russian historical consciousness. This will almost certainly not happen under the current occupants of the Kremlin. But happen it will, or Russia will cease to exist as a civilizational entity.
2. This is not a mea culpa. I was never an Adept of the Clever Plan, and was always skeptical of its chances of success: Significantly so in 2015 (when it really did seem that the Ukraine was in terminal crisis), and overwhelmingly so in 2016-17 (when it became increasingly clear that the worst was behind it, and that it had set out on the road to recuperation and recovery).
My thoughts at the start of 2015 [ https://akarlin.com/2015/01/ukraine-predictions/ ]:
[Scenario] 2: Immiseration is ably countered with repression. Many dissenters and able-bodied Ukrainians leave for the EU or Russia, so you'll have fewer opponents – both of the economic and ideological variety – on the streets. If the junta survives 2016, I am sorry to say but chances are it will then stabilize and begin to recover. That's just the nature of things, sooner or later.
2016:
Ukraine – The recession will end in 2016: 70%.
Ukraine – The Poroshenko regime remains in power: 80%.
Mariupol ends the year in DNR hands: 10%.
Putinsliv" aka Putin abandons support for DNR/LNR and Ukraine recaptures them: 5%.
2017:
The Ukrainian economy shows GDP growth: 80%.
The Ukraine does not undergo sovereign default: 90%.
Poroshenko remains in power: 90%.
Dnepropetrovsk, Odessa, and Kharkov all still under central Ukrainian control: 95%.
Mariupol still under Ukraine control: 90%.
No "Putinsliv"/abandonment of Russian support for DNR/LNR, with Ukraine recapturing Donetsk and Lugansk: 99%.
As such, I don't think I can be said to have been particularly blindsighted in my analysis, since everything indeed turned out as I pessimistically expected. The only two "Western Russophiles" that I can think of who clearly foresaw the likely failure of the "clever plan"/"winning all of Ukraine" strategy were Mark Sleboda and Jon Hellevig.
In retrospect, I perhaps wish I could have been more forthright about denouncing the mnogokhodovka strategy, as Egor Prosvirnin (chief editor of Sputnik & Pogrom) did from the very beginning. On the other hand, those Russian "zradniks" were rather over-eager to advance the "Putinsliv" theory, in which the Kremlin was supposed to just give up on the Donbass for no particular discernible reason. Obviously, that didn't pan out either.
So I like to think I maintained a sort of golden mean over these years.
The Ukraine might have beaten Russia, but it hasn't become a successful country.
In many important respects, it has disappointed expectations, especially of the people who most believed in its "manifest destiny" c. 2014.
The Ukraine remains one of Europe's poorest countries, and no hordes of desperate Russian economic migrants are clamoring to get into Country 404 (as predicted by one famous svidomy blogger as late as 2015). The expectations of foreign neoliberal reformers were confounded – Poroshenko has blocked reforms, especially those that would touch his buddies in the law enforcement agencies, and corruption remains as high as ever – and higher than in Russia. One of Ukraine's most tireless promoters, Thomas C. Theiner, who was unironically urging Ukraine to bomb Voronezh back in 2014, was by 2017 writing "by now it is clear that the corrupt and thieving government-mafia clans are still in charge". Its mentality remains classically sovok, arguably to a greater degree than in Russia. For instance, just few months ago, the Education Ministry banned the country's universities from accessing .ru domains – a step as malicious (what about academic journals hosted on .ru domains?) as it is idiotic (nobody is going to follow that decree anyway).
Just as Westernist neoliberals are dissatisfied with it, so are Ukrainian nationalists. As the Ukrainian state has recovered its legitimacy, so it has curtailed the "freedoms" of Ukrainian nationalists. The more psychopathic and anti-regime elements have been jailed or disposed of. The rest have been brought under the military chain of command or otherwise co opted. Those rare Russian nationalists who came to fight for the Ukraine out of some misplaced hopes of building a literal "Ukronazi" state have had troubles getting basic residency permits, or were outright deported back to Russia into the loving embrace of the Anti-Extremism Center and the FSB. (Not of course to say that Russia is any better in looking out for "its own" – near every week sees another case of a loyal Little Russian, who happens to have Ukrainian citizenship papers, getting caught up in deportation proceedings into the equally loving embrace of the SBU). Meanwhile, the Maidanists host purely ritualistic gay parades in Kiev and Odessa, and praise the values of diversity and multiculturalism. To be fair, the flamboyant gays get beaten up in Kiev more reliably than in Moscow, while the banal fact that the average salary in Kyrgyzstan is higher than in the Ukraine constitutes a more solid a barrier to Muslim immigration than any Trumpian wall – though this is a fact that Ukrainian nationalists making fun of Moskvabad are reliably loth to mention.
So it's not like any of the two main groups that have most supported Ukraine in the past three years – Westernist neoliberals and Ukrainian nationalists – have much more to celebrate than Russian nationalists, even if it is the latter who are the biggest losers to date.
These constitute important caveats to the following list of Ukro triumphs.
Economics
The Ukrainian economy collapsed by around 16% in 2014-15, retreating back to 60% of the UkSSR's peak. In 2014, there was almost as much housing constructed in the Russian region of Krasnodar Krai [population: 5.2 million] as in the whole of the Ukraine [population: 43 million].
The Ukraine fell below Moldova to acquire the dubious status of being the lowest wage country in all of Europe. "Gabon with snow," Saakashvili called it.
However, there are a number of things that Russian propagandists tend to fail to mention:
The great part of the Ukrainian economic collapse in 2014-15 occured in the industrial regions of Novorossiya, and especially in the Donbass.
Source: pollotenchegg
In contrast, the west of the country saw only a relatively tame recession.
This same pattern has continued since, as AP comments:
Not true of Lviv oblast. Salaries in 2017 are about 20% higher than a year ago, whereas prices have gone up only 9% in the same time: http://www.lv.ukrstat.gov.ua/

Lviv oblast's GRP dropped 5% total for 2014-2015. It grew something like 2% in 2016 and so far is at 3.5% growth in 2017. I visited in 2013, and this past summer: the city looks no worse off, indeed better.
In other words, celebration of Ukrainian economic hardship was mostly celebration of economic hardship in the most pro-Russian areas of the Ukraine.
This is reflected in salaries in the LDNR:
According to the DNR's Minister of Finance, in the past year the DNR's average monthly wage has increased by 22% (to 10,130 rubles), and this doesn't seem implausible to me given the size of the Russian subsidy. – Jon 0815

However, this is a recovery from a very low base.

I wasn't aware of these figures, thanks. But unfortunately it sort of makes my point. Current USD/RUB rate is 57, which translates into a monthly wage of $177.

https://en.wikipedia.org/wiki/List_of_European_countries_by_average_wage

This is relative to (as of latest data in that Wiki article) $650 in Russia, and $276 in the Ukraine. The DNR is now considerably poorer than Uzbekistan and Kyrgyzstan, which are at around the Ukraine's level (Moldova is now a bit richer), though still richer than Tajikistan (~$140).

Furthermore note that wages in the territories of the LDNR itself, which are more urban/industrial, would have been higher than in Donetsk/Lugansk oblasts as a whole, so note that this if anything understates the depth of the economic collapse there.

Moreover, note that wages in Donetsk oblast were very high before the war – the second highest after Kiev itself (around 15% higher than the national average in 2013, and a third lower than in Kiev).

https://index.minfin.com.ua/labour/salary/average/2013

Current USD:grivna rate is 28, which translates to an average Ukrainian wage of $267 (50% higher), and $415 (2.3x) in Kiev.

To further underline the point: Average wage in Donetsk oblast as of Nov 2017 was $293, or – amazingly – still 10% higher than in the Ukrainian average. That's despite a frontline dividing it, etc.

10,130 rubles translates to around 5,000 grivna. The poorest Ukrainian provinces, such as Ternopil, have almost 6,000 grivna (or $210). The DNR went from being the second richest province (and by a considerable margin) to its poorest one,
if it was still part of the Ukraine (again by a considerable margin).

Since Lugansk used to be at the Ukrainian average instead of one of its top performers, and bearing in mind the overtly bandit-like rule of Plotnitsky, I would wager that wages in the LNR are fully Tajik.
One more thing. You can't have economic normalcy in such a state of limbo as the LDNR find themselves in.
One anecdote: Early January this year, I was on the cusp of visiting Donetsk, but our tour was called off at the last minute because its curators urgently needed to deal with emergent problems in POW exchanges with the Ukraine.
If even basic tourism is subject to the vagaries of being a frontline state, then one can only imagine the sort of distortionary effects it will have on business creation, etc.
Although 2014-15 was hardly pleasant, it doesn't compare with the 1990s depression.
This graph displays the results of polls on living standards in the Ukraine from 1998 to 2016.
Ukrainians live much poorer than Russians. While 35% of Russians say they have difficulty affording food and/or clothes, for Ukrainians it is 70%; 18% of Russians can easily afford common durables, versus 4% of Ukrainians.
However, this situation is not particularly catastrophic in comparison with Ukraine's own history.
From the chart, living standards in 2016 – correlating to the trough of the depression, and the introduction of high tariffs on utilities – was nonetheless equivalent to that of the early 2000s, and far above the 1990s, when around 90% of Ukrainians had difficulties affording food and/or clothes.
In contrast, the Crimea has flourished in Russia, displaying double digit growth as it converged to the development level of a richer country – Western sanctions regardless. Considering that the Donbass actually has serious industries, this would have been all the more true had they been incorporated into Russia.
..
Finance
One constant argument amongst mnogokhodovka proponents is that it was inevitable that the Ukraine would default.
But while this was a realistic prospect in 2015 and (to a lesser extent) in 2016, it is now 2018 and the likelihood of this happening has receded into the margins.
Debt stood at $77 billion as of the start of this year, barely unchanged from $73 billion at the start of 2014.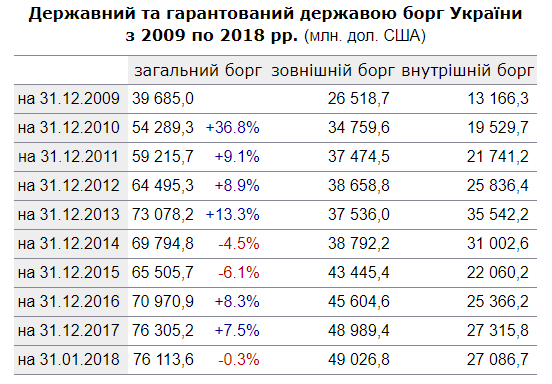 This constitutes about 74% of Ukrainian GDP, up from 40% in 2013 but below its peak around 82% in 2016-2017.
With the budget now balanced, and the economy growing, we can expect this figure to recede back into "safe" territory – which is around 60% of GDP for emerging markets – in the next few years, as nominal GDP swings back up.
The current account is balanced, and foreign exchange reserves have climbed to close to $20 billion, up from a trough of around $5 billion at the start of 2015. That is enough for approximately 5 months of imports (versus a recommended minimum of 6 months).
The net international investment position is at -40% of GDP, which is actually pretty good by East-Central European standards. Ukraine's owners, for the most part, have Ukrainian citizenship, which helps Ukraine steer a more independent course than would have otherwise been the case, even if it is not expressed in the best of ways (e.g. Poroshenko stalling on judicial reform and undermining anti-corruption initiatives).
Finally, the price of 5 year Ukrainian CDS has not only recovered to normalcy after a peak in 2015, but it is now actually lower than under Yanukovych – foreign investors believe the Ukraine has a lower chance of default now, than in 2012.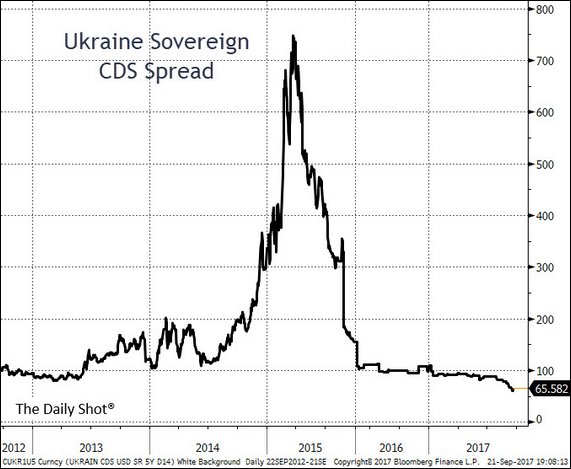 Again, this is not to claim that Ukraine is a financial superpower. Its credit ratings are below investment grade. But barring further major shocks, it is not going to undergo a sovereign default.
..
Demographics
There is a conspiracy theory that Ukraine's real population is around 10 million or more souls lower than official statistics indicate – Andrey Fomin, for instance, has a comprehensive exposition.
In reality, this is just a mirror image of Western "dying bear" tropes about Russia that I have been debunking for the past decade, as I commented to RT's Bryan MacDonald.
Three options:
1. Ukraine experiencing a baby boom far bigger than anywhere else in Eastern Europe, which seems unlikely given economic circumstances.
2. Ukraine is also fiddling its fertility stats.
3. This theory is nonsense, mirror image of the "dying Russian bear" trope.
Incidentally, if the Ukrainian population really is 22-24 million based on bread consumption declines, it would also imply that it is about as rich as China and Belarus. Unless their economic figures are all balloony too.
Unless proven otherwise, I have always maintained that Russian statistics can generally be trusted – to the opposition of Western propagandists such as Michael McFaul – and unlike them, I am consistent and will do likewise for the Ukraine.
But perhaps the weirdest part of Fomin's article is this:
During the 1995/1996 school year there were 7.1 million schoolchildren in Ukraine. In the 2015/2016 school year it was down to 3,783,150 (official data of the Ministry of Education of Ukraine) or 47% in 20 years.
Apparently the general collapse of fertility in the 1990s across the post-Soviet space – which translates into many fewer schoolchildren today – passed him by.
This is not to say that Ukrainian demographics are anything to write home about; the TFR was at 1.47 children per woman in 2016, and will have declined to 1.40 in 2017 (Russia: 1.76 and 1.62, respectively).
However, there is nothing for Russia to celebrate here, since while the Ukraine might be in deep demographic decline, that decline is mostly concentrated in the eastern, pro-Russian areas.
As with economics, the sovcucks who do that are primarily celebrating their own people's problems.
Source: Datatowel, Birth Rates in Ukraine in 2015
While the Donbass has long had Ukraine's worst fertility indicators – the TFR was 1.32 and 1.32 in Donetsk and Lugansk oblasts, respectively, in 2013, versus 1.51 for the Ukraine as a whole – they collapsed off a cliff in the territories of the LDNR after 2014.
This is according to statistics that the DNR collects and publishes itself.
In 2017, there were 11,800 births (2016: 11,771) and 33,636 deaths (2016: 34,833) on the territory of the DNR, out of a population of 2,302,444. This translates to a birth rate of 5.1/1,000 and a death rate of 14.6/1,000, making for a natural population decrease of 1% per year.
For comparison, Donetsk oblast, with a population of 4.3 million, has a birth rate of 9.4/1,000 and a death rate of 15.9/1,000 in 2013, the last year of "normalcy". In the Ukraine as a whole, the birth rate was at 10.0/1,000 and the death rate was at 13.2 million in 2017.
Unfortunately, the LNR doesn't release birth/death statistics, but it can hardly be expected to be doing any better.
Not only is the economic center of gravity in the Ukraine moving west, but also its demographic center of gravity, which reinforces the trend.
In contrast, the Crimea has converged to Russian fertility norms (11.0/1,000 versus 11.5/1,000 for Russia as a whole in 2017).
..
Military
If there was a time and a place for a Russian invasion of the Ukraine – in reality, not in Western/Ukrainian propagandist fantasy – it was either in April 2014, or August 2014 at the very latest.
Since then, the Ukrainian Army has gotten much stronger. Since 2014, the Ukrainian Armed Forces have grown from no more than 100,000 troops (almost none of them combat-worthy) to around 250,000. It can now carry out complex tactical operations: In an August 2017 report at Colonel Cassad, Vladimir Orlov noted how night vision equipped Ukrainian spec ops used highly technical means to kidnap a Russian citizen serving with the NAF.
It has been purged of its "Russophile" elements, and even though it has lost a substantial percentage of its remnant Soviet-era military capital in the war of attrition with the LDNR, it has more than made up for it with wartime XP gain and the banal fact of a quintupling in military spending as a percentage of GDP from 1% to 2.5%-5%.
This translates to an effective doubling to quadrupling in absolute military spending, even when accounting for Ukraine's post-Maidan depression. Russia can still crush Ukraine in a full-scale conventional conflict, and that will remain the case for the foreseeable future, but it will no longer be the happy cruise to the Dnepr that it would have been two years earlier.
Of even greater import is that the Ukrainian military now completely overshadows the Novorossiya Armed Forces.
The latter have no more than 40,000 troops, and with the exit of the more "idealistic" warriors in 2014-15, it has succumbed to low morale. Alexander Zhuchkovsky, a Russian directly involved in the NAF, estimated that they would be unable to hold out for longer than a week against a full-fledged Ukrainian assault without help from Russia. The Maidanists dream of a repetition of Operation Storm and – absent serious Russian intervention – they are probably already capable of it.
..
Nation Building
The Ukrainian Affair has illustrated the complete dearth of Russian soft power.
Russia invested $200 billion into the Ukrainian economy over 20 years, the US – $5 million into the "development of democracy." It seems we didn't invest correctly. An important lesson. – Alexey Pushkov, United Russia MP.
Overall, what might be termed "Russophile" sentiment has decreased by a standard deviation across the board.
Ukrainians with a positive view of Russia [blue] dropped from ~85% to ~40%.
Ukrainians who want Russia and Ukraine to become one country dropped from ~16% to ~3%.
43% of Ukrainians want to join NATO, versus ~15% before 2014.
Although Crimea were always the most Russophile province, it did not differ cardinally in that respect from Donetsk or Lugansk, which in turn did not differ cardinally from the rest of Novorossiya.
After Crimea joined Russia, support for the incorporation went up from ~40%  to 90%, i.e. by more than a standard deviation. The idea also enjoys majority support in the LDNR itself, despite Putin's lack of concern for them.
By analogy, conquering Novorossiya in 2014 would have raised it to 50%-60% in the less enthusiastic provinces (Dnepropetrovsk), around 80% in Odessa and Kharkov, and 90% in Donetsk and Lugansk.
In reality, support for joining Russia and in general Russophile sentiment fell by a standard deviation in the rest of the country (e.g. only 5% support for this now in the Donetsk and Lugansk oblasts).
If this change is "deep," then their future assimilation into Russia may well have been made impossible by Putin's vacillations in 2014.
According to a poll from 2017, 90% of people in Donetsk/Lugansk oblasts want the LDNR to remain part of Ukraine, versus half in the LDNR itself.
70% of Donetsk/Lugansk oblast residents don't trust Putin, versus 36% of LDNR residents who trust him in general.
Although Donetsk/Lugansk oblasts are more rural and ethnically Ukrainian than the LDNR, differences so stark can't be explained by demographics – they were created by Ukrainian and Russian propaganda, respectively.
Intensive Ukrainization of schoolchildren continues.
In religion, the Ukrainian Orthodox Church is taking over ROC property; all that the latter can do in response is issue lame fake news releases about how the Patriarch Filaret asking them for forgiveness.
Then again, these are the sort of people who run Russian soft power initiatives:
Head of Paris division of Rossotrudnichestvo [first problem: impossible for non-Slavs to pronounce] happened to be headed by the former wife of Peskov (Putin's spokesman), Ekaterina Solotsinskaya, who had been appointed to the position in 2017 when Putin visited France in May 2017.

She refused Zakhar Prilepin, a hugely popular Russian writer and vatnik, access to its hotel on the basis that he was a "Donbass terrorist."

Russia is not so nepotistic to let that stand, and she had to write step down, albeit for another reason – having two undeclared companies, through which she had been acquiring Paris properties (presumably at the expense of promoting Russian culture). Best part, though? She strongly resisted signing the resignation letter, on the basis that she… had good ties with Ksenia Sobchak and Ramzan Kadyrov (!). So, apart from all that, terminally stupid as well.

On the other hand, she's much richer than me, so what do I know, really.
So no wonder Russia can't even resist Ukraine's new language laws with the vigor and resolve of, say, Hungary.
..
The Totality of Putin's Failure
NATO soldiers marched down the Khreshchatyk in August 2017, the main boulevard of Kiev, in a fitting metaphor for Russia's failure.
The Ukraine is still very poor and dysfunctional, but it also seems to be self-confident and on the road to a sustainable recovery.
The Maidan coup may have gone against public opinion, and was propelled to success by what was essentially a false flag terrorist attack (Kiev Snipergate), about which more details come out every month. But nobody cares nowadays. It's irrelevant.
Weapons sales have been approved to the Ukraine, including Javelins. The kremlins hesitated in 2014, probably fearing a New Cold War with the West, but it increasingly looks like they are going to get it anyway. The Russian Stalinist nutjob Nikolay Starikov was preaching scare stories of nuclear war with the West if Russia was to intervene in 2014, but a few months ago, a mercenary group belonging to one of Putin's cronies seems to have directly attacked American troops in Syria, and promptly got wiped out. "Let's fight a nuclear war not over our own people but over some oil refinery in a Middle Eastern shithole," nationalists complained.
Whereas in 2014 the entirety of Novorossiya was ripe for the taking, as of today it seems like Russia would be lucky to merely hang onto a small slice of the Donbass in the long-run.
There were 20,000 Ukrainian troops in Crimea, which were successfully subdued by a similar number of Russian troops. The only unit that put up armed resistance there was one composed of Galicians, who had been trained by Americans (fortunately subdued without bloodshed on either side). Crimea was indeed an "operation [that] was strictly hatched in the Kremlin, with the approval of you know who." Even so, it's worth noting that even Crimea didn't have the unanimous support of the Kremlin elites, with Defense Minister Shoigu being noticeably against it (according to the liberal journalist Zygar's All the Kremlin's Men).

The entirety of "Novorossiya"'s eight oblasts probably had a similar number of troops, who could have been subdued almost as easily by the little green men. Instead, you had the historical reconstructionist Strelkov gathering a brigade at Slavyansk, while leisurely chaos reigned in Donetsk. If that was supposed to be a Kremlin military operation, it was one of the most incompetent ones in history. Alternative, more likely, explanation: The Kremlin was playing wait-and-see. If Ukraine had dissipated, sure, they'd have snapped up Novorossiya; if not, they'd have closed up the whole affair (but Strelkov threw a wrench in their works).
But at least Putin got his chance to play G.W. Bush in the Middle East, and the 80% approval to go with it, and that's what really matters, as Israel Shamir (approvingly) writes:
The war in Syria is very important for Russia: it helped Russia to get out of preoccupation with Ukraine; Syria and Palestine are territories Russians tried to colonise before WWI. It is likely to become a Mediterranean part of Russia, or Russian sphere of influence, on the other side of Bosporus, undoing a possible siege of Russian shipping
Incidentally, this brings me back to Crimea, or more precisely – another interpretation of it.
What would have happened if Russia had not gone ahead with that?
[Ukraine] would not have been as anti-Russian as it is today, but it would still be firmly orientated towards the West; Russia would have likely been kicked out of Crimea, or in the final process of being so, after mass arrests and reprisal against the separatists there; pro-Russian parties would still be electorally non-viable (2010 was the unlikely confluence of a massive economic crisis coupled with the near complete discreditation of the Orange forces).

Oh, and yes, Putin's approval ratings would have been well below 50% (humiliated in Ukraine; economy in recession anyway due to collapsed oil prices, and no way of blaming that on sanctions), and the Kremlin could well have been facing a color revolution scenario as of this time in the alternate history where Shoigu (who allegedly cautioned against Crimea) triumphed over Glazyev (who was the main hawk in 2014).
Far from being any sort of genuine Russian revanchist project, it's entirely possible that Crimea was merely a forced move to preempt an eventual color revolution, in the same way that Russian foreign policy is reactive, not proactive, in general.
And it seems to have worked.
After Crimea, Putin acquired 20% points of approval points, and acquired a "charismatic" aura that will be near impossible to annul.