This interesting and seemingly comprehensive survey of free speech attitudes at US colleges was posted a few weeks ago: 2020 College Free Speech Rankings (also reproduced here). Useful complement to the FIRE Disinvitation Database.
Although it's well known that there has been a large-scale shift against the concept of free speech on the Left over the past decade, marking a change from when conservative SJWs were instead more active in repressing Palestine activists, there is still a lot of college-to-college variation.
You can fiddle the rankings yourself by different demographics (e.g. liberals, conservatives, Trump approval, sex, etc.) or by separate criteria of "free speech" (e.g. tolerance of controversial speakers, admin support).
Not many clear patterns, but some are obvious:
Universe of Chicago way ahead of everyone else.
The University of California system does reasonably well (UCLA is 4th, even UCB is 28th/55). As I said, some reputations are not well-deserved.
But some are: Harvard is 46th/55.
Which is similar to conservative SJW Brigham Young University at 49th/55.
One additional interesting table from the report (h/t Ben Winegard):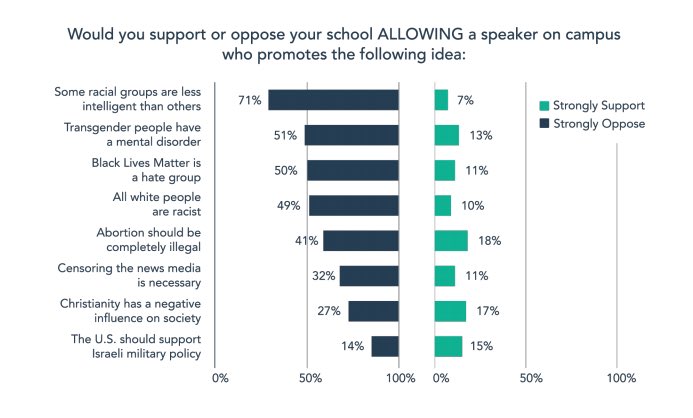 This is not a side issue given 21st century demographic realities.
The combination of such attitudes amongst budding elites – not merely blank slatism per se, but strong opposition to even questioning it – coupled with the delegitimation of state borders amongst a significant component of it makes One Billion (African-)Americans a near certainty, with all the civilizational regression that entails. You'd need a "darkly enlightened" dictatorship to prevent that. Or hardcore Communism (complete with Iron Curtain), or transhumanist silver bullet. Else, idiocracy.
---