As commenter Reykur recently pointed out – citing the work of the blogger denalt, there is a rather curious phenomenon occurring in a few ethnic Russian regions, where rural fertility has exploded in the past decade.
There are precisely four of these regions – Arkhangelsk, Komi, Kirov, and Karelia – and they are all located in the Russian North. (These patterns do NOT apply to neighboring & culturally close Murmansk and Vologda).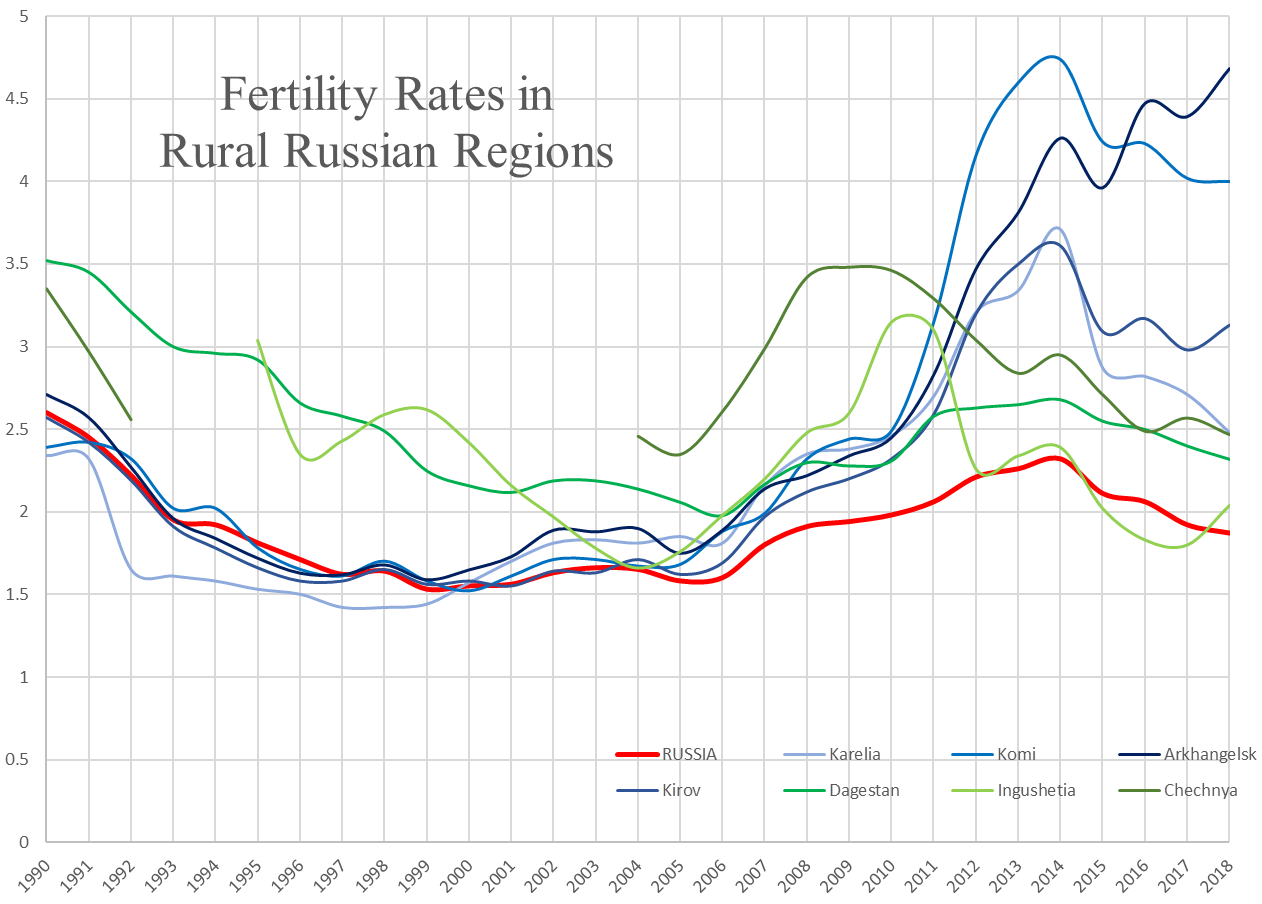 As you can see from the above graph, there has been a rather strange divergence between rural fertility rates in those four Russian regions and Russia as a whole. Moreover, they even overtook rural fertility in DICh (Dagestan, Ingushetia, Chechnya) around 5 years ago.
Even for a rural locale, a fertility rate of 4-4.5 children per woman is probably almost unmatched in any other predominantly white society in the world today. And yes, just to confirm, those regions are predominantly ethnic Russian: Arkhangelsk – 94%; Komi – 62%; Kirov – 89%; Karelia – 79%.
denalt has termed this phenomenon the "Northern Renaissance", and suggests that they are the long-sought Russian "breeders":
In the search for the Russian Haredim we looked into the houses of priests, the villages of the Old Believers, and even the Kazakh steppes, we missed their actual emergence on the historical scene.
I wouldn't make too much of these figures.
In particular, the urban fertility rates of these regions are actually even lower than for their region as a whole, so as a result Arkhangelsk current TFR (1.58) is barely different from Novgorod's (1.56). Nonetheless, it is certainly something worth bearing in mind.
In another post, denalt looks at demographic trends in some specific villages of Arkhangelsk oblast. Quite a few of them are undergoing population increase, which is rather remarkable considering (1) the massive amount of Soviet boomers dying off in these areas and (2) massive emigration from these villages. One interesting pattern he notices is that the the growing villages tend to have a church (often either newly built, or restored from disuse since the early 1930s deChristianization campaign). While I don't know if the Church or the population growth came first, there is clearly a correlation and this suggests that Russia's church-building spree under Putin is a very good thing.