This is the fourth in a series of posts about the demographics of the coming Age of Malthusian Industrialism.
In the decades and centuries to come, technological progress will slow to a crawl, as dysgenic reproduction patterns deplete the world's remaining smart fractions (assuming that there are no abrupt discontinuities in humanity's capacity for collective problem solving, such as genetic IQ augmentation or machine superintelligence). In the meantime, due to fertility preferences being heritable and ultra-competitive in a post-Malthusian world, populations will explode, as the world enters an epochal baby boom not long after 2100. This renewed demographic expansion will last until the world hits the carrying capacity of the late industrial economy, which will usher in the Age of Malthusian Industrialism.
Part 1 – Part 2 – Part 3 – Part 4
---
Dhaka, Bangladesh. One day, several centuries in the future, many such cities could cluster around the Arctic rimlands.
Anyone who believes in indefinite growth of anything physical on a physically finite planet is either a madman or an economist. – Kenneth Boulding.
In the previous series of posts, I made the argument that technological progress may soon grind to a halt, as dysgenic reproduction patterns winnows the elite "smart fractions" that drive innovation even as the problems that they would have to solve become harder and harder. Meanwhile, the world population will increasingly start to diverge from UN projections from about 2050, as the growing percentage of "breeders" increasingly annuls the effects of the global demographic transition. Only the actualization of an existential risk, or global, totalitarian control over human reproduction, will be able to avert the logical consequence of these developments: An epochal baby boom, in which the world population climbs back up to its carrying capacity and ushers in the Age of Malthusian Industrialism.
This post will examine the maximum population that our planet can support with current or near-term technology levels.
I am going to divide estimates into four major categories, ordered by order of magnitude:
"Doomerism" (~1 billion – or less)
Business As Usual (~10 billion)
Maximization (~100 billion)
Cornucopianism (~1 trillion – or more)
Let's look at the assumptions behind each of these variants.
Rivet City, Fallout.
"Doomerism" (~1 billion – or less)
Human biomass equals all chickens today, all wild animals today, or all whales before the age of industrial whaling. 
This is the pessimistic camp which believes that our "ecological footprint" is already in a state of "overshoot" relative to the carrying capacity of the land. This typically presupposes an imminent or near-term "dieoff" in the human population back to a few billion people – or less.
Richard R. Duncan's projections in Olduvai Gorge Theory, possibly the most extreme example of doomerism.
Doomerists cluster in several major groups:
Sustainability activists, e.g. the Global Footprint Network. One common theme is that humanity's "ecological footprint" already substantially exceeds the world's carrying capacity.
"Kollapsniks", i.e. people who study collapse intellectually, e.g. Joseph Tainter (see my review of The Collapse of Complex Societies), Dmitry Orlov, and to an extent, the cliodynamics people like Korotayev and Peter Turchin.
Survivalists preparing their bug out bags for TEOTWAWKI. One example is Ferfal, who has written about Argentina's collapse.
Overpopulation alarmists, e.g. Paul R. Ehrlich, whose famous book The Population Bomb (1968) began thus: "The battle to feed all of humanity is over. In the 1970s hundreds of millions of people will starve to death in spite of any crash programs embarked upon now. At this late date nothing can prevent a substantial increase in the world death rate…"
Peak oilists, who had their major node at The Oil Drum before splintering into offshoots in 2013. They generally believe that the peaking of world oil production, or general resource limits, will presage a decline or collapse of the world economy.
Club of Rome and other modelers, who project that the world is consuming too many resources, and polluting too much, for it to be sustainable. Here is my review of Limits to Growth.
Nuclear war alarmists who think it would herald human extinction, or at least a terminal collapse of civilization.
Global warming alarmists who think it would herald human extinction, e.g. via a runaway greenhouse effect that turns the planet into Venus, or at least a terminal collapse of advanced civilization as "zones of uninhabitability" overtake most of the mid-latitudes.
I explained why I don't buy into most of these concerns in my original article on The Age of Malthusian Industrialism (see section 4). But in short:
Nuclear weapons were incapable of destroying industrial civilization – let alone ending the human species – even during the early Cold War, when megatonnages were an order of magnitude higher. It is all the more unrealistic today. For better or for worse, we will not be living in Fallout or Metro 2033. Serious literature assessed deaths from a total nuclear war scenario as being in the low tens of millions for both the US and the USSR during the late Cold War. Obviously, estimating global deaths from nuclear winter is much more speculative, but it's hard to see it exceeding 10% of the world total. Probably much less. Tambora in 1815 – megatonnage same order of magnitude as all the world's nukes – produced the famous "year without a summer" and multiple famines around the world, but ultimately only killed perhaps 1% of the world's population – and that was when most of the world lived at subsistence levels.

Peak oil has empirically been proven to be mistaken (old estimates of the world peak clustered around 2005-2010, but oil production is now higher than ever). It's not that the models were wrong, so much as that they underestimated the power of new technologies, which have contributed to a doubling of US oil production, which recently exceeded its previous 1970 maximum. This is all the more impressive since the United States has had very limited oil reserves in the first place. Apart from oil, natural gas and coal reserves will still last us decades, nuclear power will last centuries (using just well established reactor designs). Meanwhile, the cost of solar power is approaching parity with other energy sources.
This does not necessarily mean that it will all be easy going. Most likely, the average EROEI of our industrial civilization will continue to fall, as richer hydrocarbon and uranium deposits run out, and are displaced by lower EROEI wind and solar power (which in turn depends on minerals, which are also going to become progressively harder to extract – but the term "Rare Earth Metals" is a misnomer, and we will never run out of them). However, according to most estimates, an average EROEI of just 5:1 is just about sufficient to sustain industrial civilization. Considering that both solar and wind power are comfortably above that level, even according to more pessimistic estimates – nuclear is well above it, at around 50 – this means that while it is still possible that energy issues will constrain the possibilities of our civilization, this must now be considered to be very much a theoretical consideration.
3. Climate change only slides into decidedly negative impact territory if it reaches 5-6C, which is at the high end of the IPCC's projections for this century. Moderate warming of 2-3C may even be beneficial by increasing rainfall and intensifying the carbon fertilization effect, as well as opening up the Arctic to shipping and resource extraction (Our Future Earth by Curt Stager is an interesting counterargument to the current binary of climate change doomerism vs. politicized AGW denial). It will be truly catastrophic only if it goes above 7C, at which point "zones of uninhabitability" will start to spread across the world; above 11C, many equatorial and mid-latitude regions will become uninhabitable. But these are extreme scenarios, if not absolutely impossible ones.
4. Pollution has been falling rapidly across the board in the First World since the 1970s (barring CO2). The Thames is now cleaner than it has been since the 17th century. At the global level, this process was slowed down by the rise of the Chinese industrial behemoth, but the CPC is now committed to cleaning up as well, so improvements should accelerate in coming years. Incidentally, this should contribute to a decline in the dimming effect in the coming decades, which should improve crop yields but also accelerate global warming. However, even if progress in pollution control stalls, or even regresses, this does not necessarily imply collapse. Living standards will become worse, and more people will die of lung cancer, etc. But even some of the most polluted places on the planet today sustain human life just fine. For instance, the heavily polluted Arctic Russian city of Norilsk – contrary to media myths – actually had a marginally higher life expectancy than the surrounding region in 2014 (and less than one year lower than the Russian average).
Consequently, I see only two scenarios in which the "doomer" scenario comes about:
CLIMATE CATASTROPHE: Global warming hews to the most pessimistic projections, rising by 5-6C during this century and a further 3-6C in the next century. This additionally assumes that geoengineering efforts are unsuccessful. In this scenario, the Arctic melts, the Greenland and Antarctic ice shelves start collapsing, the Amazon burns down and turns to desert, and the great methane reserves stored in the Siberian permafrost and Arctic clathrates go kaboom, further accelerating global warming. The shocks in this worst case scenario will probably result in a global unraveling, technological regress, and population decline or collapse to perhaps one billion. But the chances of this are really marginal, probably less than 1%.

ETERNAL WAR: Nuclear warfare goes from a potential or even actual "one off" to a perpetual state of affairs in a dystopian future of totalitarian mega-empires ruled by "New Caesars" from networks of hardened bunkers. Populations will need to become dispersed. Centralized energy infrastructure systems will collapse. All resources are devoted to the military, such as in Orwell's 1984 or The Eternal War game of Civilization, which both feature three mega-empires struggling for millennia over the world's strategic choke points. In this nightmarish dystopia, the long-term global population may stabilize in the low billions.
---
Shanghai by Wei Geisheng.
Business As Usual (~10 billion)
Human biomass equals all livestock, or all Antarctic krill, the world's most successful single species by mass.
There are hefty reasons to believe that the carrying capacity of the world is around where the current world population is.
First, this is where the level of food production is at today (plus feed for livestock, and biofuels). With some realistic adjustments for efficiency, the energy scientist Vaclav Smil assesses in a 1994 study:
Consequently, it would seem realistic to conclude that the Earth could support a population of 10-11 billion people during the next century.
For what it's worth, this is also the most popular response on a poll I made about this topic:
What is maximum population Earth can sustain, by order of magnitude? (assume tech levels & global average IQ fixed at 2017 levels)

— Anatoly Karlin (@powerfultakes) March 20, 2017
Moreover, according to a 2004 meta-analysis by Van Den Bergh and Rietveld of global carrying capacity estimates, the median of 94 historical estimates was 7.8 billion – that is, virtually exactly equivalent to the world current population of 7.6 billion.
However, here is an important note of caution:
The coefficients of the natural logarithm of actual population level are rather high (0.60 and 0.85), which suggests that the current population level is an important—even if implicit—benchmark when assessing a population limit. As long as population grows, this means that there is no absolute limit, but instead one that changes over time.
So basically, people tend to associate the current population with the world's carrying capacity. This is logical enough in the short-term – after all, the world's level of food production is generally in balance with demand. However, this assumes there can be no radical reallocations of resources (e.g. expansion of arable farmland), further improvements in crop yields, etc.
But for the time being, ~10 billion is the conventional and safe estimate. It is also not one that is going to be challenged anytime soon. While the fertility explosion might be inevitable,  it is not going to happen this century. This century will see the tail end of the global demographic transition, most notably in Africa; the only places where we might see substantial increases in TFR would be in those few societies and countries that must have already accumulated a significant percentage of "breeders", such as Israel, and perhaps a few more conventional countries such as France. Consequently, the UN's estimates of 11 billion people by the end of the century should come to pass.
But what happens after 2100? How long before a newly surging population returns to its Malthusian limits, as was the case for all human history before 1800?
---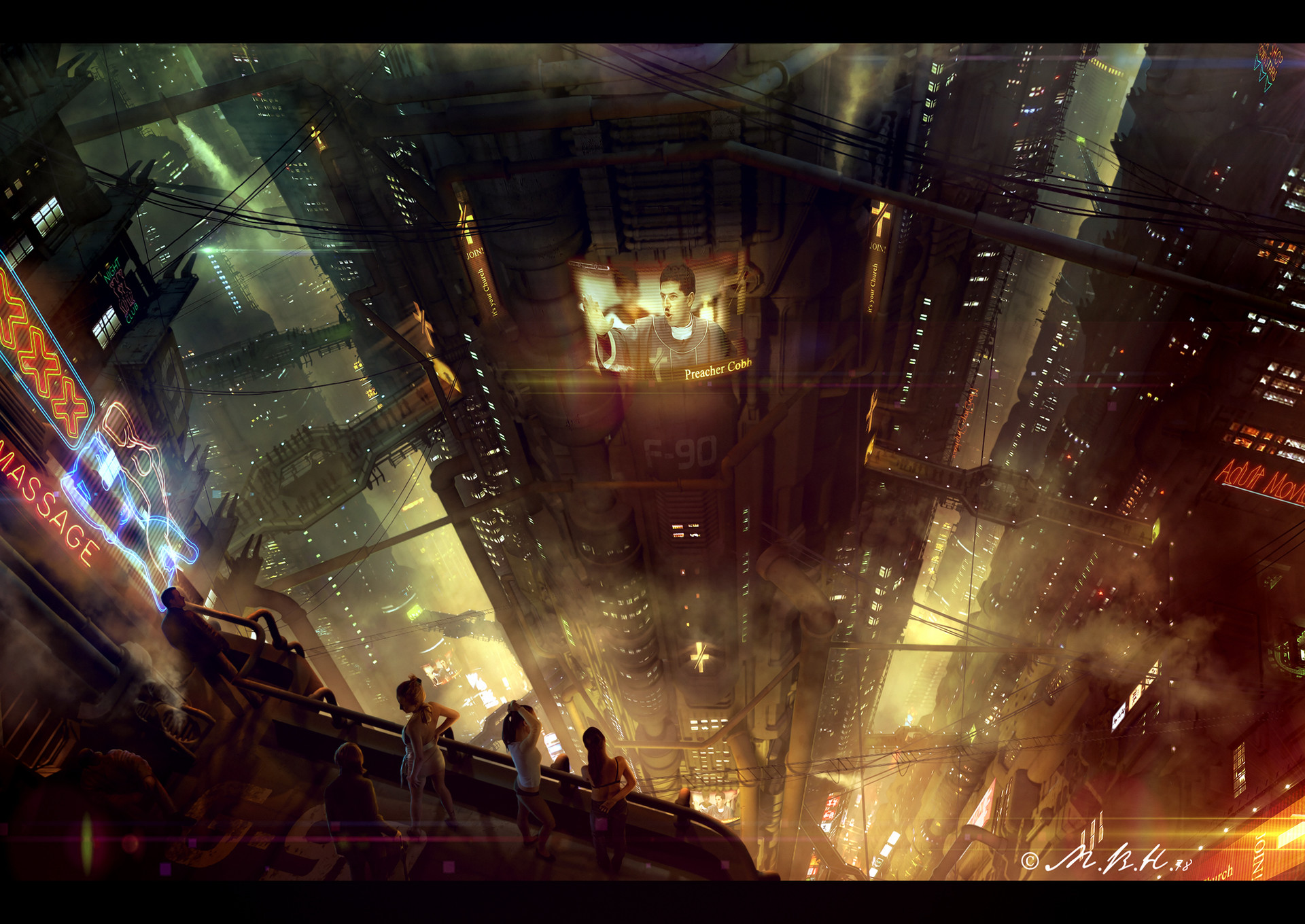 Vladimir Manyukhin, Tower of Sin.
Maximization (~100 billion)
Human biomass equals all fish biomass in the world today, or almost 50% of the animal biomass on the planet today.
So here's a very simple series of land/food calculations:
The average person needs around 2,000 calories per day, implying 730,500 calories every 365.25 days.
About 11.6% of the world's land surface of 15,749,300 square kilometers is arable land, translating into 3,891,730,777 acres.
Carrying capacity in a World of Corn would be 79,912,336,273 (80 billion people).
This order of magnitude is remarkably consistent across different methods. For instance, on this Reddit thread, similar calculations for other high yield crop varieties and high yield farming methods produced estimates of 206 billion and 247 billion, respectively.
Moreover, in the aforementioned meta-analysis of 94 estimates, a multivariate regression analysis on global carrying capacity estimates in which land/food was the limiting factor produced conservative and progressive estimates of 33 billion and 103 billion, respectively.
To be sure, there are factors that could make 100 billion people overly optimistic:
The elites will require substantially above-subsistence numbers of calories.
Spoilage.
Greater urbanization cutting into arable land.
Pollution leading to decline in "free" ecological services, such as pollination.
Global wild fish catch peaked in 1990 and has stagnated since.
Climate change causing greater desertification, sea level rise, unpredictable weather, longer spells of drought, and higher incidence of torrential rain that destroys topsoil.
The rising idiocracy may make some of the more advanced agricultural technologies unfeasible, such as Japan's robot-run farms.
Geopolitics, e.g. wars for arable land and resources.
Conversely, it's equally possible that these numbers are unduly pessimistic:
Consumption can be reduced, esp. in rich areas (already implicitly accounted for with the 2,000 calories per day assumption).
Agriculture only accounts for 6% of world GDP (~2% in the developed world), meaning that it can be substantially scaled upwards without impacting too much on quality of life.
Agricultural & food R&D accounts for ~1% of total R&D spending in developed countries such as the UK, and can be even more easily expanded.
Despite accounting for such a small share of research dollars, and not attracting the best human capital (not to diss it, but Agricultural Science doesn't exactly have the prestige of Theoretical Physics), crop yields have nonetheless been soaring. For instance, corn yields have increased eightfold in the US since the 1940s, and show no signs of plateauing. This should continue as newer genetic editing techs come online – even if human genetic editing is forbidden (one way for the Age of Malthusian Industrialism to come to pass), it is unlikely that the taboo will extend to livestock, let alone plants. (Crops have become much less nutrient dense in the past half century, which is bad for individual vitality, but this is of no concern for supporting burgeoning swarms of bugmen at the edge of sustenance).
Farmed fish catch expanded tenfold from 1980 to 2010, and now exceeds wild catch by tonnage. It can be expanded further.
Climate change causing higher yields due to carbon fertilization effect, higher humidity, warmer weather, and the opening up of the global taiga and tundra biomes to agriculture (though Arctic soil tends to be rocky and acidic, and growing seasons will remain limited to half a year).
Areas under cultivation can be further improved with irrigation (especially in Africa).
Permanent pastures, which account for more than a quarter of global land area – or 2.5x as much as arable land – can be turned over to crops. This may be expedited by (1) falling incomes making meat less affordable, as the world retreats back into Malthusianism; (2) growing cultural acceptance of vegetarianism, perhaps in what might be the next great ethical advance).
Conversely, insect farming can be intensified, as they produce cheap protein and can be fed on waste.
Urban areas can adopt roof gardens; parks, and parking spaces freed up by the advent of driverless cars, can host agricultural plots.
Marginal lands can also be given over to cultivation of undemanding crops, such as the versatile and very high yield potato.
Rice strains that can grow in seawater.
Food production can be augmented with hydroponics, permaculture, aquaculture, in vitro meat, aeroponics, and aquaponics.
Geopolitics: It is possible that a more globalized world, and/or one fragmented into many small, weak states, will reduce the incidence of war and enhance cooperation. As many thinkers have argued, most notably Steven Pinker in recent years – the long-term incidence of war is on the way down.
The latter list seems to be considerably longer and more formidable, so my estimate is that the carrying capacity of the global industrial economy may well be considerably higher than 100 billion.
Even so, one hundred billion is the figure I used in my original article on The Age of Malthusian Industrialism for the sake of conservatism: "Just as the human population rose tenfold from 1 billion in 1800 to 10 billion by 2100, so it will rise by yet another order of magnitude in the next two or three centuries… Sometime towards the middle of the millenium, the population will approach 100 billion souls and will soar past the carrying capacity of the global industrial economy."
I will leave geopolitical considerations for the book, and in any case, not much can be said about them, since we don't even know for certain if the current system of nation-states will survive.
However, if they do… Assuming that there are no expansions or contractions in arable land, constant crop yields, and no major food trade, then India, the US, Russia, and the EU will all ultimately support similar populations – despite their huge differences in territorial extent, all these countries/blocs have a surprisingly similar amount of arable land. However, making the assumption that arable land will uniformly converge to 50% of the terrestrial surface throughout the world, relative national populations will instead converge to their share of global land area. Obviously, the uncertainty here will be huge, and there will be a bazillion other factors – climatic, cultural, demographic, geopolitical, etc. – in play.
---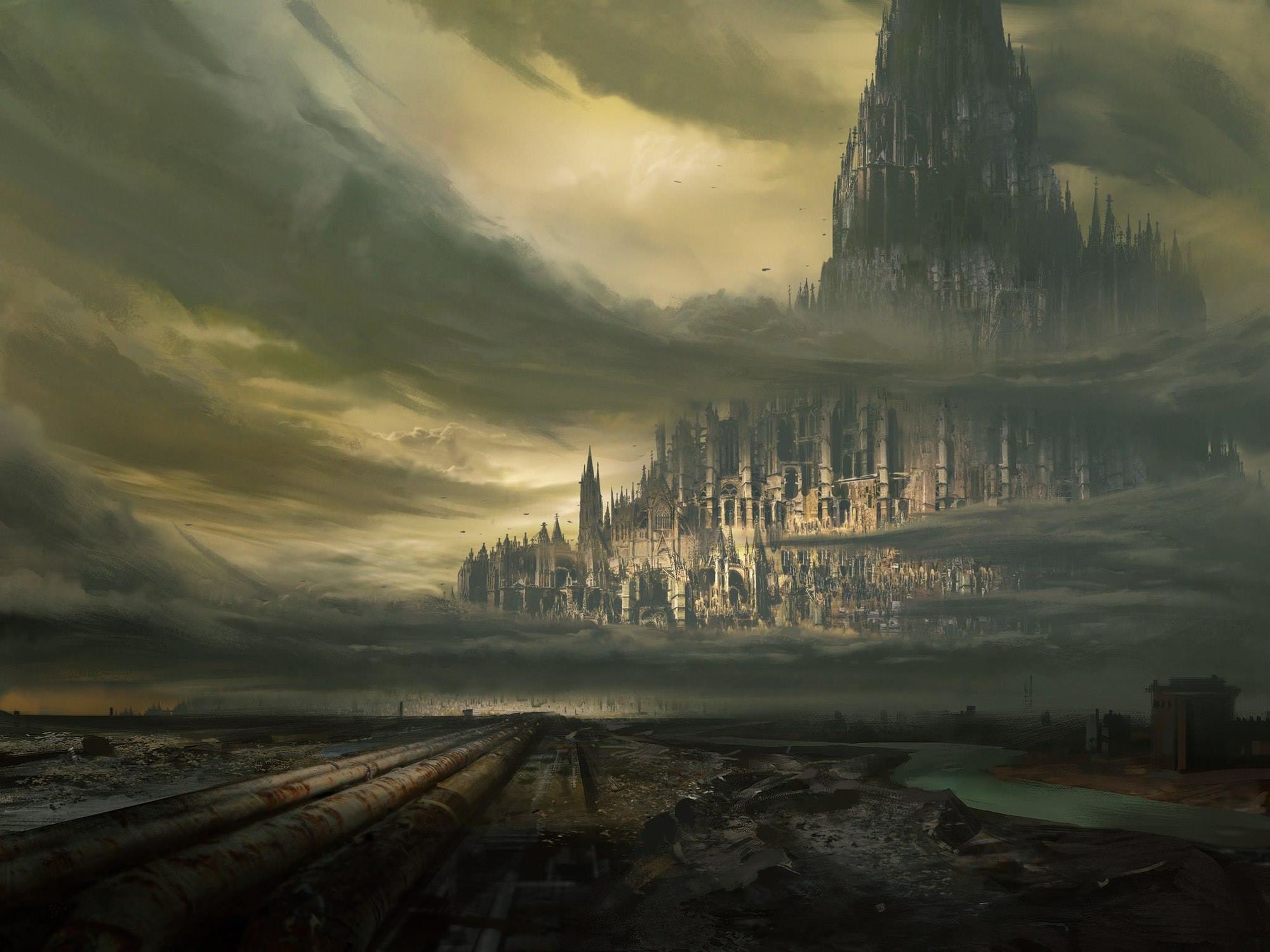 Hive City, Warhammer 40k.
Cornucopianism (~1 trillion – or more)
Human biomass equals 5 times the mass of all animals extant today, the mass of all fungi today, and around 10 Gt C of the world's current 550 Gt C of biomass (2%).
These people are the polar opposite of the doomers, who maintain that there are no fundamental limits to human ingenuity and carrying capacity.
Perhaps the most famous figure in this movement is Julian Lincoln Simon, author of The Ultimate Resource. This also describes many libertarians and classical Marxists, both of whom view specific human institutions – a surfeit of regulations and exploiter classes, respectively – as obstacles to a world of unparalleled prosperity and progress. (Modern Leftists, of course, sooner tend in the opposite direction).
(My own view is that intelligence is indeed the ultimate resource, though unlike blank slate libertarians, it is informed by a sobering dose of human biorealism. There'll be many more people, sure, but they're not exactly gonna be ingenious… sooner the opposite.)
Since supporting much more than 250 billion people is unfeasible using current agricultural technologies, even optimized and globally converged to best practice, the question essentially boils down to the following:
Is it cost-effective to directly translate energy into food calories, e.g. in indoor vertical farms?
A loaf of bread in the US costs around $2.50 (though it can be much cheaper in the developing world, down to $0.50 in countries where it is not subsidized). It constitutes almost exactly 2,000 calories. In the most benighted countries today, as well as during most periods in the preindustrial world, people spend 50%-60% of their income on food. Man shall not live by bread alone, so accounting for the occasional vegetable and scrap of meat – plus clothes, shelter, etc. – we can see that the world's subsistence floor is around $2. This is just a bit more than $1 in 1990 dollars.
In the world's most comprehensive database of historical GDP, the "subsistence" level is estimated to be $400 worth of 1990 Geary-Khamis international dollars. This translates to about $800 today, or approximately $2 per day. As we can see, this syncs very well with the above calculation.
This paltry sum is the average wage that we can expect to converge towards in the future world of Malthusian Industrialism, as Ricardian economics come back with a vengeance.
Meanwhile, according to Dr. Louis Albright at Cornell University, a loaf of bread produced from wheat grown in a factory farm indoors will cost $23 just to cover the electricity costs. Note that the US has relatively cheap electricity, so this should be pretty reflective of global (untaxed and unsubsidized) electricity prices too. Consequently, at current price levels, sustaining subsistence existences for untold trillions is unrealistic within the context of a laissez-faire market economy, unless energy costs go down by an order of magnitude.
Now such technological breakthroughs may well be feasible – for instance, if cheap, ultra high-EROEI fusion power is developed. (I have not seen any good calculations for the EROEI of fusion power, though the consensus seems to be that it will make energy "too cheap to meter" – for realz, this time). However, recall that the Age of Malthusian Industrialism presupposes technological stasis, which is quite the inconvenience when commercial fusion power is "always 3o years away."
Alternatively, food costs will come to be massively subsidized. This has ancient historical precedent. Ancient Rome's prodigiously high population, which peaked at more than 1 million during the early Roman Empire, was only sustained by vast influxes of calories tithed from the breadbasket of Egypt, which were subsidized by the municipal authorities to keep the population quiescent (from whence we get the expression panem et circenses – bread and games). After the Roman Empire collapsed, so too did Rome, declining to just 40,000 by the turn of the millennium, grazing their cattle amidst the ruins of the Colosseum.
If states or other institutions decide to subsidize food for the teeming and multiplying masses, the ultimate bound on populations will be set by energetics.
So let's perform some back of the envelope calculations. Dr. Albright calculates that a square meter will require 6,667 kWh of electricity to grow 8 kg worth of wheat per year. The world produces around 20,261 TWh of electricity per year, which translates to approximately 3,000 square kilometers, or 740,000 acres, that can be used as growing space in indoor farms. Incidentally, this is where we already see the main problem – this is but a tiny fraction, well less than a thousandth, of the world's current arable land area. Wheat yield is given as 8 kg per square meter. Wheat packs around 3,000 calories per kilogram, producing 24,000 calories per square meter (around 6x that of naturally grown wheat). This translates to 100 million calories per acre, which at 740,000 total acres can support a grand total of 100 million people for a year.
Conclusion: The world's entire electricity output harnessed to grow wheat indoors will only be able to support the population of Japan – that's a mere 0.01% of the population of trillion soul city planet.
NOTE: I was actually rather shocked myself when I came up with these figures. Can they really be so low? This basically makes a range of sci-fi scenarios, such as interstellar travel on generation ships, or geothermally powered civilizations (e.g. colonization of Steppenwolf planets), pretty much impossible – and this calculation on Quora about the room required to feed a 10,000 people on a spaceship seems to confirm that. Perhaps somebody can check these calculations?
OTOH, if accurate, then this is a possible resolution of the Fermi Paradox, IF alien civilizations also have a strong tendency to go Butlerian Jihad on AI.
As with the above scenario, there are several considerations that can lower or raise this figure.
We could try for much greater efficiency, or massively higher yields. But recall that we assume technological stagnation.
Alternatively, we could try for massively greater electricity output. But since we're talking orders of magnitudes here, the only realistic candidate here is fusion power, which has likewise been ruled out.
Moreover, the bulk of electricity generation must accrue from high-EROEI sources. As I mentioned above, one common estimate of the minimal EROEI needed to maintain industrial civilization is around 5:1 or so – that is, five units of energy must be produced for every unit of energy invested into the process of energy production.
Hall, Charles et al. (2013) – EROI of different fuels and the implications for society
Conca, J. (2015) – EROI – A Tool to Predict the Best Energy Mix.
Coal, oil, and natural gas are not realistic options; current reserves are hard to exploit. Geothermal power is highly limited. Solar and wind power also have unimpressive EROEI's, especially once adjusted for their inability to provide reliable baseload power, which requires either expensive energy storage or a mix of other energy sources. Hydropower is the most consistently high EROEI energy source, but unfortunately, the world's hydropower potential has been more or less maxed out.
Nuclear is the only viable option since it is quasi-renewable, and can potentially be high-EROEI if needless, highly costly regulations are removed. Even so, there are limits even to what nuclear power can accomplish.
Assume that per capita electricity production remains constant in the Age of Malthusian Industrialism (since many ecological services now have to be provided artificially, this actually presupposes a decline in individual welfare). This would imply 200,000 TWh of electricity production per year if the global population is 100 billion. Assume, moreover, that the bulk of global energy production has moved over to nuclear power. Total EROEI might be rather lower now – let's say 50:1, instead of 75:1 – because we are now forced to mine less concentrated uranium deposits.
Now assume that the CornWorld overlords decide to increase electricity generation by a further factor of 10, and devote all the excess energy to food production. This isn't realistic, of course, but for the purposes of this mind experiment, assume that everything goes to plan and there are no "leaks." This surge in capacity will allow for an extra 10 billion people to be supported. This constitutes an essentially insignificant increase of 10% in global population – at the cost of plunging planetwide effective EROEI from 50 to 5, bringing industrial civilization at that scale to the precipice of sustainability.
So of course it's not going to happen.
In the Age of Malthusian Industrialism, there will be a place and a function for indoor farming. It is certainly feasible that a large proportion of vegetable greens will come from indoor farms, which may be grown in conjunction with fish (aquaponics). It is also possible that some of these farms will be kept around for periods of severe food price spikes, when growing some types of crops will become profitable (that is, much like US shale oil producers now act as swing producers in the global oil industry).
But the banal fact remains that converting energy production into food calories is extremely inefficient, and will not allow us to catapult our population into the trillions range and become Coruscant or Holy Terra.
Unless we import food en masse from off world. Warhammer 40k is actually quite accurate on that! See the forthcoming Part 5.
On the bright side, it will also help us avoid one particularly very embarrassing and stupid resolution of the Fermi Paradox. For more on that, see Part 6, also forthcoming.